Airtel Free Data Bonus 2020
Airtel has some amazing data bonuses which a lot of people do not know about. Not to waste time, see all the data bonuses you can enjoy. Data is life. All you need to do, try any method or trick that works for you. There are different data bonuses in this post. You need read to the end to see different bonuses.
Disclaimer – "No cheat last forever" Nothing last forever. Sometimes you might not be in luck. Do not condemn things if it does not work for you as it works for others.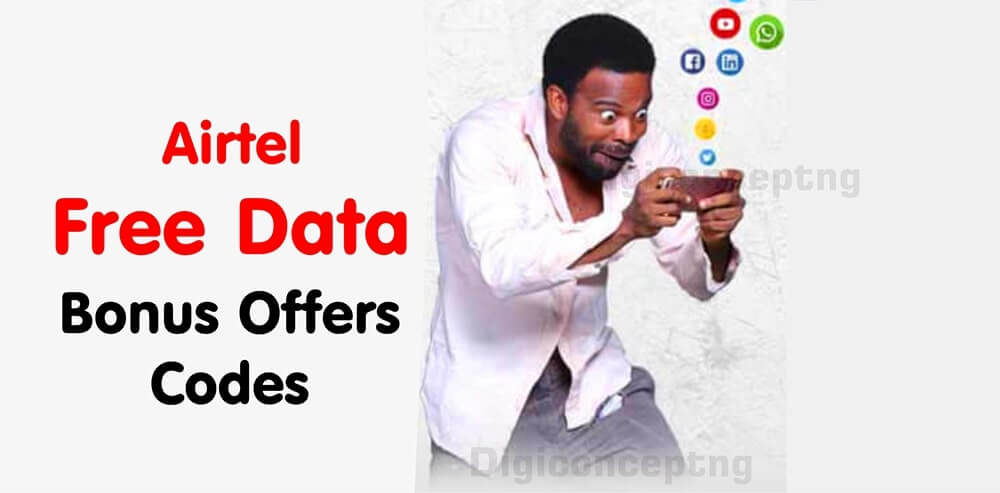 Telecommunication Systems usually blocks cheat once they notice it is rampant. Not to worry, we will update you.
Free Browsing cheats exist because of loopholes that exists. This is what enables the decoding and discovery of cheats to browse freely.
How To Activate Airtel 2020 Data Cheat
Follow the process below to get free data bundles.
Get an Airtel line. Dial *141# > 4 > 1, to subscribe to the Monthly social bundle. Cost 300Naira for 600mb, valid for 1 month.
Then now download the EC Tunnel VPN. CLICK HERE TO DOWNLOAD.
select server area, Tweak is under it. Select Airtel Social Bundle and tap connect to establish connection.
Once it is connected, minimize it and start browsing/downloading
Airtel Free Data 6GB For ₦1500
Hey guys, I will be showing you new way that you can enjoy Airtel 6GB data at cheap rate. This offer have been on though got blocked due to one of another reason. But I am glad to announce to you that it is available now, you can enjoy free data on your Airtel sim card for free.
This cheat is for selected customers, works well on new Airtel sim cards. Mostly sim not up to 3 months old. If yours is above that check eligibility using the following method.. Click here to get 6GB Data for 1,500Naira
How To Check If You Sim Is Qualified For This Cheat
For eligibility and sim registration check, dial *746#. The date will be shown to you.
How To activate Airtel 4.6GB For ₦200
Please note the instruction here.
Recharge your Airtel line with ₦200. Do not use vtu or buy from online platform.
Use this code to recharge it *126*PIN#.
You will be given 4.6GB data to enjoy as free data bonus.
Given data is valid for 30 days, to check your balance dial *140# .
How To Accumulate Airtel ₦200 For 4.6GB
To accumulate the data,
Recharge your Airtel line with ₦200 again.
Use *126*PIN# to Recharge it.
By doing that you will be given another 4.6GB, keep doing it and get the data accumulated.
Make sure you use a Sim card that is more than 3 months old.
Airtel Free Data Bonus 100% Working
In this section, there are different other data offers you can gain easily.
How To Get 250MB Free Data On Every Recharge
This is how to get 250MB data free everytime you recharge your line.
First, check your average weekly recharge by dialing *479#.
Next is to recharge your account to meet the weekly average recharge.
If you have completed the steps above, you will receive 250 MB to browse and download. This data is for free, you are not charged for it.
To check your airtel free data bonus, dial *140# and view your balance.
The process allows for accumulation of data bonuses.
Free Airtel 1GB Data Monthly
This step involves you to be on Airtel RechargePlus, if you are not migrate to it.
Recharge your Airtel line and dial *479# to unlock your 250 MB. This FREE data is allocated to you on weekly basis. 4 weeks of 250 MB is 1GB.
Weekend Plan: How To Get Free 1GB Every Weekend
This data bonus starts from 12 am every Saturday to 11:59 pm every Sunday.
Dial *475# twice to activate this free data bundle. It does not affect your active data plan.
Wrapping it up!
"Data is life" according to Airtel slogan and we can see it as they kept to their word by providing their beloved customers with the above free data. Trust this is helpful? kindly share on social media with your friends and loved ones. Do not forget to visit again and recommend us to friends.