Best Data Plans on MTN, Airtel, Glo, 9mobile
There are so many data plans on the Glo, MTN, Airtel and 9mobile network. We bring to you the cheapest data plans you can enjoy browsing with.
Without much stories, we will enumerate all the data plans and their cost below for you to enjoy cheapest data and browse as you want.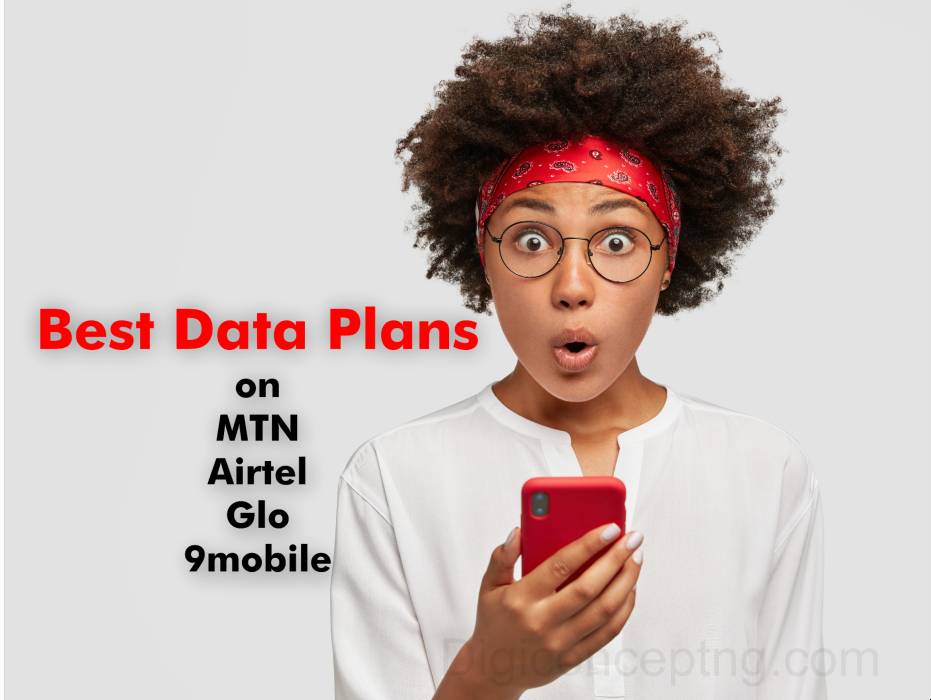 Cheap Data Plans
LEt us look at the different networks like MTN, AIRTEL, GLO, 9mobile so you can make your pick.
MTN Double Data
This plan doubles your Double Data Offer, which multiplies your data by 100%. For example, when you subscribe for 1 Gb data, You get an extra 1Gb data doubling it to 2Gb. 5 Gb + 5 Gb = 10Gb data
If you are not eligible, just keep reading and see the trick below. Other options too available.
MTN 3.5 GB for ₦2,000
You can also check out the 3.5GB for N2,000, among many others, I'd figure out that this is the best data bundle plan for all device. This is only for MTN subscribers.
Are interested, then you can activate it by Texting "110" to 131 but on the other hand, you can go ahead and check other MTN Data Bundle Plan for yourself.
MTN 4GB for ₦1000 (30days) / 1GB for ₦200
This package affords you the chance to get 1Gb of data for ₦200 and 4Gb of data for ₦1000 and 250MB of data for ₦100.
Follow link to get started
MTN Data offers 4ME
The package can be subscribed to by dialing on MTN *121# data offer, you can get the following:
1. Get 30GB for N5000
2. Get 9GB for N2000
3. Get 20GB for N3500
4. Get 2GB for N500
Best Airtel Data Plan
Here are data plans enlisted under Airtel network
Airtel Double Data
This is not for all Airtel subscribers. it is for selected customers. You may get a new sim to try and see if it works for you. leave a comment if it does. This plan gives you back 100% your subscribed data as bonus for example, subscribe to 5GB on Airtel, and get extra 5GB equaling 10GB of data for a month.
To check Eligibility for Airtel Double Data
Testing or checking for eligibility status involves dialing *144#.
A message tht read thus will be sent to you;
"Enjoy Airtel 100% double Data
3GB for ₦1000
10GB for ₦2500"
You may verify this by subscribing to a data plan recommended to try a lower data and see if this works. Hence, you will know if it is eligible for the double data.
Airtel 3GB for ₦1000
This data plan is simple to activate, if you are interested. Simply dial *431#. To check for balance, dial *140#.
Other data plans on Airtel can be checked using :
₦1500 for 6GB – 7 Days – *141*1504#
₦1,000 1.5GB – 30 Days – *141*1000#
₦1,200 2GB – 30 Days – *141*1200#
₦1,500 3GB – 30 Days – *141*1500#
₦2,000 4.5GB – 30 Days – *141*2000#
₦2,500 6GB – 30 Days – *141*2500#
₦3,000 8GB – 30 Days – *141*3000#
₦4,000 11GB – 30 Days – *141*4000#
This plan works well on all devices with no restriction.
Best Glo data plan
Glo Monthly Plans
We have listed some of the best data plan prices for Glo below.
500 to get 1.05GB (800MB + 250MB) for 14 days, or 1.8GB (1.6GB + 200 MB Night) for New Customers
1,000 to get 2.5GB (1.9GB + 600MB) for 30 days or 3.7GB (3.2GB + 500 MB) for New Customers
2000 to get 5.8GB (5.2GB + 600MB) for 30 days or 9.5GB (9GB + 500 MB) for New Customers
2,500 to get 7.7GB (6.8GB + 900MB) for 30 days or 12.75GB (12GB + 750 MB) for New Customers
See more of Glo data plans and choose the one you wish to subscribe to and start enjoying cheapest data plans.
Best etisalat data plan
You can see the cheapest data plans for 9mobile below.
9mobile 1GB / 1.5GB for ₦200
There are many things you can do with data. And that is why 9mobile came up with 1Gb data for ₦200 without any tweak or code. The 9mobile 1GB for the N200 offer valid for 3days. You can accumulate or increase it to 5GB for ₦1000 by re-subscribing at the end of each plan? Dial *929*10# to get started
Also you can get 9mobile 1.5GB for the same ₦200 and this can also be accumulated to get 10Gb dat to enjoy for 1 month.
9Mobile Heavyweight Awoof
This is one of the best etisalat data plan that allows you to enjoy 250% airtime bonus + free 1.5GB data + free weekly chat pak and after the free 1GB of data, you can get 1GB for N500 on your next subscription.
To activate this browsing plan, you need to get a new sim card from any of the nearest walk-in centers. Register it, recharge any amount & enjoy all benefits of the offer.
9Mobile Youtube Streaming
9mobile Youtube streaming is available for Monthly plans users and it starts from 1GB Plan for 30days, 4.5GB for N2000 for 30 days and so on. It works for all Sim cards and all devices.
It can only be activated when you subscribe to any monthly data plans. To get started, dial *200#, select 3 which is for data option, and buy any data plan of your choice.
Trust this post has been helpful? kindly share with friends on social media and this will show us some love and be blessed.