Best Tablet Buying Guide for Kids in 2020
As technology has evolved in our world today, parents have started getting tablet for their kids. Every age of the human racecan use Tabs and children are not excluded.A recent problem some folks have is what brand and where to get the best Tablet for their kids. Best tablet for kids.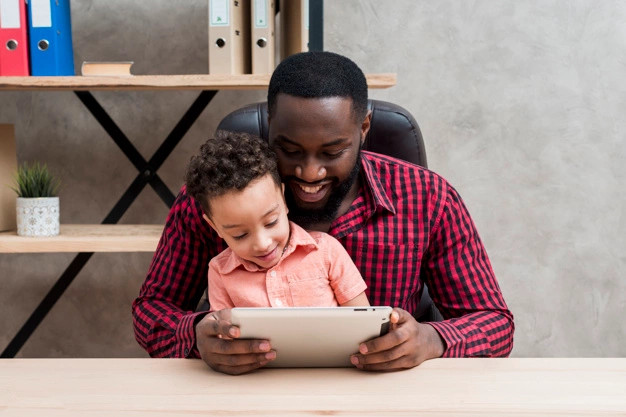 Here are some buying guide to help you when making a choice of best tablet for children.Are you the parent? or a friend? or an uncle? You can either get it as a gift for your kids or a friend's kid or nephew/niece cousin! Based on believes. some African parents think Tablet can distract the focus of the child from what he is supposed to be doing Interestingly there some few features that is excluded from the Kids Tablet and that makes it TABLET for KIDS"
Kids Tablet Buying Guide
When you wish to consider buying a Tablet for kids, there are some factors you need to look into so as to get the best of thebest.The market for children's tablet is small and as such shouldn't be a big deal making a choice from. But you need understand|the type you wish to buy: Is it a Toy Tablet or you need a iPad or Android Tablet.
Whatever, the choice, this guide will help you make the best tab selection.
Guide for buying best tablet device for kids
What is the Essence of Tablet for Kids? Research conducted by some educational institutes has shown that kids can learn from apps, and exposure to digital tools such as tablets and computers can boost kids intellectual resources and better educational positioning. Parents have to consider why they want to get the device..Is it for the kids to be prepped for school?
Do you want to keep them entertained? Do you want them to practice their academic skills? Whatever the reasons, Tablets can do all these things. Understand that this device can not do them alone. You need to select quality apps geared towards your kids' ages, setting realistic expectations, and supporting your kids learning both on – and off- the Tablet are key.
Read Also: Causes and fixes to error 404
Read Also: How to block stolen ATM card
Factors to consider when getting Tablets for Children
There are many other factors to consider when getting tablets for your kids. A wide variety of tablets is on the market. including ones specifically made for young children.
1. Battery life
You need to consider a tablet that can last long when not in power or when they are far from source of electricity. Many kids'tablets last around half the time of an iPad – around five or six hours.
2. screen size
1280-by-800 display is good for reading comics and watching videos. Ensure it has high dimension for better usage.
3. memory space
Ensure it has high memory storage or that it allows for external storage usage. This will enable you install more useful apps.store music videos and other on the Tablet for kids.
4. Specs
Kids Tablet has some specifications. A normal or regular tablet comes with some real specs like 7-10′ inches screen displaypure and elegant design, camera, processor, Android version, connectivity such as Wifl, 36/46 LTE and many others.
Among other factors required are 0S maybe Android, i0S, Windows 10 depends on which you are comfortable with. What's the Right age to get my kid a tablet? This has been an argument or issue faced by many parents. At what age is the best to get a kids a Tablet? Research shows that the best time to introduce tablet to kids are from the moment they start having idea of things in their environ.
A better age to introduce a child to the use of a tablet is from age 2 years or older. The kids can benefit from the educational aspect of tablets, without hindering their social development. However, this depends on a child and their social development. Some parents may choose to wait until their child is in preschool to allow them to use a tablet. Whatever the case, it all depends on parents desire for their kids.
Reasons to have a tablet for your child
There are many reasons why some parents may wish to get a tablet for their kids. It can be educationally helpful to children as it will help them develop their wards reasoning skills, critical thinking, memory. creativity and much more. Children's tablet can be optimized by choosing educational games and activities for them to play and also develop their reasoning skills, critical thinking, memory, creativity and much more.
Subject-based apps: These are particularly Apps focused on a single subject. such as English, Math. science. geography and so on. This can buttress what kids are learning in school.
Art and music apps: There are some apps that can help kids learn music and art while they simultaneously learn and have fun. These can help shape children's love for art and music career.
E-books and magazines: Tablets can help children to access online books and magazines about any subject they are interested in. When wards are excited about a topic, they are most likely to remember what they read.
Educational games: When educational games and puzzles are added on the tablet, it helps keep kids entertained while also keeping their minds sharp. Children have be known to learn from games that involve memorization, logic, math and critical thinking skills.
Active games: There are some apps known to engage kids' bodies as well as their minds to promote physical fitness and wellness.
parent give kids tablet for learning.
How to set Parental Controls on Kids tablet?
The tablets have different types and as such offer different control features that can restrict the content kids view and what they can do on their tablet. Parental controls ensure kids are only viewing appropriate content and games. Some ways to implement parental controls on a child's tablet:.
Child-proofing app:
This involves the use of dedicated app that only allow children to access a specific selection of games and activities. For the child to do or visit what you don't want them to visit on the device, it will require a parent entering a password.
App lock:
Most tablets allow parents to lock the device on a specific app they want their children to use. Children can only use that app until the parent unlocks the device.
Disabling in-app purchases:
If a child has access to apps that involve purchases. parents can set up controls thatrequest a password before any purchases are made.
Separate users:
For families that share a single tablet. parents can set up separate user accounts so each family member can only access their apps. This prevents kids from viewing inappropriate content while allowing parents to enjoy their favorite shows or games.
Internet filters:
If parents permit a child to browse the internet on their tablet, they can use internet filtering technologies to block inappropriate or harmful images or content, while allowing appropriate information to flow through.
Parents can try out different tablet control options to determine which option works best for their family.Tablet Brands found around here for kids
Atouch Educational Tablets: UNLEASH THE GENIUS IN YOUR CHILD! This is a perfect tool for your child. It comes with different apps that make learning interactive and fun.
Wintouch Tablet: It has a decent look and is a very nice model made with special material of metal and plastic. It is designed slim and can be used by adults as well.
Modio Tablet: This 2-in-1 unit from modio tablet got you covered. The HD screen allows you to stream your favorite shows and movies. It has included a detachable keyboard. Looking for where to buy. you may contact 0816 055 1313
Tablets for kid as you can see has a lot of benefits to offer your child. The benefits outweighs the cost and with some parental control methods enumerated above. you can regulate what your wards do on the tab.