How to change Nigeria number to USA number on WhatsApp
You can change your Nigerian number to USA mobile number which you can use to call or whatsapp. The trick some people use i will show you in this article. Kindly follow and enjoy this post.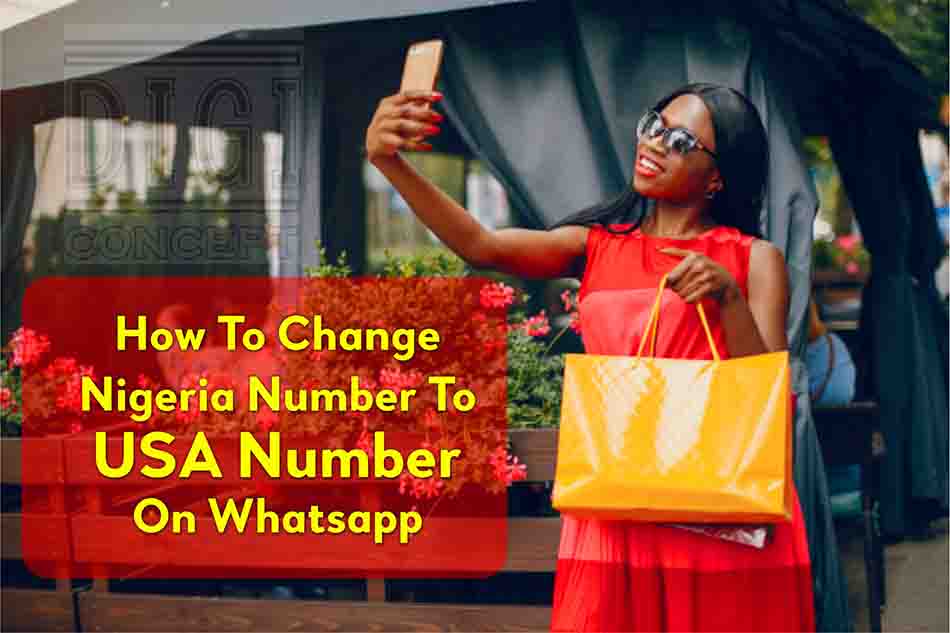 This has a good use apart from the scam ways used by fraudulent people. You can put this to good use. We have simple ways to replace the Nigerian number with a USA phone number in your WhatsApp account.
Disclaimer: Be informed that this trick should be used only for legal purposes, not for blackmailing or doing other unpleasant stuff to other people. Not for scamming
There are different methods to use when you wish to transform your mobile digits from Nigeria to USA. There is the use of a service website and the others the use of app.
Read Also: How to connect Xender to pc
How to transform your Nigerian number to US number
Use CallCentric
Go to callcentric.com, log in/register. Provide your email and phone number. (Note: email addresses that end with .com is entitled for free signup)
A verification mail will be sent to your mail.
For verification to be completed, provide the country code and the city you're in.
Tick the terms and conditions, click "I agree" and sign up. The website will offer you a virtual tour around their resource. You may skip it. locate n select "My CallCentric directly". The program will show you your CallCentric number, which begins with 1777***.
You need to copy and save that number. Remember, never leave the page before you copy the CallCentric number the system provides for you.
Open a new tab in your browser ipcall.com.
You need to set SIP as your account type and then enter the copied CallCentric number into the respective field (Username).
Select an area code for the USA phone number you will receive. You can either leave the default one (235) or choose any other one available in the drop-down list.
When the system request for your "hostname", enter in.callcentric.com.
Now provide the same email and password that you used for the CallCentric registration. They will send you a mail, in which you will receive your USA number.
Ensure you don't delete the mail as you might need the SIP client for some customization and configuration.
Note that the number you have received is not active yet and you will need one more simple step to make it active.
You will need Express Talk.
Downloaded and installed on your computer. During the process of installation, leave all the default wizard options as it is. Ensure you don't install additional components like toolbars and other stuff that's assigned to the default installation process.
When the program request for your SIP, flag click, "I have SIP account" then proceed.
Provide the details for SIP installation just like you provided on ipcall.
Once the setup is finished, you can close down all the opened browser tabs.
Now your number is activated.
The above process is just to create and activate your local number to American number. next stage is to use it for Whatsapp purpose.
Numerous ways to achieve this and you can make a pick from the methods below.
1 Primo App
This is a utility app that allows you to generate virtual USA numbers that can be used to send text messages, and also make voice/video calls. Easy to register/setup and you can see below process. The verified US number can be used on social media platforms like WhatsApp, Facebook, and Twitter. Primo is on both android and iOS app stores.
Download the Primo App to your computer and install.
Register with the real phone number that you currently have and submit the registration.
Verify the phone number in the application. On completion, Your US phone number will be provided in the bottom part of the panel. Save this number where you can use it.
Now run WhatsApp and set the country code as +1.
Now enter the copied USA number and click Continue. You will need to wait for a little while and then there will appear a Call Me option provided by WhatsApp. When you see it, click on it.
Now, you will receive a call from WhatsApp that will come through the Primo application.
This is required for further verification, so you will need to enter the verification code you receive from them. After you enter the verification code, you will only need to enter your name and DP. Now your whatsapp is set up and ready to use.
2 TextPlus
Download and install the TextPlus application on your computer.
Signup by providing the the necessary data like your name, birthday, email and password
When signed in to your newly-created account, you will see a button "order to get the TextPlus number"
Select a city and code for your new number. Select whatever you like After all these procedures, Your WhatsApp number will be displayed on the screen.
Copy this number and save it.
Create a new WhatsApp account using this number. A confirmation message will be sent to you via TextPlus.
3 Vyke
This app is a role based mobile communication. You can get different phone number for each part of your life, whether you're at home, work, abroad, socialising or to keep your personal number private. It is a paid service unlike the first two which is FREE.
Vyke unlike TextPlus, can give four extra phone numbers in addition to your original phone number. Registration is very simple, and straight forward, download the app and follow the guidelines to register and activate the app.
4 Hushed
It is used to generate US numbers in Nigeria. IT is not totally free as you need to recharge the USA number before you can use it to send text and make calls. Being a premium service, it's packed with loads of features like SMS & MMS, multiple numbers, support for multiple devices, etc.
Hushed phone numbers are NOT guaranteed to work with third-party verification due to blocks implemented by certain services, for example, Social Media, Banking, Email, Apps, and so on.
From Their Website: We do not intentionally block anyone from receiving these codes, but it's common that some services will prevent verification texts from being sent to certain phone numbers due to their own security policies. We'd ask that you contact the service you are trying to verify with to better understand their requirements and practices.
Can hushed be traced?
Hushed doesn't leave any trace of your calls on your phone bills. That includes any mention of your Hushed numbers and any text messages sent. … Hushed Messenger is a messaging app which allows for free secure messaging between other Hushed users.
You can tell us other means that you used that worked for you so we can update here for us all to learn. So many apps out-there to help How to change Nigeria number to USA number and used on WhatsApp.
Trust this post was helpful? kindly share with friends on your social media and be blessed as you do so.