Content Marketing and its benefit
According to statistics, 69% of the world population are internet users with only a few knowing about the power of the internet in attracting a high population of online users to specific information or services.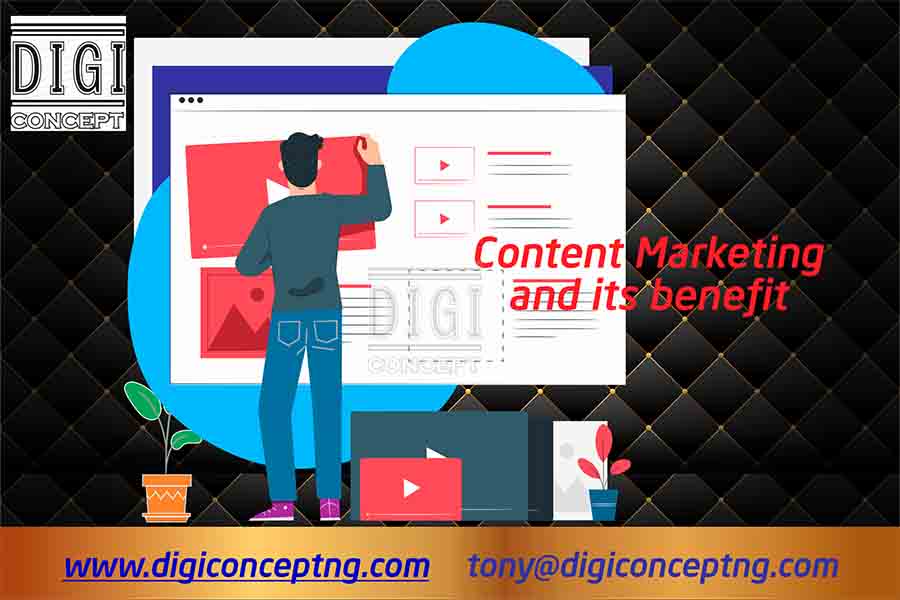 Knowing the power of what the internet provides is one thing, tapping and plugging into such power is another, nevertheless with "traditional marketing" becoming more and more boring, many have been opting for online marketing which includes content marketing.
Research has also proven that a large majority of marketers use content marketing.
Organizations like Microsoft, Cisco system uses content marketing. Also, according to statistics by Demand Gen's 2015 content marketing survey report says "more than 60% of B2B purchases rely on contents as a means of research when making a buying decision.   In this article, I would be Sharing ways to attract customers through content marketing.
WHAT IS CONTENT MARKETING?
Content marketing is a strategic way of marketing, which involves the creation of materials (blogposts, media posts, images, and videos) that are not directly linked to any brand but helps provides solutions to needy customers. it serves as a channel to providing solutions. Good content marketing strategies also help to drive traffic to your site, so therefore if you are looking forward to getting ranked on top spot by Google or other search engines then this article is for you.
Effective ways to Attract customers through content marketing
1) Create a unique content              
Most content marketer feels Google or other search engines like Bing and the likes are responsible for attracting the necessary audience to their site, but serious-minded content marketer knows it's a fallacy. Google is never responsible for attracting audience/customers, it's basically the responsibility of the content marketer. With this knowledge, you must take the following step in creating that unique content.
a) Do research on your targeted audience/market: Take out time to find out the exact services your targeted audience are Looking for.
Note: Google and other search engines have a set of rules that they developed into what is called an Algorithm that helps in ranking content/articles through their various search engine on the web since the web is full of both unique and bad content.
b) use Search engine optimization (SEO): SEO are tools that help you organize your content and bring out its uniqueness to enable you to rank high on a search engine. According to research "70% of all traffic originates from a search engine and 90% of searcher click on the first 5 links on any search engine to get their query answered". So, therefore, being among the first 5 links should be your priority and you achieve this by creating good content. Google ranks contents with 2000 words or more among the top 10 search results.
2) Mobile-friendly content (easy navigation)
Employing the use of sections, categories, etc. on your content makes it easy for your targeted audience to navigate and quickly get what they want, it builds confidence and trust from your Audience towards you. Making use of subheadings also helps in capturing ur audience's attention. 
Remember you aren't the only one rendering such services hence all your marketing strategies Should be 98% your audience comfort, making their search easy is the goal.
3) Create more landing pages         
As an online content marketer, you should be familiar with the word "landing pages" but nevertheless, landing page simply means a web page or pages your clients interact with when they first get to your site. 
In creating a strategic landing page, you should make the page an interactive one where your clients can provide their basic information's like an E-mail address and mobile number, this enables you to begin the necessary follow-ups by sending e-mail messages which in turn help your clients learn more about your site's and what you can offer.
4) Have a social media presence 
Over 70% of every online shopper or researcher are on one or two social media platform, a place where your customers can express their thoughts and feelings about certain products or services.
Social media plays a major role in drawing audiences to you, employ the use of multimedia/ video content which is ruling the web.
In the video, describe your product or service and make sure the first video isn't long since people tend to lose interest in a lengthy video especially the ones they've never seen before.
5) Email marketing 
According to the campaign monitor research" E-mail marketing has the highest return on investment than other digital marketing platforms. Email marketing is simply employing the use of an e-mail newsletter where you send various news about your products to your audience.
It helps in bringing your targeted audience up to speed on your products and also makes them aware of your online presence.       
You must follow the 7-rule of Email marketing which states that "before introducing or telling your clients about your paid product give them a lot of information about your products for the first seven days. The email news must be short but with lots of vital and useful information.
6) Pay more attention to your subscribers
What do I mean by this? You see most content marketers easily forget to engage their Email newsletter subscribers rather they would go on every social media to establish their presence and in order to generate more traffic to their site, forgetting that they don't control any of the social media platforms.You must not also make the same mistake, always learn to focus on your subscribers.
Engage them by sending them the necessary and useful information through your newsletter, yes you can use social media platforms to generate traffic but don't play all your cards on it.
7) Measure your results
It's important for you to Measure your result in order to know, how your contents perform, sales made, and services rendered this, in turn, gives you new strategies on how to improve for the better.
Monitoring your success gives you the opportunity to be able to create new innovative ideas to boost your content. It also helps you to be on the lookout for any changes in google rules that may best suit your marketing strategies. Remember "keyword" is an important tool in ranking high on any search engine. I would encourage you to use any SEO (search engine optimization) tool for easy ranking and optimization of content.