12 Secrets to Double Your AdSense Earnings
A lot of bloggers and webmaster seeking for ways to earn money online must have heard about Adsense. There is the Google adsense, Bing Ads, media.net, propellar ads and others. Among all, Goolge adsense has come to stay in this part of the world as it is trusted.
Applying for adsense is a bit a problem and also easy depending on how you go about it. We have the best way to apply for google Adsense and get Approval. A method tested and trusted.
What is AdSense? "AdSense is a program for webmasters which was implemented by the famous Google some years ago." Essentially, a webmaster (a person who owns and builds one or more websites) signs up for an account with the program, and once they are approved, they paste the Google AdSense javascript code into the pages on their websites.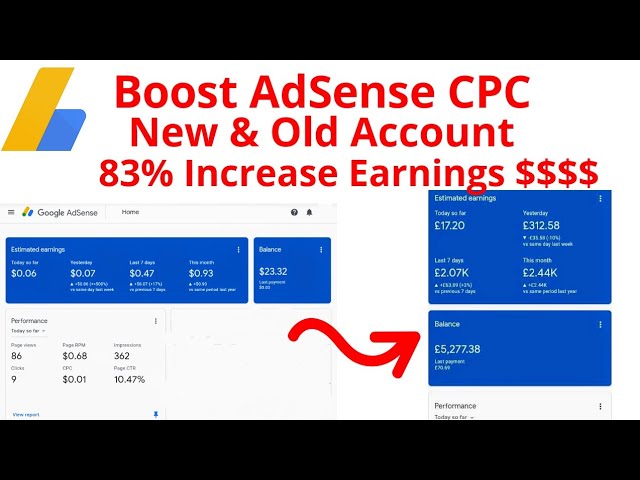 12 Proven Strategies to Increase Your AdSense Revenue
A common saying that traffic is directly proportional to money in blogging, is not true in the case of AdSense advertising. Considering many factors which affect your AdSense income. These include ad placement, ad type, traffic source and most importantly, AdSense CPC.
1. Create High-Quality Content
Content is king! The best method of getting more clicks and increasing your revenue is by creating valuable and unique content for your visitors. By generating traffic, you are increasing your chances of getting clicks. And by attracting people, your site becomes attractive for advertisers.
2. Ads Above the Fold Earn More than Any Other Ad Placement!
This part was gotten from analysing my adsense dashboard earnings for two years and then reading top bloggers, it was discovered that
Above the fold ads outperform "in-content" ads by 2:1 margin
Above the fold ads outperform "after-content" ads by 3:1 margin
Above-the-fold ads perform far better than below-the-fold ads!
Here we are talking about the ads at the top. Ensure to optimize your top ads and remove/keep the top distractions to the bearest minimum.
A single ad above the fold, generates more revenue as multiple ads below the fold. I typically run 2 ads inside content, and one after content.
A disadvantage of this: Your time-on-page may go down slightly, as some people may leave your site before they get to read through it.
3. Improve Adsense Size and Location
Ensure to create Adsense-optimized themes and designs for your new site. You can blend the ads with your site design.
We have listed some of the Adsense sizes which work best:
336 * 280 : Large Rectangle
300*250
728*90
160*600
In some cases, Responsive ads is not the answer. The issue with Responsive ads – they display ads based on HIGHEST AdWords Bid (or highest Cost-per-Click / CPC), without regard for ad format.
Adsense placement is crafty but its worth the effort, as right ad placement can easily double your earnings.
4. Traffic source and location matters
It is important that you ensure you are getting traffic from search engine. When you get traffic majorly from other sources other than search engine, it may lead to ma decline in your adsense functionality.
Adsense ads perform optimally when the traffic is from search engines. Also, interest-based ads might not perform as well if you are getting more direct traffic or social media traffic.
A lot of people complain about low CPC and low Adsense income despite their millions of impressions per month. It is as a result of CPC and traffic sources. Try target traffic from countries like the U.S.A and the U.K, and you will end up getting high CPC.
5. Adsense for Search
There are many ways to use Adsense to monetize your site. Try and take advantage of all ad types. Adsense for Search does not only monetize your site, but it also helps with user navigation.
6. Place Ads between posts
Remember at the beginning of this strategy, we talked about the "above the fold and below the fold" It is good to add your content in between the post(content) and below the content.
If you want to increase Adsense revenue, configure Adsense ads to match with your page background and colors, and add 468*60 image ads or text link ads in between posts. Ensure to offer a good user experience and do not appear spammy with too many adds and users can't find value. See how we placed ads in our post and on the site.
Make sure to add enough space between ads & content, so that it doesn't violate AdSense policies.
7. Don't use Link Ad Units
Link ads typically have "higher" CPC than Text/Image ads. However, they require a "double-click" to make you earn any money. This simply means – user clicks once, and then sees a confirmations – something like "Are you sure you want to click this ad?"

Google does this to prevent "accidental" clicks, because Link ads often look very similar to site navigation or links inside your content. Also, many publishers will place link ads, where they confuse a site visitor into thinking, that it's an actual "link".
As a result, while Link ads have higher cost per click (CPC), their click-through-rate is even more lower.
8. Placement targeting
This pattern of ads gives you the option to add more details about your ad types, and then put your ad up for auction in the market by opting for placement targeting. What it does is that it increases the competition, and the ad value on your site goes up. You must enable this manually for every custom channel.
To enable placement targeting on your existing custom channel, log in to your Adsense account > My ads > Custom > Custom Channels. Next, tap on one of the names and a screen will pop up. Simply add the details and put a checkmark at placement targeting.
9. Optimize Mobile Page Layout
Mobile is the new way. Google always hint on the importance of mobile pages and as such emphasis is on you to optimize your site for mobile search.
You need to understand that Mobile site users are very speed conscious, always in a hurry (the need answers right away), are more sensitive space wasting page elements, and are much more likely to leave your site, if they can't find an answer within 5 seconds.
You may need to have a responsive website theme/blog to save you stress of optimizing for mobile views. With a site that is responsive, you are good to go. Need a responsive site, contact us
With average site traffic creeping onto 60% of total, improving mobile income by 100%, will increase your overall site revenue by 50-70% with very little work.
10. Use Rectangle ads instead of horizontal banner
This is related to the size of ads as we explained above. The soze of the ads display matter. Ensure to use Rectangular ads in place of square.
Rectangle ads has been known to be prolific about 137% better than horizontal banners.
11. AdSense Blacklist URLs
This is very important!!! It was one of the things i did before i started earning on google adsense. With so many advertisers and those that pay very very little, they may prevent top quality and better paying ads from showing on your site. Hence, you need to blacklist such urls.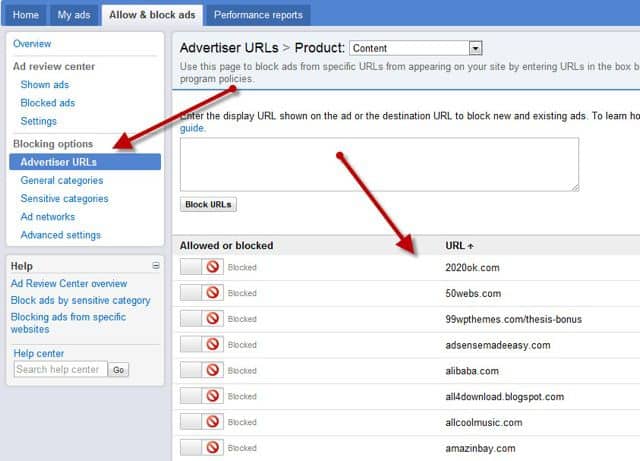 You can research advertiser's URL with low cpc and payment and block them. I did this and it improved my revenue by 10% in one week's time. You can also block your competitor's ads from displaying on your site. Simply get the URL and to ad blocker on Google adsense dashboard to do the needful.
12. AdSense Category blocking:
There is a category blocking feature in the new Adsense interface. You can quickly see which categories of ads are performing poorly and block those categories. I usually block the categories which have a good percentage of impression but a very low earnings percentage. This can also be configured via your "allow" and "block" ads page.
Conclusion
For you to start earning well with Google Adsense revenue, it is important to test various things to observe what works the best for you. Try out a lot of things and see what works best for you.
Trust this post has been helpful? Feel free to leave a comment below and share to help others. Remember, we rise by lifting others
If you are not approved for Google AdSense, you can read best way to apply for google Adsense and get Approval to help get approval within 72 hours of application.