Best Email Marketing Tools for Small Business
There are email marketing services that can be used by both small, medium and large businesses for their marketing campaigns to improve sales and build loyalty. Email marketing has been in existence for long now and has lots of benefits.
What is email marketing?
Email marketing can be explained as the act of sending a message to a group of people via electronic mail. It can be used to promote your business's products or services. It can used to make your customers aware of your latest products or offers.
E-mail marketing allows you to segment your customers into different lists based on their preferences to send highly personalized content. You can create the perfect subject line, use of images that resonate with your customer, and creation of valuable content that helps your audience. It is a perfect channel to drive engagement.
Read also: Content marketing and its benefits
How to run a cardless atm withdrawal
Features of Good Email Marketing Tool
Ability to create highly engaging email newsletters with an easy user interface
Ability to create personalized and targeted emails without stress. This is also known as marketing automation
Easy to create and manage contact list, segment users and track the performance of your email marketing campaigns
Must have good sending policy and no or low spam score so as not to end up in junk (spam) folder
Why do you need E-mail marketing services?
Sending hundreds or thousands of emails individually can be an herculean task and frustrating. IF you also send it in a blast using your domain hosting from your cpanel, this can cause some problems which in turn can lead to your domain being black listed as a result spamming. This is why you need an e-mail software dedicated for the purpose of blasting bulk emails without any problem.
You need a mail service provider that has trusted SPF (sender policy frame), DKIM, trusted bulk email sender, high email deliverability, to mention but a few. Hence, this post reveals some of the trusted and best according to reviews mailing marketing software/services. I have used almost all these services and can confirm to you that they really are the best and can help your business
Now let us look at these tools to show you why we choose them and believe it can be of high benefit to you. Find the table below for more
1. Sending blue
This is a tool with both sms and email marketing tools to help grow your business. It is easy to use with awesome tools to help you create aesthetic and high engaging emails. It has a simple drag and drop editor to help you kick start your campaigns without any prior knowledge of coding or expert experience needed.
You can do a lot with sendingblue like sending transactional emails, automatic follow up emails, segment users and above all it permits the usage of their AI algorithms to ensure the best email deliverability.
They have a FREE plan that allows you send up to 300 emails per day but with their branding in the footer of each mail. SendingBlue has a paid plan that allows you to do much more with advanced features like landing page builder, live chat, CRM, and Facebook ads integration. This means users now get more value for the same price.
Paid plans start from $25 per month. You can also include SMS to your account, but the pricing will vary based on your sending requirements.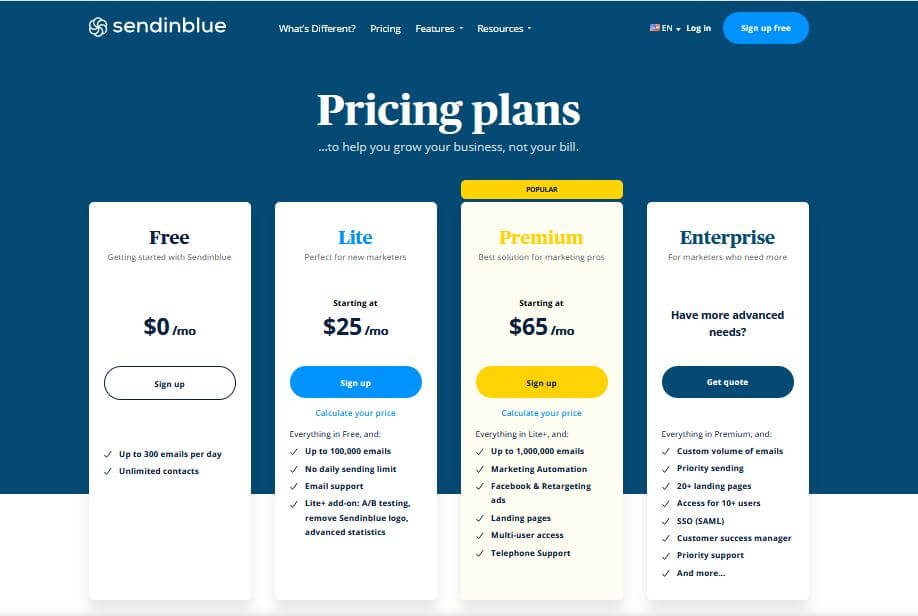 2. Constant Contact
This is beginner friendly and has features that enables you manage your email lists, contacts, email templates, marketing calendar, and more. You can easily track results. It has built-in social media sharing tools, free image library, easy list segmentation, Facebook ads integration, and powerful eCommerce integration tool.
Constant contact services comes with email automation, drip campaigns, surveys & polls, coupons, online donations, and subject line A/B testing which helps you send targeted emails to maximize your open rate.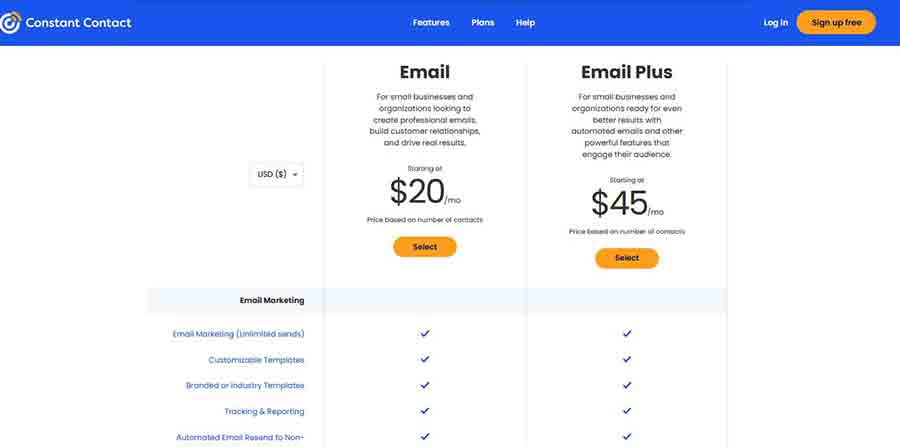 It has a 60-day free trial (no credit-card required). After that their pricing starts as low as $20/month. Besides, you get a 30-day money-back guarantee with the paid plans.
$15/month.
3. Mailchimp
This is my favorite email marketing software as i use it most and came to fall in love with it. Please note that you must after trying all tools have one that you find comfortable to use for many reasons. Mailchimp is one of the most popular email marketing service providers in the world primarily because they offer a almost like a forever free email marketing service plan.
It comes with an easy drag-and-drop email builder, autoresponders, segmenting contacts into groups, and simple tracking for analytics. It also allows you to setup delivery times based on user's timezones, and you can setup segmenting based on geolocation. Awesome right!
It allows for easy integration with WordPress, Magento, Shopify, and many other platforms. Although when compared to Drip or ConvertKit in terms of marketing automatio, it is short in features.
Mailchimp offers you a free plan which permits you sending 12,000 emails to 2,000 subscribers monthly. (You can add up to 2,000 subscribers to your Free plan). The free plan limits you to certain features but you can upgrade to get more.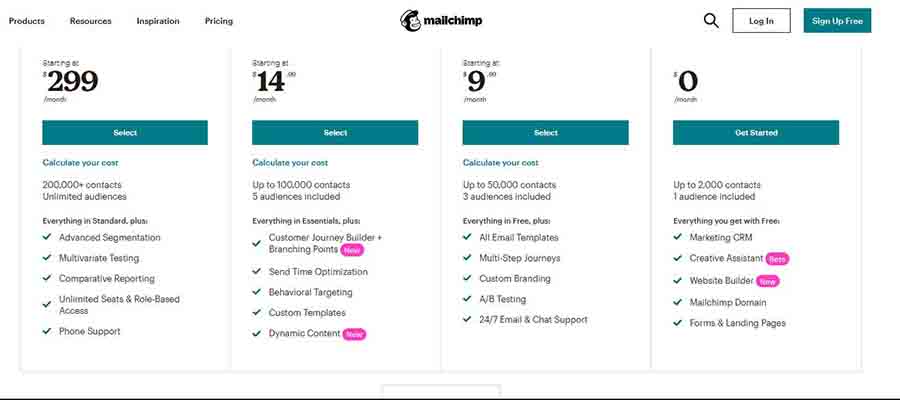 Their paid plans start from $10/month for up to 500 subscribers, and the pricing increases in the increment of 500 subscribers.
4. ConvertKit
With Convertkit email marketing tool, you can automate your need to grow your blog and business. It is powerful and easy to use. Apart from email signup forms, auto-responders, you can send drip emails with their emailing service.
It is a powerful tool for use if you are into blogging or eCommerce business as you can easily segment subscribers into those who are interested and those who have already purchased. This helps you increase conversions with automated emails that feel more personal. In marketing terms, this is called targeted email marketing.
The free plan allows you to have 1,000 subscribers and then paid plan for more.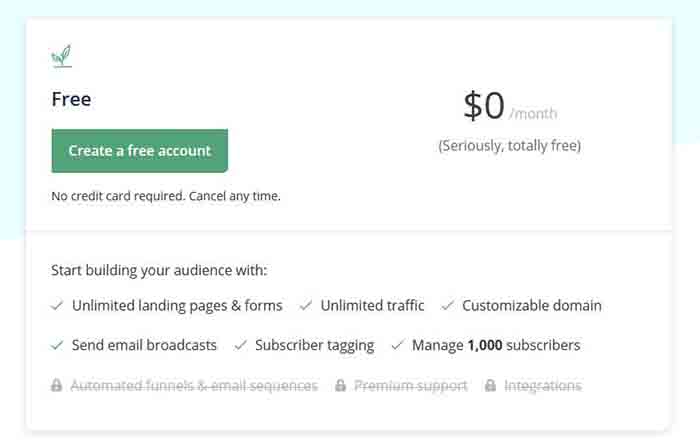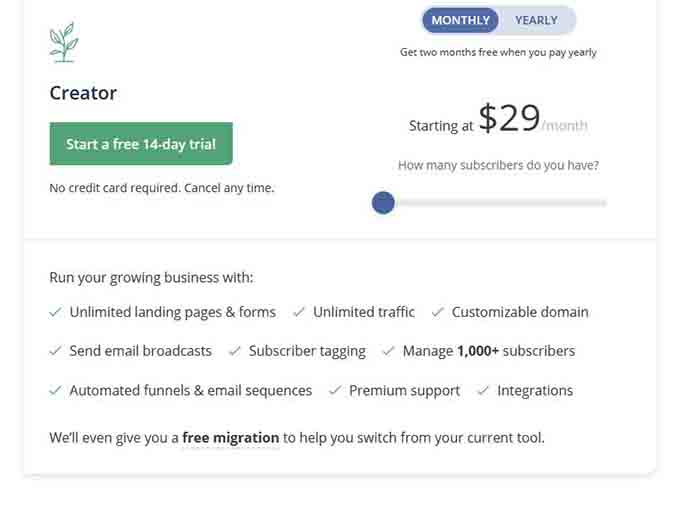 ConvertKit offers a 14-day free trial, and their pricing starts from $29/month. They also offer a 30-day refund policy.
5. GetResponse
This has been known to give the Most User-Friendly Experience. It has built in marketing automation tools which allow you to create smart automated campaigns.
GetResponse comes has beautiful responsive forms, landing pages, A/B testing, unsubscribe tracking, and autoresponders. It also integrates with third party lead generation software like OptinMonster, SalesForce, Google Docs, ZenDesk, etc.
You can create effective campaigns with their drag and drop builder, contact segmentation and so on to help boost your business.
Like other marketing service provider, they provide support either by phone, live chat, or email. They also have free learning material including videos, webinars, how-tos, guides, etc on their site.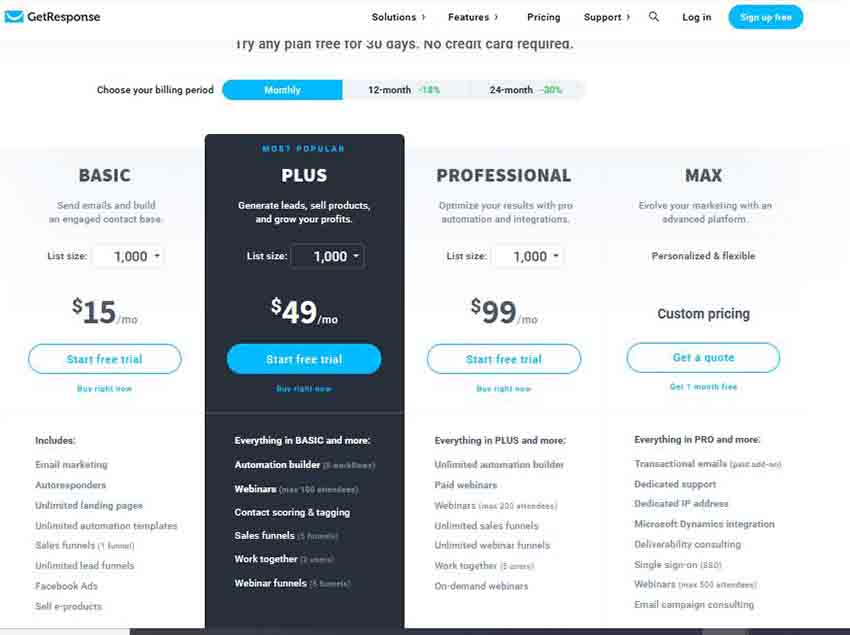 GetResponse offers a 30-day free trial. Their pricing starts at $15/month
6. Drip
Drip is a marketing automation platform built for Ecommerce – utilizing email, SMS and tight 3rd-party integrations to help businesses drive revenue.
Drip marketing, automated email campaign, lifecycle emails, autoresponders and a whole lots of other features beneficial for ecommerce marketing campaigns to drive sales.
7. AWeber
AWeber offers a wide-range of tools for small and medium sized businesses to manage their email marketing. Easy integration with platforms including WordPress.
They offer support via live chat, phone support, email support, live webinars, and a library of tutorials.
AWeber offers a limited free plan for up to 500 subscribers. After that, their pricing starts from $16.15/month. You can also signup for quarterly or annual plans to save even more.
Comparison Table Showing The Best Email Marketing Software
Number
Email Marketing Service
Free Plan
Best For
Pricing
Money-Back
Customer Support
Mobile-Friendly Editor
1
Sendinblue
Yes
Small Business
Starting From
$25.00
No
Email /
Phone / Live Chat
Yes, browser
2
Constant Contact
No
Small Business
Starting From
$20.00
30-days
Phone / Live Chat
Yes, app
3
GetResponse
No
Small Business
Starting From
$10.50
No
Email / Phone / Live Chat
Yes but limited, app
4
ConvertKit
Yes
Creators/Small Business
Starting From
$25.00
30-days
Email / Live Chat
Yes, browser
5
Mailchimp
Yes
Small Business, Agencies
Starting From
$9.99
No
Email / Phone / Live Chat
Yes, app
6
AWeber
Yes
Small Business
Starting From
$16.15
30-days
Email / Phone / Live Chat
Yes, browser
7
Drip
No
eCommerce
Starting From
$19.00
No
Email / Live Chat
Yes, browser
8
ActiveCampaign
No
Small Business
Starting From
$9.00
No
Email / Phone / Live Chat
Yes, browser
9
Mailerlite
Yes
Small Business
Starting From
$7.00
No
Email / Live Chat
No
10
Klaviyo
Yes
eCommerce
Starting From
$20.00
No
Email / Live Chat
No
11
iContact
No
Small Business
Starting From
$30.60
No
Phone / Email / Live Chat
No
12
Campaign Monitor
No
Small Business, Agencies
Starting From
$9.00
No
Email
No