How to Fix Phone Freeze and App Crashes
It can be frustrating when you can not use your phone because it froze or crashed because of an app misbehaving on your device. The question is
What causes phone to freeze?
Well, a notable cause is an unresponsive app that is taking up more memory than expected. Another possible reason is the age of your phone's hardware. The older your device, the more likely it slows down as it is difficult to cope with more advanced OS and apps.
Some other reasons why your app crashes are low memory, not coded properly, or the custom skin on your device.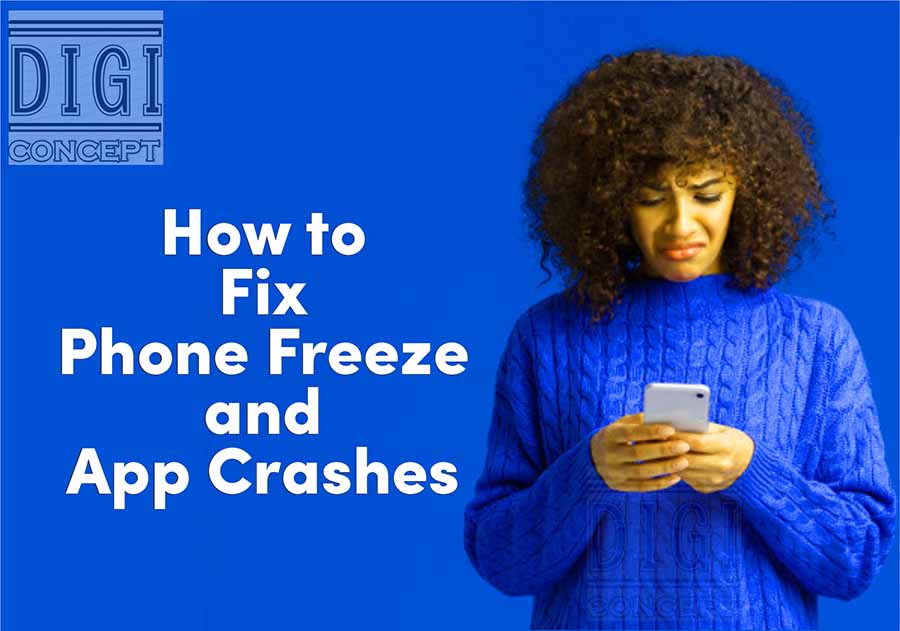 Phone Freezes/App Crashes
This happens a lot, especially in old phones or devices with full storage space. What people usually do is to restart their phones or turn them OFF and ON. When this does not work, we normally remove the phone battery and everything goes back to normal. However, some modern phones do not have this option because their batteries cannot be removed. Do not worry, we will tell what to do and how to do it.
1 Restart your device
This depends on the type of phone, few steps to restart:
Apple (iOS8 or higher)

Click Volume Up once
Click Volume Down once
Hold the Power key for 15 seconds.

Apple (iOS7 or lower)

Press the Power key + Volume Down key at the same time for 10 seconds or until the Apple Logo appears.

Samsung

Press the Power key + Volume Down key at the same time for 15 seconds or until the Samsung Logo appears.

Sony

Press the Power key + Volume Up at the same time for 10 seconds
When the phone vibrates, press the power key like normal to turn ON the mobile phone.

Nokia/HMD:

Press the Power key + Volume Up at the same time for 15 seconds or until the Android logo appears.
Note " Some people will tell you to force stop some apps if it crashs your phone, this i will not advice you to do as it sometimes causes some problems on the phone itself. I advice you to do the other things listed here and not force stop any app on your device".
2 Clear cache and data
Please understand that when you use your smartphone over a long period of time, cache builds up and occupies a huge space on the device. This has been known to slow down phones with low storage spaces and RAM. If your device has high storage and RAM, with time it will fill it up and cause the app to run slow or freeze or crash occasionally.
This is noticable when using some of the most popular apps like Facebook, Instagram, Viber, Messanger, WhatsApp, and so on.
Solution: Delete the cache, and the app will work normally.
Go to your phone storage and see which app or file is taking more space:
Go to Settings
Click on Apps (App Manager, Manage apps, depending on the Android device)
Find the app that keeps crashing or freezing and select it
Click the Clear cache
3 Free up some space
Sometimes, space/memory limit can cause your device to freeze. You may decide to free up some space by either removing some apps not used or deleting files no longer needed.
How to Uninstall Apps:
Go to Settings
Click Apps, go to downloaded
Select app you wish to remove and click Uninstall
Amazingly, there are certain apps that can help you free up space, maintain cooler space, fix other issues on your phone. mastercleaner app, ccleaner app are few tested and trusted apps on Google play store. By default, some smartphones come with cleaner apps.
4 Update your apps
It is good to update your phone and apps as developers usually release update just to fix some issues. Updates can fix freezes and crashes so it is recommended to periodically update your app.
How to update apps:
Open Google Play app
Click the three horizontal lines to open the menu
Now select the My apps & games
You may decide to select "Update all", or go via the apps and update only the ones you want.
5 Factory reset
Not usually recommended but it is usually the best to fix any phone problem. Factory data reset will wipe everything on your phone off. So try to backup your files!
Go to Settings
Click Backup & Reset
Next, select Factory data reset
Select Reset phone or Reset tablet.
In conclusion, we can say that our mobile device is our next best friend that keeps us company and helps us to do so many things at a particular time. It enables us to enjoy comfort but when you start experiencing freezes or crashing of the apps or phone, then you can be devastated.
Hence, to remedy the problem is to restart phone and/or do the following things proposed as solution in this post. Trust you have been impacted by this post and find it helpful. Kindly share on social media and be blessed for visiting.