Best Instagram Bio to Describe your Profile
Do you know that your Instagram bio is like your business card, portfolio, and website home page all in one package. This includes your bio and profile pictures.
Do you know there are ways to use beautiful fonts, links and other features to make your Instagram profile beautiful and attractive? We will show you how to use funky and cute fonts on your Instagram bio profile.
It creates the first impression about you and Instagram bio is one of the best ways to convert Instagram visitors into followers.
When new folks come across your Insta page, the first thing that they see is the beginning of your profile design. So it's important to attract attention not only with your creative images but also with your bio because any user can become both a follower and a client for you.
This post will show you how to create a meaningful instagram bio and unusual fonts generator to make the text more attractive. 
This technique will encourage the users to click "Follow" and save these Insta bio ideas to enjoy the "followers inflow".
What does Insta Bio Mean?
Instagram Bio simply means a summary of who you are and what you do; a description of your brand or services. Brief information for anyone who visits your page, it instantly tells them what your profile is about and what they are dealing with. Bio is placed under the username and profile picture. It may contain not only words but also emojis, smiles, or links.
Read Also: How to add your WhatsApp business to your Instagram business page
Lets have a look at a sample IG page as shown below as they created the bio in the following way:
the first line tells us about their main activity – offer lemonade juice service;
the second line is their website url
the third line is about their primary place of work or the city where they are;
then the regular page with their photos;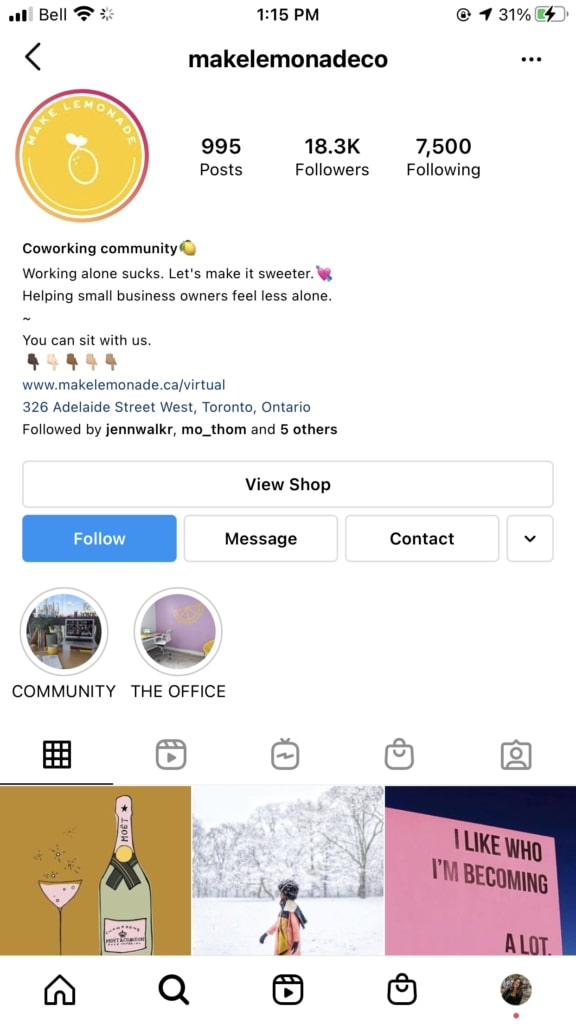 Best Tips about Instagram Bio Creation
Instagram bio has no particular procedure or rules that must be adhered and so no protocol. Create the description the way you want it to be. This article shows you how to make it more attractive and useful
1. Describe yourself in your Instagram biography
The best practice here is to keep it simple and direct. State the most important things about yourself and what the new user will find in their profile.
You can put your first activity followed by how you do it

If you see a blue tick next to a username, it means the page is "authentic". So it is not a fake account. Don't hesitate to follow it.
2. Mark your Interests in your IG profile
Another interesting feature to add to your bio on IG is the hobbies and interests. Write down what you like to do in your free time. If you do not have a professional profile, this information is stated at the beginning of the bio.
For example, Fernanda Paterlini marks her main activity as a digital creator. Then she wrote down lifestyle/travel/nature. It means she also likes to travel, lead a healthy lifestyle, and be close to nature. Then her life place and important links for new followers to know about her activity better.
3. Add Favorite Phrase to your IG bio
It is a good way or format to add your favorite saying /tagline/motto to your bio. Unlike the first two points, this one does not need to be included in the bio, but sometimes such phrases are very appropriate.
4. Add your Contact Information to your IG
Very necessary thing to do is the addition of your contact details to your profile. Provide your email or phone number of your representative, or you can direct people to the DM. You may add something like "for the organization, cooperation or business issues".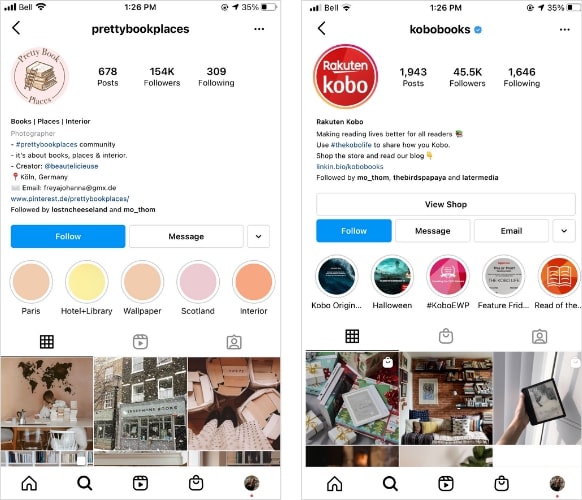 5. Add "Call to Action" to your bio
Once you have created your IG bio, it is important to provide a way for the insta user to know you or look at your product/service. Include a link to your shop or your latest video where you talk about your product/services or a link to sign up for your course. It is the perfect end of your profile description, after which your subscriber becomes your client.
For example, The Rakuten profile indicated with a "finger down" to his link to get his followers' attention.
6. Make your Insta Bio Font more Eye-Catching
To make sure users pay attention to your bio, use Bigbangram generator designed to transform a boring text into an unusual and attractive one.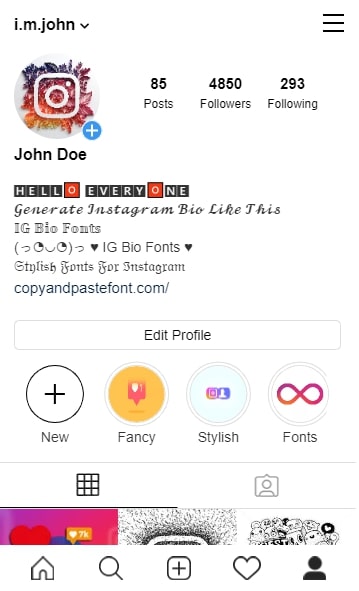 Look at the Insta account below and its bio. The profile seems very feminine and tender from the start. Here are tricks to use in designing your bio
1. Instagram Bio Fonts
With tool like LingoJam, you can easily copy and paste different Instagram bio fonts for your profile. All you need to do is type in the words you'd like in a different font, like your name.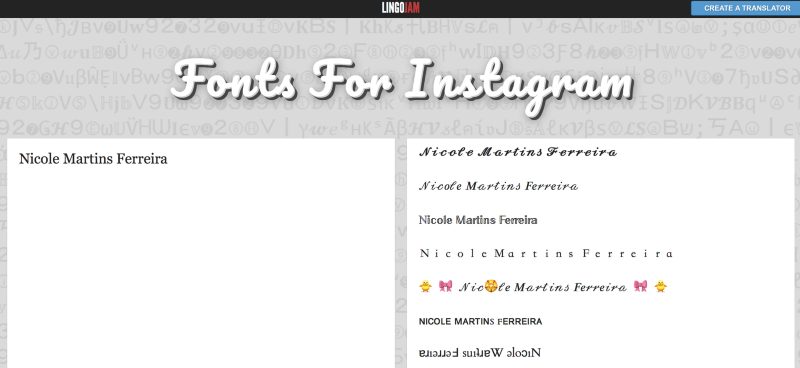 Then, scroll through fonts until you see one you like. Copy and paste it right into your Instagram bio.
2. Instagram Bio Symbols
With the use of website like CoolSymbol, you can copy and paste symbols and fancy text.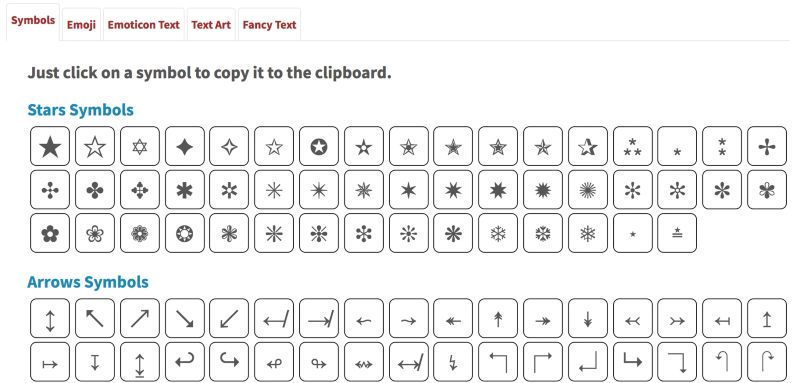 Here you will discover lots of cool symbols like stars, copyright, arrows, currency, bracket, hearts, zodiac signs, and more. As soon as you click one of their symbols, it immediately gets copied. Then you can head on over to Instagram to post it in your bio.
3. Instagram Bio Link
We all know how to add a website link to our Instagram bio. But what about when you want to add multiple links?
There is a site called Linktree to help with this. All you need to do is log into your Instagram, sign up for a free plan and add the links you want.
When all that's done, your Instagram bio link ends up directing your visitors to a page with multiple links.
4. Instagram Bio Space
We used a free tool by Apps4Life, to add line breaks to Instagram bio (or Instagram captions) and click the Convert button to add it to our clipboard.
Then, you can head to your app and paste the text directly in your Instagram bio. Doing this is the easiest way to have an Instagram bio space. This saves you the hassle of manually creating space you need within the Instagram app.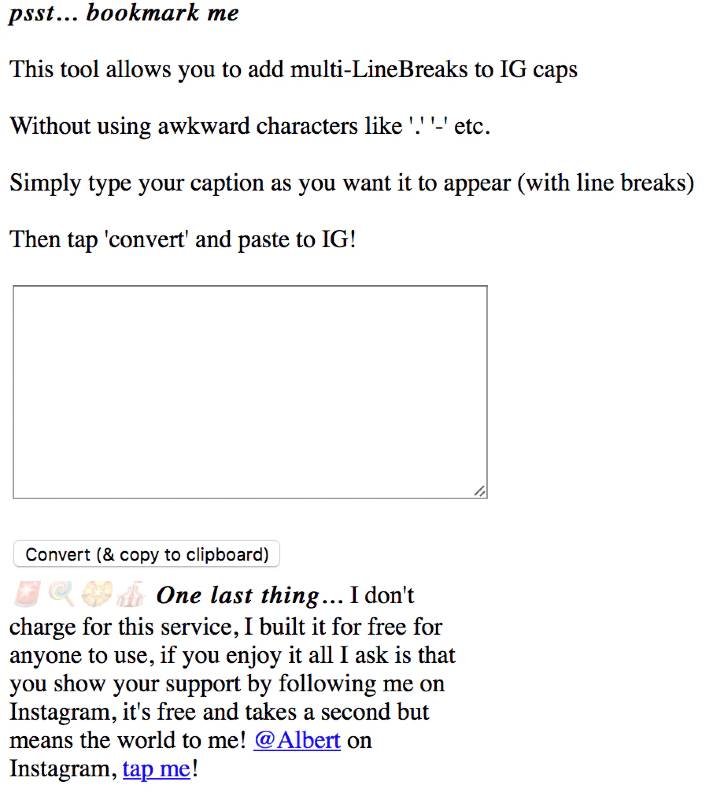 We have listed some ideas to help you kick start and start smoothly updating your IG profile.
Read Also: How to run Facebook ads
Instagram Bio Ideas
cool bio for Instagram
Making every day magical.
Loving fiercely. Stopping along the way to take photos.
Captivated from life, showing it here.
Trying to become the best. That is why first I am being the worst.
Creating a life I love.
Trying to remember who I was before the world told me who to be.
Creative Bios for Instagram
Dreams 👉 Goals
If "love is in the air," why is the air so polluted?
It took me __ years to look like this
Currently saying yes to new adventures
I'm hurt but I still smile. That's my life.
Midnight snacker 🌝
Everyone else was taken so this is me
Recovering cake addict 🎂
I make money in my sleep 🛌
People call me Sara but you can call me tonight 😉
Funny Instagram Bio
recovering chocolate addict;
status: wine and films;
you wouldn't understand my passion for Saturday night parties;
chocolate doesn't understand my love, but I will remain faithful to it;
most of all, I like to eat and sleep, and, well, sometimes I also want to sing.
Cute Bio Phrases for Instagram
I hope I'm the sun amid sad clouds;
I think there's something magical about you, too;
try to smile not just with my lips, but through life;
ready to share with you my warmth and simplicity;
take off your dark sunglasses – it's time to put on colorful ones.
Business Bio Phrases for Instagram
contact us (+ email address);
follow our shop;
sale 50 % only this weekend (link to your online shop);
catch a look at our best sellers (+ link);
free world shipping.
Bio Quotes for Instagram
be yourself as the other roles are already occupied;
stay the brightest star in the dark sky;
it is better to die of happiness than of boredom;
creativity makes the world a simpler place;
it is better to express, not to impress.
WRAPPING UP
Ensure to take the bio seriously, first impression matters as this is what people see;
state briefly your activities, interests, and most important things;
Provide details for people to contact you more easily for business purposes;
The bio quotes is not that important but if your profile fits it, make it worthwhile;
use peculiar fonts to catch a user's attention;