Best Instant Loan platforms in Nigeria
Getting a loan in Nigeria can be frustrating due to the bulky requirement by banks in terms of collateral and other documents which might prove herculean task.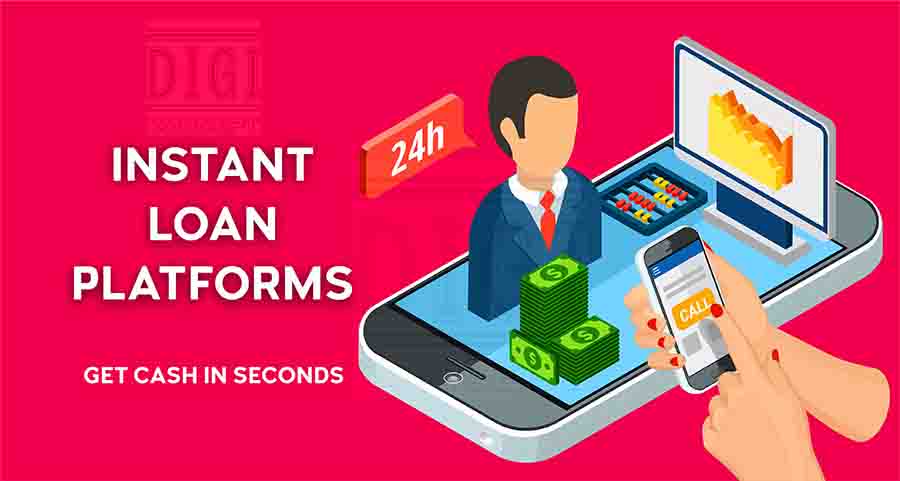 In this post without wasting your time online, we will be looking at the ways to get quick loans without hassle or stress. These loans can be applied for from your phone and within few minutes, you get alert in your bank account.
A big thanks to the Fintech revolution in Nigeria, online lending startups are making it easy for businesses and individuals to have access to quick loans.
Also, these lending platforms have considerate interest rates. We have listed them for readers to make an precise decision while applying for an instant loans.
Read Also: USSD codes for loans in Nigeria
Popular Instant loan lending platforms in Nigeria
This shows the trusted, popular and confirmed platforms you can get quick loans with cheap interest rates.
1. Paylater
Paylater is an automated lending service platform focused on increasing access to credit financially under-served/excluded individuals around Africa. They offer short term loans without collateral for urgent needs and expenses. It is owned by One Credit, a pioneer in the consumer lending space market.
Amazingly, loan resolutions are provided within 15 seconds and if approved, applicant gets funds within 5 minutes. 24 hours a day, 7 days a week. The loans are delivered via the Android mobile app, with lending decisions provided almost instantly. The usual amount for new borrowers is ₦10,000
It is suitable for people who need fast loans to solve urgent consumable needs.
ELIGIBILITY CRITERIA
Valid bank details
BVN number
Complete application
Platform: Mobile App
Repayment channels: Direct debit
Loan tenure: 3 to 12 months
Top up: No
Interest rate is between 12 – 15% (Depending on risk level)
2. Renmoney
This is another fintech company that gives you a quick loan when the need arises. Whether you're employed or run your own business, Renmoney can give you loans of up to ₦6,000,000 to help you meet your needs conveniently.
For you to get fast loans, you will need to meet some eligibility criteria.
Applicants are expected to be between the age of 22-59
Have a steady source of income with a functional current or savings bank account
Valid means of identification.
It is expected for applicants to provide upon request, verification of their monthly income and a report of their previous loans from a credit bureau if any. All these are to be submitted to any Renmoney office for confirmation.
Requirements:
BVN, Bank statement, Valid ID card, Employment letter
Platform: Website or APP
Interest rate is between 4 – 5%
Loan tenure: 3 to 12 months
Repayment channels: Quickteller, cheque, POS, Cash and Online transfers.
How Renmoney loan works?
Apply for loan: Choose your loan amount & tenure then share some information about yourself
Verify the information that you've provided
Receive loan: Get money in your bank account within 24 hours if your loan is approved
3. Aella Credit
Aella credit is an app-only easy and fast loan platform that eliminates the hassle of normal loan applications and enables employee to borrow at competitive and fair rates through their employers. They make it easier for anyone to borrow, invest and make payments.
How do I apply for a loan?
You need to download the Aella App.
Create an account.
Completely fill in all required fields with valid and appropriate information.
Click the "Check Eligibility" button to see how much you are eligible to borrow.
Apply for the loan that works for you.
Then Receive funds in your Aella Wallet.
Aella credit is available in Ghana, Nigeria and the Philippines
IT requires you to provide your BVN and other personal details. The loan tenure is between 1 to 2 months and the repayment channels is via Direct debit. The Interest rate is between 4 – 29%
Note" It is done via the App"
4. kwikmoney (Migo)
Kwikmoney is now Migo and it is a financial company. It because when you click on the site, it redirects you to migo website. It is an instant loan service which works with banks, mobile networks and other telecommunication services. You can get loans instantly in 2minutes or less.
Is Kwikmoney and KwikCash the same?
Yes it is and now migo
How to get a kwikmoney loan
There are two methods of obtaining loan from kwikmoney and we have listed them below:
First method of loan
With your mobile phone, dial *561#
Choose "Loans" and next click "Request Loan"
Choose the loan amount you require
At this point provide your bank details and within seconds your account will be credited
Second method of loan
From your web browser, go to https://kwikmoney.com
Enter your phone number in the text box on the site
A verification code will be sent to your mobile phone, input the code in the text box provided
Tap "Check Loan Offer" from the displayed menu
Select the loan amount you require from the list of offers displayed
Provide your bank details and within seconds your account will be credited.
All loans are payable within 14 days. You can read the full terms and conditions
Requirements for loan
BVN
Platform: USSD, Mobile App
Interest rate: 5 – 15%
Loan tenure: 1 month
Repayment channels: Direct debit
5. Rosabon Finance Quick Loan
It offers quick access to cash for emergencies or any other form of unforeseen expenses.
There is no need for unnecessary paperwork, long approval time. You can access loans up to ₦1.5 Million within 24 Hours without any Collateral or Guarantor(s).
Interest rate: 4 – 6% and Loan tenure: 3 to 12 months
Application Requirement for loan
Be in a paid employment
Be between 21 and 58 years
Have a current account
Have a pension account or tax ID
Have a valid Proof of Identification
How To Apply For Loan
Click on 'Apply Now' OR Send an email to clientservices@rosabon-finance.com
You may also Call +2348150880038, +2348150880039, +2348150991085, +2348150991086, +234150880082
Alternatively, You may walk into any Rosabon Financial Services offices in Lagos, Abuja, Warri and Port Harcourt: Addresses below
32, Montgomery Road, Sabo, Yaba, Lagos.
Imperial plaza, No. 24, Olu Obasanjo Road, Port Harcourt.
Plot 789a, first floor, Nigerian Reinsurance Building (opposite BoI), Herbert Macaulay Way, Central Business District, Abuja.
Suite 9, Eku Plaza, 128 Effurun/Sapele Road, Warri, Delta State.
6. Zedvance
It is a fintech company that provides quick loans for people in need of cash to solve needs at a good rate.
How to apply for Zedvance loan
Create an account: Register via website, MoneyPal app or by chatting Zee on Whatsapp
Apply for a loan: Select the loan package that fits your needs.
Answer a few questions: Tell us a little about you.
Receive funds in minutes: Get your credit alert in less than 10 minutes
Requirement for Zedvance Loan
Employment letter, Salary account, Official email address, Valid ID, Utility bill.
Platform: website, MoneyPal app or by chatting Zee on Whatsapp
Interest rate: 4 – 4.5%
Loan tenure: 3 to 12 months
Top up: Yes
Repayment channels: Cheque, Direct debit
7. Page Financials
Looking for a fast and convenient loan in Nigeria? Page Financials is one of the answers you need. They offer various quick personal and salary advance loan to meet the financial request of customers.
There are different loan packages you can choose from. There is a daily rate of 0.5% which accrues on its Debit card issuance also known as Pledge Finance. The debit card can be preloaded with up to ₦500,000 depending on your net monthly income. The company also charge a one-off fee of ₦1,500 for the card valid for a period of 3 years.
The interest rate is accrue daily at 0.5% that amounts to 15% monthly on the loan card.
Requirement for page-financial loan
Employment letter, Salary account, Valid ID, Utility bill.
Platform: Internet
Interest rate: 15%
Loan tenure: 3 to 12 months
Top up: Yes
Repayment channels: Cheque, Direct debit
8. FINT Loan
They provide access to affordable loans for basic needs such as power, rent, insurance and so on. No hassles or stress in getting the quick loans. When yu apply for loans, you can easily calculate your interest rate on their website with the calculator available.
The calculator provides an average interest rate for each sector.
When you visit their website and click start investing, you will see two buttons: Borrower and Investor. For loan, click borrower since you wish to borrow money from them. Then the steps below to guide you.
FINT interest rates range from 3% to 5% per month depending on borrower's risk score.
Requirements for FINT loan
Employment letter, Salary account, Valid ID.
Platform: Internet
Interest rate: 3 – 5%
Loan tenure: 3 to 12 months
Top up: Yes
Repayment channels: Cheque, Direct debit
But the investors, see below
Investing made simple
Add bank account to receive paybacks
Access your investment dashboard 24/7
9. Fair Money
FairMoney loan app is a fintech platform that grants you instant loans up ₦500,000 without collateral or paperwork. They offer both business loans and personal loans.
FIrst you need to download the FairMoney app to be eligible to get loan. You will sign up and follow application process to get the instant loan within 5 minutes.
It is a fast, secure, reliable and free Android mobile banking app. There is option to earn bonus cash when you invite your friends via the referral link.
Loans range from ₦1,500 to ₦500,000
Duration: 60 days and above
Interest Rate: 10% – 30% monthly
There are no additional fees or hidden costs for processing your loan.
This are tested and trusted loan app you can use and have peace of mind that your banking details are secured. There are others out there but we will update this list when we tested and /or you users leave a comment below of how confident you are with any other instant loan platform/app you might have used and it is not listed here and you want us to update for the benefits of others.
Trust this has been helpful? kindly share with friends on your social media and be blessed as you do so. Amen!