How to get MTN 1GB Data for 200 Naira
Data is life. There is virtually nothing you do now without the use of data. As almost everything is done online. You need data to visit your favorite social media, stream #BBN and watch your favorite YouTube videos.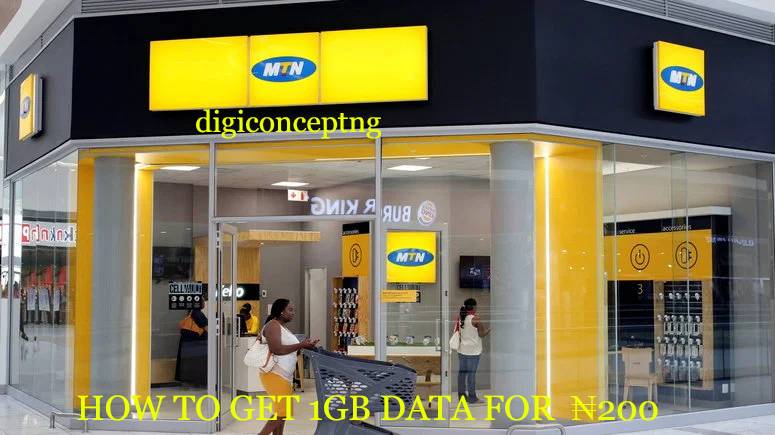 MTN has come with wonderful data packages that benefits it's users. There is the daily, weekly and monthly data plans depending on your budget.
Here is this awoof 1Gb data for ₦200 and it can be used for downloading, uploading, and even streaming videos, music, football, and so on.
It works seamlessly for those with 4G LTE enabled SIM cards.
Read Also: How to get MTN 2Gb Data and 4Gb Data for 500 Naira
The data bundle is for both Android Smartphones, Blackberry Smartphones, iPad, iPhones, Windows, PC system as well as other bigger handheld devices.
MTN has some data plans that are mouth-watering but most people complain about the volatility of the data gotten from MTN Nigeria.
This is because other network providers like 9mobile (Etisalat), Airtel, and Glo have been enticing their subscribers with yafun-yafun data bundle package.
Although this service can luckily work out for those who frequently recharge their Sim card. However, if this data plan is used up before the completion of the 7days, it can be renewed again through the normal activation process.
Read Also: How to get MTN 4Gb Data For 1000 Naira
How To Activate MTN 1GB Data for ₦200
Simple ways to activate the 1GB for 200 Naira MTN data plan.
Ensure you have a minimum of ₦200 airtime on the MTN Simcard to be used for the data subscription.
Just dial the code *131*65#, Select 2 as an option in the dialogue box that appears.
After dialing *131*65#, a message is displayed "Dear Customer, Enjoy data offers on MTN Deal zone, Dial *131*1#" after which the MTN data bundles package offers is shown.
Read Also: 9mobile 1gb Data for 200 Naira
Read Also: 9mobile 1.5Gb Data for 200 Naira
How To Be Eligible for MTN 1GB Data for ₦200
To be eligible to subscribe to the 1Gb data plan for 200 naira, you need to migrate to MTN Deal Zone. Simply dial *559*65# to confirm. That's how to be eligible for 1gb data plan.
Some discoveries were that the plan was made for "RunAway Customers". That is MTN users that abandoned their sim cards for 30days or more. No recharge, no data purchase. Another Eligibility status required is that you must have recharged your MTN Sim (line) within the past 30 days.
Insert the SIM on your phone.
Recharge your line with ₦200
Now, dial *131*65# to subscribe.
Reply to 2 to select the 1gigabyte plan.
How To Check 200 Naira MTN 1GB Data Balance
MTN 1GB for 200 Naira (₦200) must be used within 7days (1 week) and becomes invalid after the 7days. The Mtn 1Gb for ₦200 does not work for all MTN users.
Trust this topic has been helpful? Kindly support us by sharing as we lost our site data but we are back and better to serve you.