Web Audit: Why It is Important
It is good to perform a website audit on your website as it helps you to know how to improve your website and search performance.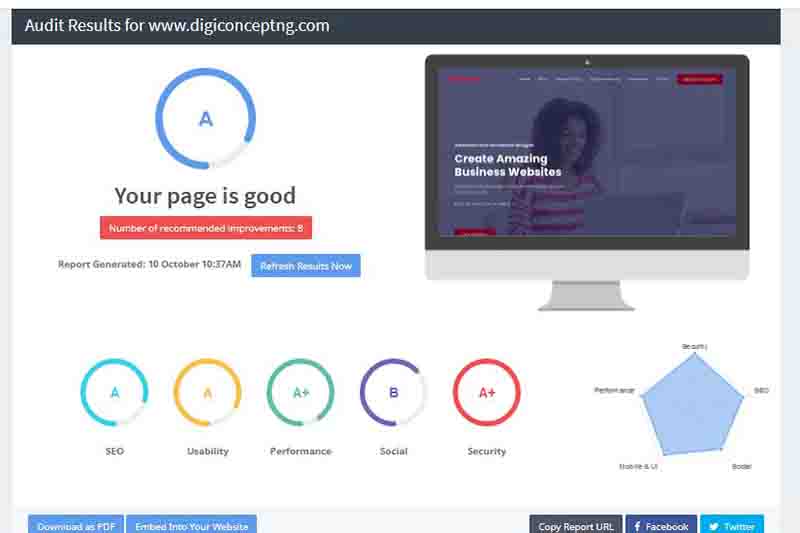 What is a website audit Report?
A Website/blog audit is a full analysis of all the factors that affect your website's visibility in search engines. This gives a complete insight into any website site structure, overall traffic and individual pages.
It helps you to know the web performance before you can do search engine optimization (SEO) or a website redesign. A good web/blog audit helps you to know the following:
You can compare your website to competitors and use your findings to your advantage
Identify modifications to be made (and how to change them)
You can see a general overview of SEO performance across your website
Know your website's deficiencies and correct them
Set up the right gears for the future of your website
Importance of Website Audit
A good web and SEO audit helps to uncover ways to keep your website up-to-date with the latest developments in web structure and search marketing for Improved performance, SEO, User Experience and Conversions.
Have you ever given your site a checkup?
For a website owner or a business, it is important you perform a check on your website to see if your web will perform and in coherence with search engine practices. Have you ever done a web audit before? Are you thinking of a web redesign?
Whatever the reason, just know that you need to know your site performance, usability and other things involved in the making of your site and see if it is positively affecting your website or negatively affecting it.
This post will provide you with insight and clues of why you need to perform a website audit. If you need help with site audit service, chat me up below or use the comment section or you can email and you will be adequately responded to with the necessary assistance.
During your audit, there may be fixes, and suggestions that require some assistance from a web developer, or SEO expert. Write them down, and find out, or ask us!
Read Also: Best invoicing Software For Businesses
Benefits of a Website Audit
I have performed so many site audit for people and with improvements made on the result, they were happy as the rsult helped them to improve a lot on their website and SEO. Now we break this down into 3 major categories
1. Technical SEO & Performance
Technical SEO can be defined as the process of optimizing your website for crawling and indexing stage. Technical SEO will help search engines crawlers access, crawl, interpret and index your website easily. There are some audit seo online tools which can be used to get result.
The audit will help you spot SEO opportunities and fix any poorly implemented SEO practises throughout your website. This will help you fix misguided SEO chances and also implement methods along with the ever-changing search engine algorithms.
2. Content & User Experience
A detailed analysis can show Which pages generate the most traffic? Which pages have the highest bounce rate? What Touch points that need fix?
Which pages convert the most users? Potential search optimization opportunities? The pages that are ranking best and worst?
In recent we look at things like user experience. Metrics such as webpage loading times, time spent on page, and social sharing are all contributing factors to search rankings.
3. Effectiveness
We can explain a website is effective when the users and the web owners both achieve goals for the site. Here we take note of signs that help us improve the effectiveness of our website as a tool to deliver the goals we want to achieve.
How to Measure Website/blog Effectiveness
Access your Search Engine Ranking
Website Traffic Growth
How Visitors Engage on the site
Size of Email List
Open Rate
Click-Through Rate
Conversions
The Website Audit Checklist (Blog performance audit)
You have to know that a lot of things will be looked in to here to ensure optimum performance. There is the need to analyze your web URL and know if it is canonicalized. You can read here for a detailed guide on that fix here.
Lets look at the things you can find in web audit checklist. I will be using one of our website which we audited to do a sample here. Its just a month old but domain has been bought long
Technical SEO and Performance
With so many tools online, there are free and others paid. Without emphasis on any tool, just check the one that works for you. This part we will talk about the technical seo and performance
1. HTML Header
‍Title Tag – This is also the Page title and it tells users and search engines the subject of the webpage. It tells search engines how relevant a page is to a search query. Try to make your page titles should be as accurate and relevant to the page's content as possible.

Meta Description Tag – This provides ample description or insight of what the page is about. It helps users understand what the page is about at a glance. Think users first. Maximum length recommended is 160 characters but some scholars suggest max of 320 characters. From image above, the description is below the title
2. Body Content
‍Header Tags – HTML header tags is in hierarchical form H1, H2, H3, H4, H5, H6… this is in order of relevance. It is important way of signalling to search engines the important content topics of your page, and subsequently the keywords it should rank for. Your main page topic/title should be your H1 tag.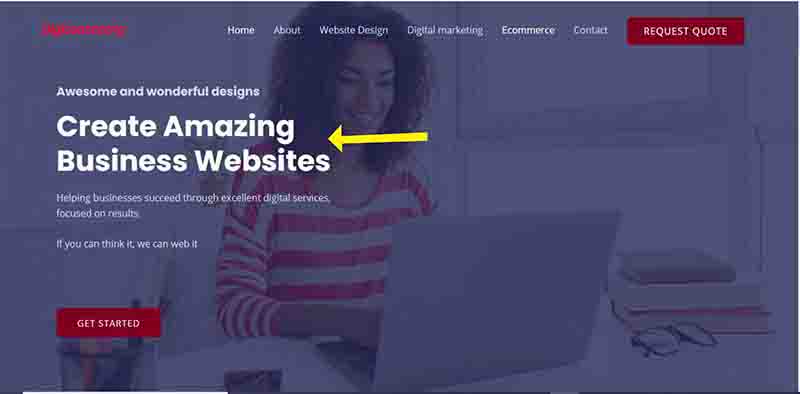 ‍Keyword Consistency – Ensure your keyword in the content is focused and consistent. Make the keywords to be distributed across tags such as the title, meta and header tags.

Amount of Content – Thin contents are harmful to search ranking. This can incur Google Panda penalty. Ensure the contents are atleast 700 words minimum for a blog post and for a website 300 minimum.
Image Alt Attributes – Alt text describes the appearance and function of an image on a page. The Alt text is important because:
It helps visually impaired users using screen readers to better understand an on-page image.
Sometimes, image might not load on the site, your Alt tag will display in place of the broken image.
It helps search engine to index the image accurately.
3. Links
Number of Backlinks – This is relevant and a helpful metric in search engine rankings. Consider quality over quantity and now Google penalizes contents with low or spammy links. Look for partnerships, and consider guest writing articles. The more your voice becomes an authority, the more other websites will link to you.
On-Page Link Structure – It is a good practice to have both internal and external links. Help your users by linking to relevant internal pages or external resources they may find useful.
Broken Links – Avoid the use of underscore or numbers in your linking structure. Check to see what's broken, the last thing you want is a user seeing a 404 page. There are three types of broken links:
Internal links: links on your website that link to other pages within your website.
Outbound links: links on your website that link to another website.
Inbound links: links from another website to your website. These are out of your control, so if you notice another website is linking to a page that no longer works, set up a 301 redirect, and drive that traffic to the most relevant page you deem fit.
‍Friendly URLs – This is the URL's that search engines can gain context from, and humans can easily read.
An unfriendly URL example: www.yourdomain.com/page?id=441
A friendly URL example: www.yourdomain.com/blog/lag-zip-code
Robots.txt – A robots.txt file is a text file that tells web bots (search engines crawler) which pages on your site to crawl. It also tells web bots which pages not to crawl.
To check, type www.yourdomain.com/robots.txt
XML Sitemaps – This contains a list of all your web pages that are accessible for crawling, besides other valuable information for search engines such as when you last updated a page, and priority of pages. Need help, we will produce a post on sitemap genration
Analytics – IT is a good practice to add an analytic tool like Google which is free and functional to your site. This can be helpful if you need to setup Google Analytics
Read Also: Content marketing
4. Performance
Page Speed – This is a factor now used by search engines to rank sites. Page speed has an impact on user experience, it affects bounce rates. The average loading time for a web page is 6 seconds,but you need target lesser if possible.
Server Response Time – This is the amount of time it takes for the web browser to receive a response. Shared hosting have been found to be slow but for budget sake is effective to help most host their sites. Geo-location has an impact on response times.
If your business is located in Nigeria and the majority of your customers are also from Nigeria, i recommend you use Naija based hosting provider. You can check the speed and response time with a tool like Pingdom Speed Test or Google speed test tool.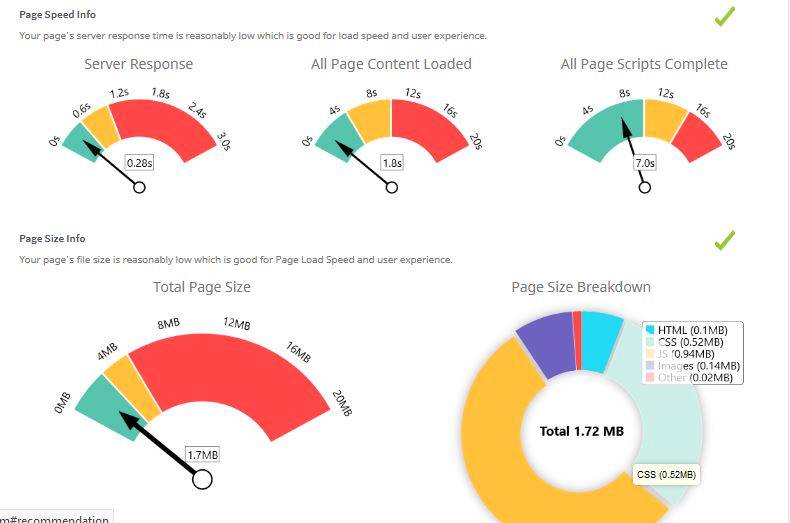 Number of Resources – You must know that the more files to load increases the number of server requests and can subsequently increase page load time, and this affects your overall site speed. I recommend removing unnecessary files or consolidate files like styles and scripts where possible.
Optimize Images – Images can have adverse effect on the site size and loading speed. The performance of a webpage can be optimized by using optimized images. I usually use Photoshop to compress my images sometimes and most times i use an online tool like tinypng
Minification – This refers to the process of removing unnecessary or redundant data without affecting how the resource is processed by the browser – e.g. code comments and formatting, removing unused code, using shorter variable and function names, and so on. This helps to speed up resource loading times.
5. Security
SSL – Secure Sockets Layer (SSL) is a standard security technology for establishing an encrypted link between a server and a client. SSL is a ranking factor to search engine. It's a must to use the https as Google now favors websites that are SSL enabled.

HTTPS Redirects – Once you've set up your SSL Certificate you'll want to make sure your main URL is the https:// version, you can redirect to https if you are not on the https version.
Malware Check – Google has a way to send errors and unsafe site warning to users via web browser Ensure your website code hasn't been compromised, and you're fully safe.
Email Privacy – Ensure your email is not in plain text.
Website Audit Summary
The audit will show you things to do and how you can improve your web/blog to rank better online. You may need to get an expert to help you fix some of the issues that might be displayed.
You can compare your website to competitors and use your findings to your advantage
Identify modifications to be made (and how to change them)
You can see a general overview of SEO performance across your website
Know your website's deficiencies and correct them
Set up the right gears for the future of your website
We can conclude from this post that the result from your web audit can have adverse effect on the performance of your website if correctly implemented. Never forget that On-page SEO is very important t how your site performs online and the Off-page can provide further support for the page ranking.
Trust this post has been helpful? Kindly leave a comment if any and share with friends on social media. You may also follow us