WhatsApp Adds Support for Bitmoji-like Avatars
Customizable avatar support is now available on WhatsApp. The function has long been accessible on Facebook, Instagram, and its VR platform, but it is now also accessible on WhatsApp.
According to a blog article by WhatsApp, "Your avatar is a digital image of you that can be constructed from billions of combinations of different hairstyles, facial characteristics, and clothes."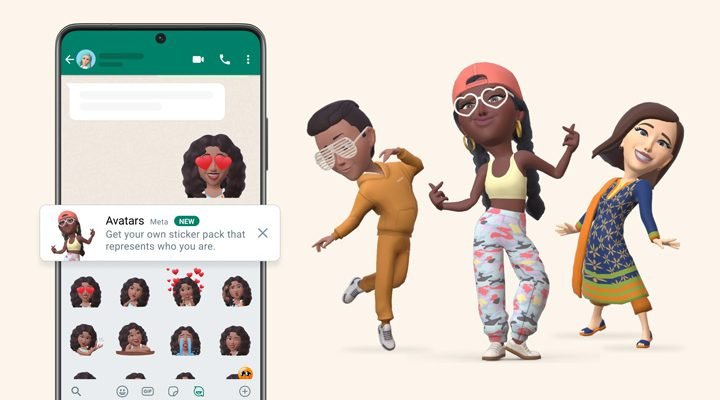 You may now use your customized avatar as your WhatsApp profile photo or select one of 36 creative stickers that represent a wide range of emotions and actions.
From WhatsApp's sticker section, users may build virtual avatars using a variety of user-customizable features. According to WhatsApp, it will keep adding aesthetic improvements like lighting, shading, and other hairstyle textures "that will improve avatars over time."
Making avatars accessible across its platform seems like a positive step for Meta as it works to develop its metaverse since these virtual characters will serve as people's representations in the metaverse.
Read Also: How to recover hacked Facebook account
Read Also: How to run a cardless ATM withdrawal from any Nigerian bank ATM machine
Read Also: How to open a bank account online
When Meta announced that its new avatars will be compatible with many services, the expansion to WhatsApp was anticipated. The feature is, if anything, long overdue.
Since the beginning of the year, bitmoji reactions and replies have been available on Snapchat, likely the source of the avatars. You may use avatars in videos on TikTok as well. Meanwhile, "Memoji" has been a feature of Apple's Messages for years.

However, this might be a useful addition. Of course, it should help WhatsApp compete with those other services for users' attention, but it also offers a more uniform experience regardless of whether you use Meta's other social platforms. Despite the fact that they may not always be the same as the ones you use in other apps, you won't have to give up avatars simply because your friends and family use WhatsApp.