How to Create a Facebook Business Page
Facebook Business Page enables businesses, brands, organizations and public figures to share their stories and connect with people. It makes it professional for businesses to post and get Like profiles or followers. Pages can be customized with stories, events and more. People who like or follow a Page can get updates in News Feed.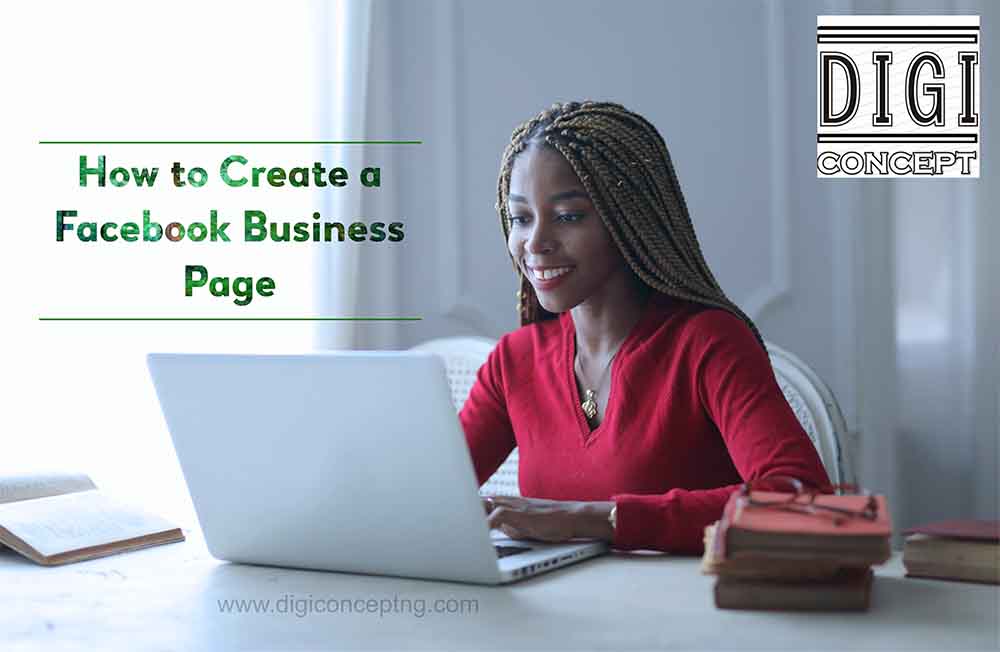 Why do i need a Facebook page?
For a brand, organization or business to get more visibility, leads or sales, you need to take advantage of having a Facebook Page. Do you know that over 2.5 billion people use Facebook monthly? This is a huge market
You see the reason why you need to be online and on Facebook Page
Now, let's dive into how to create a Facebook Page for a business. Follow these steps to launch your page successfully.
Read Also: How to pay for Facebook Ads in Naira with any ATM card
How to create a Facebook page for business
To create a page, you need to have a Facebook account. Hence, i assume you already have a facebook account and logged in.
Note "Your personal information from your personal account will not be publicly visible on your business page."
So, if you're not already logged into your personal account, log in now, then dive into the Page creation steps.
1. Sign up
From your account, Go to facebook.com/pages/create. From here, you can select the type of page you want to create: business/brand or community/public figure. I will assume you're creating a page for a business or brand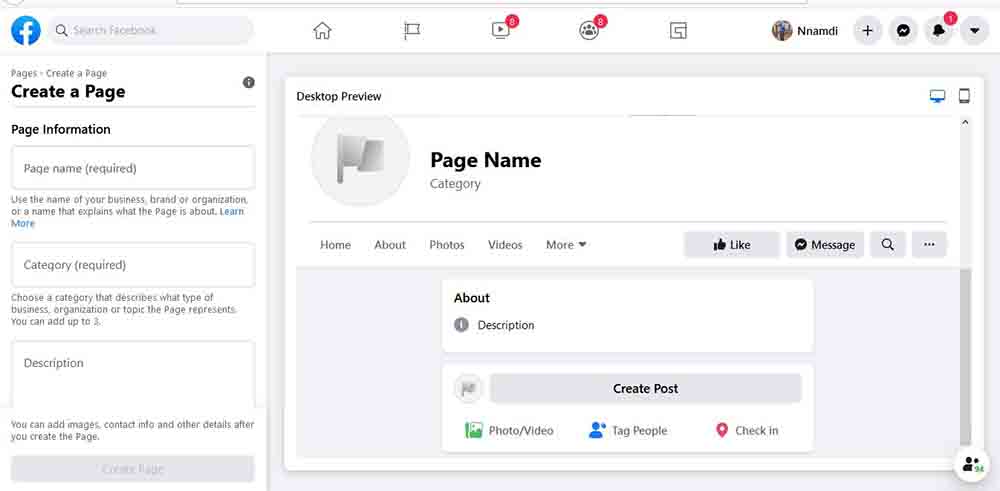 Click the Get Started button option.
Next, type in your business information as you want it to appear. For page name (use your business name or the name you want people to search and know you for)
For category, type a word or two that describes your business and Facebook will suggest some options. For business with more than one category, just select the options your customers are most likely to think of when they think about your business.
Provide a description that best fits your brand. and click the "Create Page"
2. Add Pictures
From the screenshot below, you will be required to upload a profile and cover images for your Facebook Page. Very important to create a good visual first impression in this part. Use photos that represent and align with your brand and that which people can relate your business with.
First is the profile image which accompanies your business name in search results and when you interact with users. This also appears on the top left of your Facebook page. The important thing is to help a potential follower or customer to recognize your page immediately.
Next add a cover image. This also should be relative to your brand or something you want people to associate your brand with or a communication you want to show your audience/followers.
Cover picture size is 820 x 312 pixels on desktop or 640 x 360 pixels on mobile.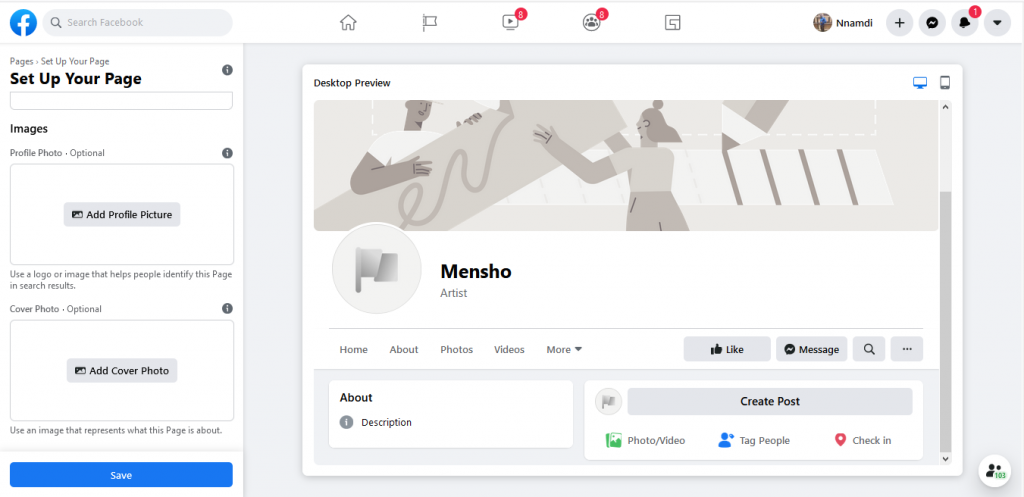 At this time, the page is shaping up but there is still a lot of work to be done before sharing with your audience.
3. Create a username
You need to create a username which is also known as vanity URL. This is what you can share for people to find you on Facebook.
The username can be up to 50 characters long, please don't use extra characters just because you can. Keep it simple and easy for users to remember.
From the screenshot below, you can see the Create @Username in the left menu to set up your vanity URL.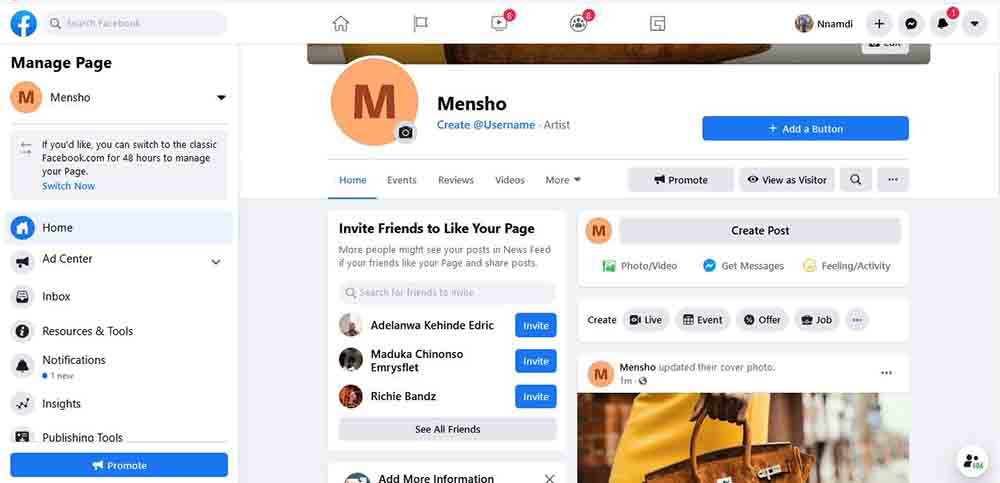 4. Add your business details
On the left, you will find "Edit Page info" or if you are on mobile, locate this part to get started with your business details.
Sometimes, you might be want to leave the details for later, it's recommended to fill out all of the fields in your Facebook Page's About section from start.
Most times when people want to get certain information about a business, they will search details online.
Contact:
Fill in your contact details like your email, phone number and website if applicable. Amazingly, Facebook has created options for businesses who do not have any of these details with a select option.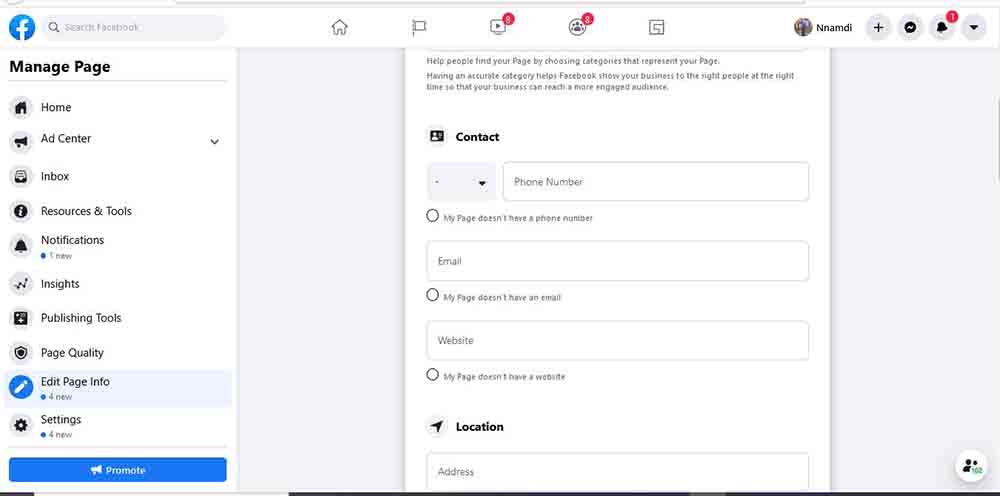 You will also provide business opening and closing hour.
Extra options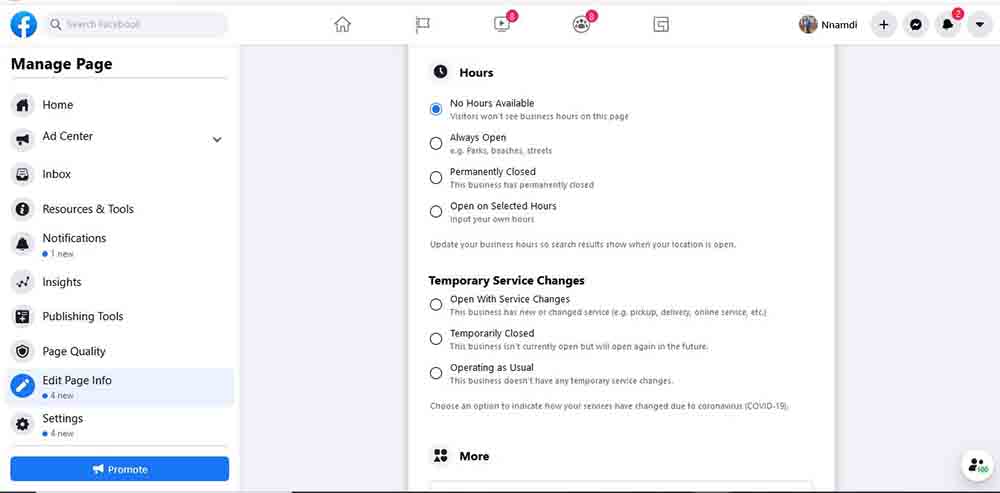 There is option to enter impressum, price range, and privacy policy link. An impressum is a legal statement of ownership, and it is generally only required in some European countries.
5. Tell your story
For a new page, there might not be a story to tell to help engage people with your business on the Facebook but with time you can add this to the page.
Funny enough, there's a section of your Facebook business page where you can add a longer description of your business. To access it, click See more in the left menu, then click About, and then click Our Story.
Here detailed description of what your business offers customers and why they should Like or Follow your Page can be added.
Provide a headline and text for your story, then upload a relevant photo. When you're finished, click Publish.
6. Create your first post
I strongly advice to create a few post before you invite and publish the page for all to see. You can create your content or share thoughtful contents from top business quotes in the industry.
7. Publish your page and invite an audience
Now you are set to let people interact with your business page and reach potential customers and fans (for celebrities). With all the above steps taken feel free to hit the Publish Page if it is not already done. Most times this is done if you have fully filled all details from start but if most info are not provided from start, you will need to publish page manually for it to be public.
Now you can start inviting people and sharing your page for people to see. You can also boost the page to reach more people and get more followers.
To Optimize your Facebook page so that you can get more views and search result, you need to see how here.
Trust this post is helpful, kindly share with friends and be blessed.