How to Fix Disabled Facebook Ad Account Really Fast
Did Facebook suspend your account for Facebook ads? Do you want to know how to dispute the verdict and reinstate your ads? You can read this post to learn how to make an appeal to have your disabled Facebook ad account revived.
Every advertiser's top concern is not just not getting conversions but also not having their Facebook ad account disabled.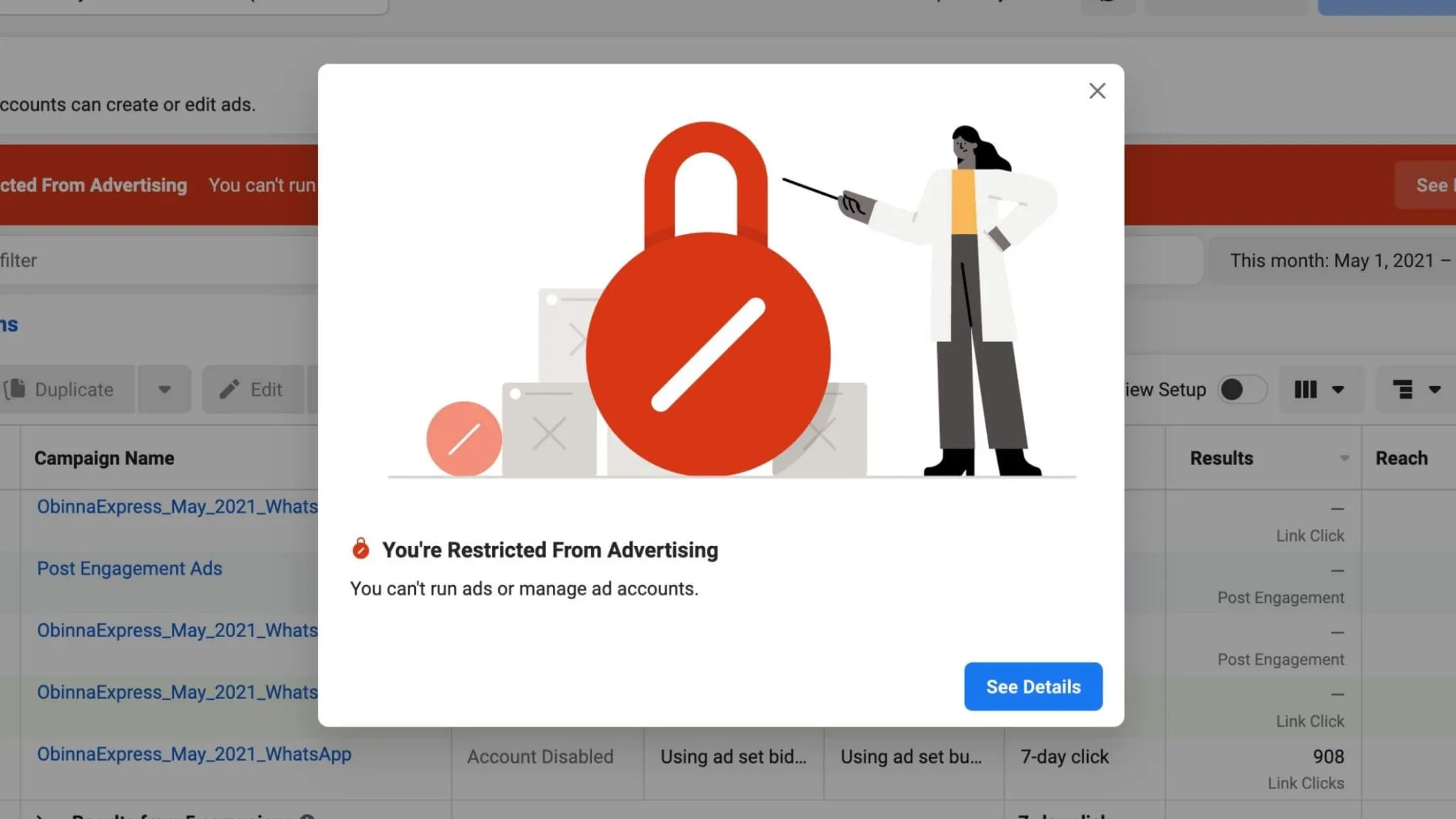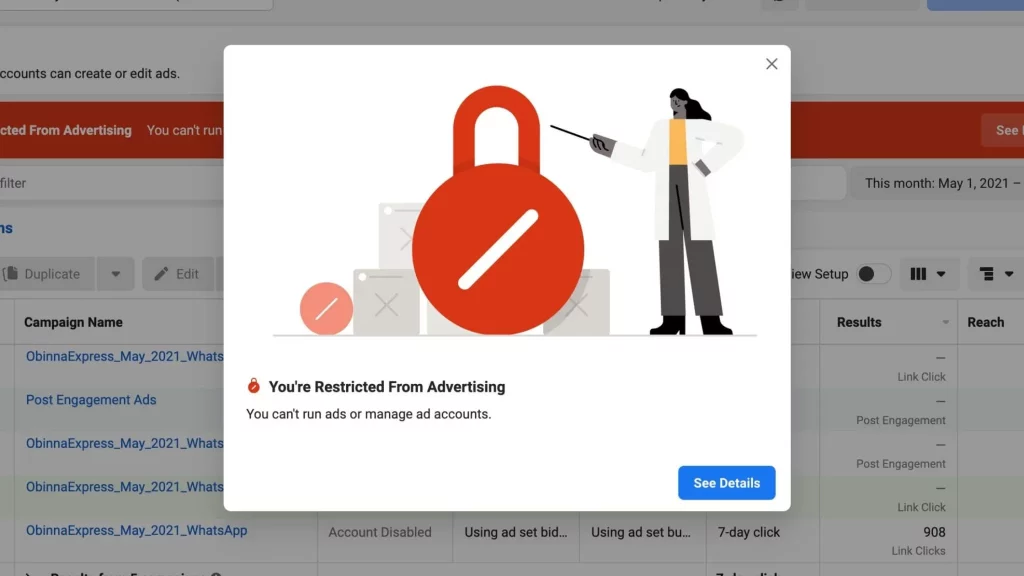 It unfortunately occurs. especially if you frequently run Facebook ads. When you receive a warning that your advertising account has been disabled, we know how it hurts.
Why Did Facebook Disable My Ad Account?
It's crucial to understand the potential causes of your deactivated Facebook ad account before trying to fix it. There are typical reasons why Facebook decides to delete your ad account, according to our experience providing Facebook ad consulting to brands from various industries.
Major reasons why Facebook Disables Account
Facebook's advertising policy is being violated
Payment on account is pending, and Facebook is verifying your identity.
On your business manager, there is no two-factor authentication
Opting out of Facebook advertising.
Facebook system bugs.
As a result, engaging in any of them may result in Facebook deactivating your ad account. Get in touch with Facebook Help Centre
How to Reactivate a Disabled Facebook Ad Account
There is only one resource center, the Facebook Business Help Center, if you want to reactivate a restricted Facebook ad account. You may find resources on all facets of Facebook advertising, including setting up and managing your accounts for Facebook ads and Facebook advertising policies.
However, we've found potential methods of getting your disabled account back so that you can avoid stress and wasted time. There are four ways to get your account back once Facebook shuts it so you may resume advertising.
Chat live with a Facebook support agent
Fill out the Recover a Disabled Ad Account
Recover a facebook Ad Account That Has Been Disabled due to payment
Speak with a Facebook marketing specialist
1. Engage in a live chat with a Facebook support agent
Contacting a Facebook Support staff is the greatest option for recovering your limited Facebook ad account.
To start a conversation with a Facebook employee,
Next, click on Get Started button.
You must perform these three crucial actions:
Choose Asset: You must choose the disabled ad account if you have multiple Facebook ad accounts.
Choose the problem: You've mentioned potential problems you might be having.
Select The account Ad that was disabled.
Get support: Fill out the form with your information.
Click Start Chat when you're ready to start a conversation.
Keep in mind that a case ID is given to you for each interaction you have with a Facebook employee. When you wish to follow up on a pending problem, you can use this to monitor your interaction to this point.
2. Complete the Form for Restricted Facebook Ad Account.
As an alternative, you can ask for a review of your ad account using the limited account form. You can fill out the request a review form to request an ad account review if you think your Facebook ad account was limited due to a policy infringement.
3. Recover an Ad Account That Was Disabled Because of Payment
You can ask for a review if you believe the reason your Facebook Ads account was blocked was due to an outstanding payment. Additionally, do fill out this form if you want your ad account reviewed.
Make sure to check your email and the help mailbox for correspondence after you send your request. You will receive feedback on your case ID once your ad account has been reviewed.
4. Talk to a Facebook Marketing Expert
For companies of all sizes, Facebook has a Facebook Marketing Expert Program. However, not all businesses can take advantage of this. However, a Facebook Marketing Expert will be allocated to your company if you are accepted into the program. get in touch with a Facebook marketing expert now
When Facebook shuts your ad account, you can contact your assigned Facebook Marketing Expert to have them escalate the matter to the group in charge of this area of the company's operations.
Click here to find out if you're eligible for this.
Resolved: Facebook Ad Account Disabled
Congratulations!!!!
You can now create an ad and control every asset under your account after your limited ad account has been restored.
Read also:
How To Solve 'Facebook Account Restricted' Issue?
How to fix ad serving limits on AdSense (Google)
Facebook Disabled Ad Account Frequently Asked Questions (FAQ)
Is it permanent when Facebook disables your account?
Facebook account suspensions are temporary. After your account was disabled, you have up to 30 days to provide more details.
After that, your ad account will be permanently terminated if Facebook doesn't hear from you because you won't be able to submit requests for review.
After being disabled, can I open a new Facebook account?
After the previous Facebook ad account has been disabled, you can start a new one.
But it's crucial to comprehend the rationale behind the limitations placed on your Facebook ad account. To learn more, read the email that was given to you or look at the quality area of your ad account.
Why does Facebook keep denying access to my ad account?
Any advertising account that violates Facebook's advertising policy gets blocked. Reread the advertising policy and abide by it if Facebook keeps blocking your ad account. But you can ask for a review if you believe it was accidentally disabled.
How Do I Delete a Facebook Account With Disabled Ads?
You cannot remove an ad account you've already created under your profile. There is no way to deactivate an existing Facebook ad account; you can only establish new ones (be it active or inactive).
What Time Frame Does Facebook Use to Reactivate a Disabled Ad Account?
typically 72 hours.
It may be more in some circumstances. However, if you don't hear back, go ahead and make a backup account to make sure that your company continues to run Facebook advertisements.
Can Facebook accidentally disable my ad account?
In a word, yeah. Facebook isn't flawless, and no system ever is. Facebook may unintentionally disable your account, but once you ask for a review, they'll restore it and apologize.
Conclusion
Your advertising and customer acquisition may stop if your Facebook ad account is disabled. As a result, the delight that you feel when your Facebook ad account is restored is out of this world.
We hope that this article was useful in helping you find a solution to your Facebook account being disabled for ads. To keep up with platform updates, we advise that you examine Facebook's advertising guidelines at least once every month.
Finally, it will take time for you to hear back from the person who is reviewing your account.