20 Best Free Cooking Apps for Both Nigerian and Foreign Dishes
Technology has made cooking easier than ever before. Both experts and amateurs can use apps to make time in the kitchen easier than before. Foodies have access to thousands of recipes, instructions, and lists that can be obtained with just one click.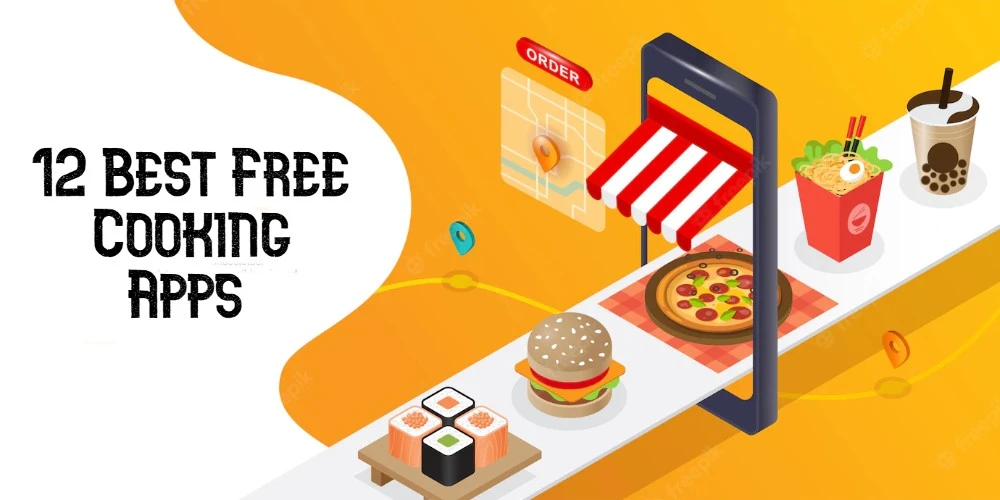 Finding the top apps for foodies might be difficult because there are so many available. Finding good, free apps that are simple to use and enjoyable is getting more and harder. When things get a little messy in the kitchen, consumers love the free apps listed below because they are simple to use and have excellent ratings.
7 Best Nigerian Food Recipe Apps For Android 2022
When you have the proper recipes, cooking Nigerian food is quite simple. For the finest Nigerian recipe apps on Android, check out the Play Store. They can provide you with further information on Nigerian cuisine and cooking techniques.
We all immediately think of Nigeria when discussing cuisine and which African nation makes the greatest dishes. And sure, Nigeria is famed for producing some of the most delectable dishes in the continent, from the widely consumed enticing jollof rice to the expertly cooked fufu and vegetable soup.
Every tribe in Nigeria cooks, therefore learning how to cook is a necessity. There are many wonderful foods to learn how to prepare, and even if you're a foreigner, you might be interested in learning how to prepare Nigerian cuisine.
1. Nigerian Food Recipes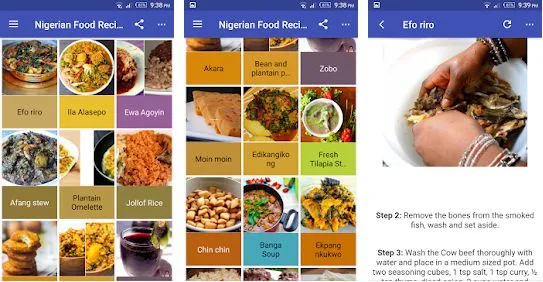 This particular app is one of the best for carrying out your study when it comes to the food prepared in Nigeria, the types of foods we have, and which state has the most food and ingredients. There are a ton of food recipes here, and if you want to learn how to cook any Nigerian food or maybe you already know how to cook one but it doesn't taste as you'd expected it to, this app will walk you through the process.
This is one of the greatest Nigerian food recipe apps for Android users. You will get the best ways to create soups like the Yoruba Efo riro, Ila Alasepo, and so many more.
2. 1000+ Nigerian Food Recipes
Don't be shocked when you learn that Nigerian cuisine consists of more than only Semo, Eba, Fufu, Jollof rice, and similar dishes. With the aid of this app, you will be able to cook any type of Nigerian dish. In addition to meals, Nigerians also enjoy snacks like Puff Puff and other eatables.
There is a lot to learn about Nigerian cuisine from the 1000+ Nigerian meal dishes.
The 1000+ Nigerian Food Recipe Software is the ideal app you need to learn how to prepare Nigerian food. It will teach you various techniques for preparing Nigerian dishes as well as more about the well-known beef jerky known as Kilishi in Nigeria.
3. Nigerian Soup Recipes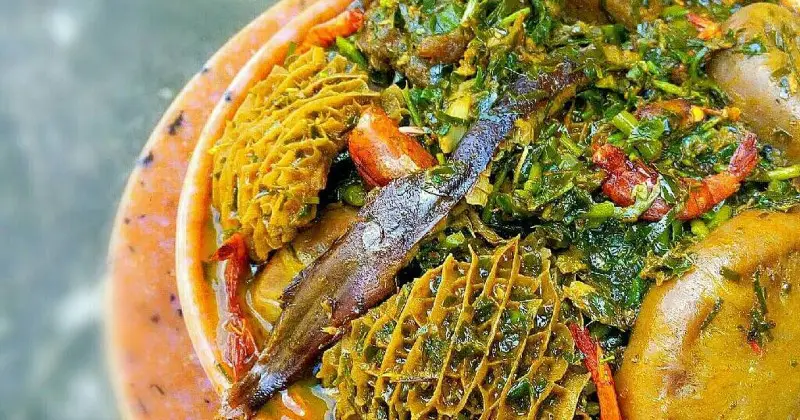 In Nigeria, there are many different soups, but you can't possibly create them all because some of them are highly popular among all tribes and don't require any special instructions.
The Nigerian soup recipes app is the greatest for teaching you and providing information on the items you need if you're interested in learning how to make the authentic soups that we have in Nigeria, including Yoruba, Igbo, and Hausa soups.
It's one of the greatest Nigerian food recipe apps for Android users if you've always wanted to learn how to prepare delicious Nigerian soups like Afang soup, Egusi soup, and many more. Use this app as your personal instructor.
4. African Recipes
In one of the recipe applications, called African Recipes, you may get instructions for preparing practically all of the meals that are consumed in Africa, from Nigeria to other continents. Even if you are not from Nigeria, you may have noticed people in your country cooking Nigerian food, and you are curious to learn how to make the same.
One of the best applications for learning is the African recipes app. You can use this program to cook some of the popular Nigerian food as well as other popular African dishes from various African nations.
5. Recipes From Nigeria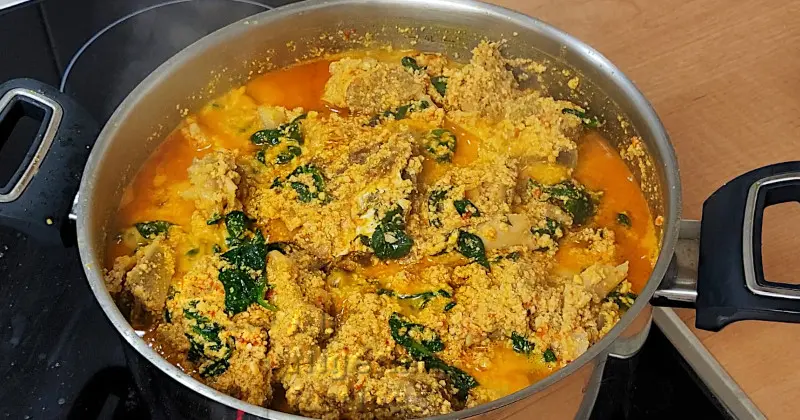 You can simply use Recipes from Nigeria as your ultimate guide for cooking Nigerian food if you find yourself interested in cooking a meal that is quite different from the ones you prepare as a Yoruba or Igbo. Recipes from Nigeria includes all the recipes you feel you need to know when it comes to preparing Nigerian food.
With the help of this app, you may learn more about Nigerian cuisine as well as how to create all the food and food products found there.
One of the greatest Nigerian cuisine recipe applications for Android users, Recipes from Nigeria, is quite simple when it comes to describing the methods to create Nigerian food.
6. Stew Recipe Free
Have you ever wondered what kind of stews we eat in Nigeria? Rice stew is a popular stew that is frequently made, especially at neighborhood restaurants.
Well, you shouldn't be surprised to learn that there are more than 20 different stew varieties in Nigeria. If you want to learn more about these stews and how to make them using the correct methods, Stew Recipe Free is the ideal app for Android devices.
Don't only think it's just the rice stew we have in Nigeria; Stew Recipe Free will expose all soups we have in Nigeria and you may learn how to create them. That's the main purpose of this program.
7. Nigerian Dishes
When you know the appropriate ingredients to use, when to use them, and how to use them, cooking Nigerian food is much simpler. However, if you don't know these ingredients, there is a chance that the meal may not turn out well.
The Nigerian Dishes app is what you need to help you because it contains comprehensive, in-depth information on every dish in Nigeria. It is one of the Nigerian recipe apps that provides the best instructions for making Nigerian food and also provides information on the foods we have in Nigeria.
With the Nigerian dishes app, you can quickly and independently produce any Nigerian dish or snack. Since repetition is the key to success, regular use of this software will benefit you.
12 Best Free Cooking Apps (Foreign)
1. Food Network Kitchen
The Food Network Kitchen app will be comfortable to individuals who enjoy viewing food-related programmes on the network. Food writers and well-known faces from the Food Network have contributed recipes to the app.
Each recipe's prep time, cook time, level of difficulty, and number of servings are broken down. It makes it exceedingly simple for people to decide whether dish is worthwhile to attempt. Users of iOS and Android devices have access to over 80,000 recipes, with options for everything from baking to grilling to kid-friendly meals to dairy-free options.
Used On Apple iOS, Fire Tablet, Google Play, and FoodNetwork.com
2. Kitchen Stories
When recipes are gently explained and shown along the way, Kitchen Stories shows that anyone can cook. For iOS and Android users, each recipe includes a step-by-step pictorial instruction so that home cooks can compare how their dish turns out to the applications.
After attempting a recipe, users can provide their own insights or opinions in the comments section for the benefit of other potential users. Get the app if you enjoy cooking shows because it will inspire you to cook at home.
The preparation time for each recipe is indicated, along with the number of individuals who have tried and enjoyed it. A number of articles about food and diet are also available for reading.
Used On Apple iOS, Amazon, App Gallery, and Google Play
3. Yummly
Yummy wants to be as helpful as she can when it comes to saving time in the kitchen. Yummly is one of the most popular cooking-related apps, with over 22 million users and a 4.8 rating in the Apple App Store.
The website claims that there are over two million different recipes available, ranging from breakfast to side dishes. The app features instructional content on all things food-related, enabling users to store their favorite recipes and make home meal plans. Users of Yummly will feel ready for any type of cooking competition after using it.
Used on iOS, Apple TV, and Android products.
4. Tasty
Users may browse through more than 3,000 original recipes on the Tasty app, which was developed by BuzzFeed. Users may see exactly how their dinner should appear at each step of the preparation process thanks to entertaining and colorful movies (along with a written explanation).
With an app that makes cooking so simple, foodies can now recreate the scenes from cozy movies that feature cooking. The iOS and Android apps also let users select among meals based on what they're craving or what they wish to omit from their diet.
Users will be sent recommendations for more recipes based on the recipes they click on or are interested in. What's more, the app offers a "what's in your kitchen?" function that enables users to share what they have in their kitchen.
Used On Apple iOS and Google Play
5. Food Monster
Food Monster is a vegan food lover's paradise. According to the app's Instagram account, it has more than 20,000 vegan recipes, making it the "biggest plant-based vegan food app."
The menu options in the app may be found in a variety of categories, including meals, desserts, holidays, produce, and even by season.
Users who have tried a recipe can even leave feedback, advice, and suggestions. Additionally, users can set favorites dishes as bookmarks and create a weekly menu.
This app includes everything you need to spice up breakfast, lunch, or dinner for plant-loving foodies.
Used on Apple iOS Devices
Read also:
6. BBC Good Food
The app, which is based on BBC Good Food magazine, offers the same elegance and guidance as the magazine and is free to use for three months. Users of iOS and Android devices may browse through more than 13,000 recipes, and the screen even locks on the recipe so that users don't need to enter a passcode or use Face ID to return to their previous location.
One of the many wonderful features of Amazon Alexa that customers are unaware of is the ability to connect the BBC Good Food app to Alexa!
Used On Apple iOS and Google Play
7. SideChef
The program was developed by a cook who desired better cooking apps, according to the SideChef website. SideChef was developed as a result of not knowing what some of the cooking terminology (such as blanch, mincing, etc.) meant.
With SideChef, individuals working in the kitchen will always be given instructions on what to do and how to accomplish it. The app has over 16,000 recipes, but it offers more than just recipe browsing.
Users of iOS and Android devices can use SideChef to assist them with meal planning based on the number of diners. Users can also sort recipes based on their preferences or dietary requirements.
Viewers can put their expertise to the test after watching both genuine and bogus cookery shows thanks to
Used On Apple iOS, Android devices, and Internet Browsers
8. Whisk
Foodies enjoy Whisk, which has a 4.8 rating on the Apple Store. Home cooks may use the app to plan meals, save and exchange ideas, and even go grocery shopping!
Users of the Grocery List App can add the ingredients they need for the selected Whisk dish and even complete an online store checkout. Users of the app can see how long a recipe takes to cook based on the time count on each image in addition to making shopping easier. This app has won Google Play's Best Everyday Essentials Award because it is user-friendly and simple to use.
Used on iOS, Android, and the Galaxy Store
9. Mealime Meal Plans & Recipes
For iOS and Android users, Mealime keeps things straightforward in the kitchen. Every recipe includes a time estimate and a shopping list so that consumers can know what to get at the store.
But the app also offers a meal-planning function in addition to its vast collection of recipes. According to the app's website, users may customize a meal plan with over 600 options, such as allergies, dietary needs, likes, dislikes, and the number of people the recipe should serve.
A shopping list is generated once users choose a meal plan (or even a recipe) that suits them, allowing them to cross off items they already own or have purchased. Both gourmet and novice cooks will like it.
Used On Apple iOS and Google Play
10. Allrecipes Dinner Spinner
There are more than 50,000 simple recipes to pick from in the Dinner Spinner section of Allrecipes.com. Users can conduct searches for the types of meals they desire or even for reputable and appealing brands.
The app also features a feature that informs users of the ingredients that are locally on sale and the recipes that may be made using those ingredients. To learn more about cooking advice, 5-ingredient dinners, 1-pot dishes, and other topics, users may also check out the app using a web browser.
An app like Allrecipes Dinner Spinner might be useful to foodies who enjoy watching various documentaries on the food industry and attempting new recipes that reflect what they have discovered.
Used On Apple iOS, Google Play, Alexa, And Snapchat's Food Scan
11. Cookpad
Because iOS and Android users can upload their own recipes that other users might find interesting, Cookpad is simple and enjoyable to use.
Users will have a sense of being on one of Chef's Table's finest episodes! The software transforms cooking into a relatable and social activity.
Users who have tried a recipe and loved it can share images of their meals, inspiring others who might be interested in the same dish.
Additionally, users can look for recipes based on their particular diet, just like many other apps on this list.
Used On Apple iOS and Google Play
12. BigOven
According to BigOven, it is a "recipe organizer." BigOven makes it simple for iOS and Android users to find recipes that they have tried, enjoyed, or plan to try in the future thanks to its database of over 500,000 recipes.
Users of the app can conduct searches for various culinary categories, ingredients, and preferences. Additionally, under the "Use up Leftovers" area, BigOven provides recipes based on three items that the customer currently has at home!
The desire to eat is a given with any recipe.
Used On Apple iOS, Google Play, And On Web Browsers
Conclusion
These are some of the greatest cooking apps for Nigerian food since they teach you how to make different Nigerian stews as well as provide information on how to prepare Nigerian food in general. You can also get information on how to prepare Nigerian snacks in these apps.
The finest apps for Android to learn from are those with Nigerian food recipes.
Wondering what are cooking apps? please the definition by Google in the search