Fast cash loan apps in Nigeria
A loan can be said to be a financial instrument that helps both businesses and individuals to meet financial obligations. Traditional banks require a form of collateral to serve as security before they give out the loan to ensure its repayments. But some fintech companies have provided platforms where you can get Fast cash loans without collateral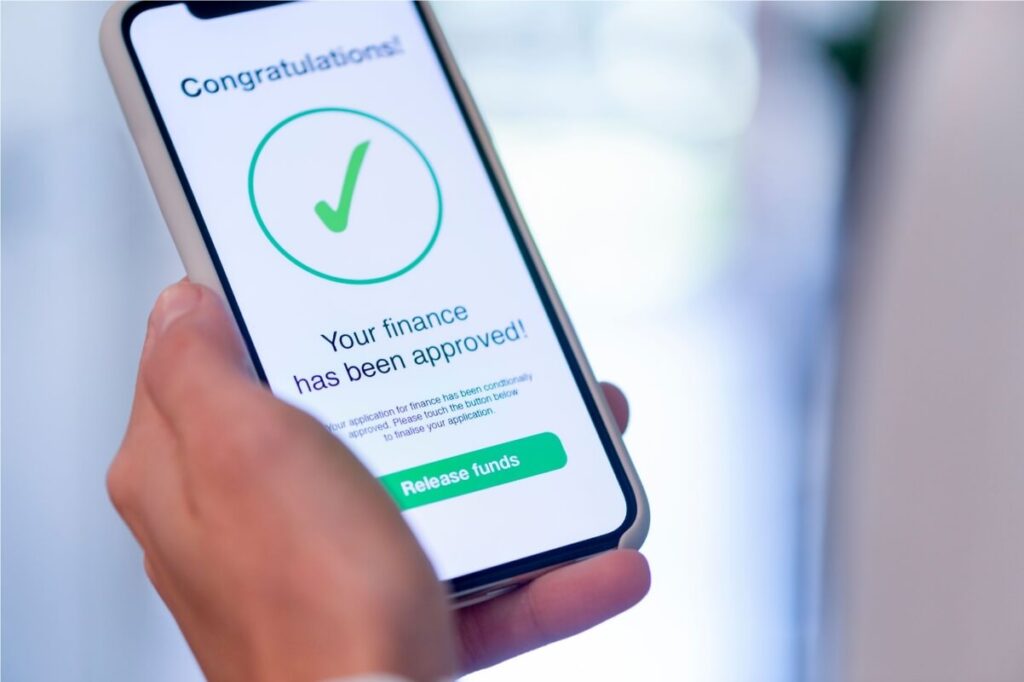 Quick Loans Without Collateral In Nigeria
Here is a look at the top peer-to-peer lending platforms in Nigeria.
The most popular loan lending platforms compete with various interest rates.
Amazingly, Fin-tech companies are disrupting the lending industry with offers like quick, easy, and cheap loans with no collateral.
A distinguishing factor between fintech and the traditional banks is in the loans offered by Traditional banks come with high-interest rates, journey-of-no-return paperwork or requirements as well as provision of guarantors among others. This is where these fintech companies, otherwise known as lending platforms provide loans in simple and effective ways.
Read also: USSD codes for loans
Fast cash loan app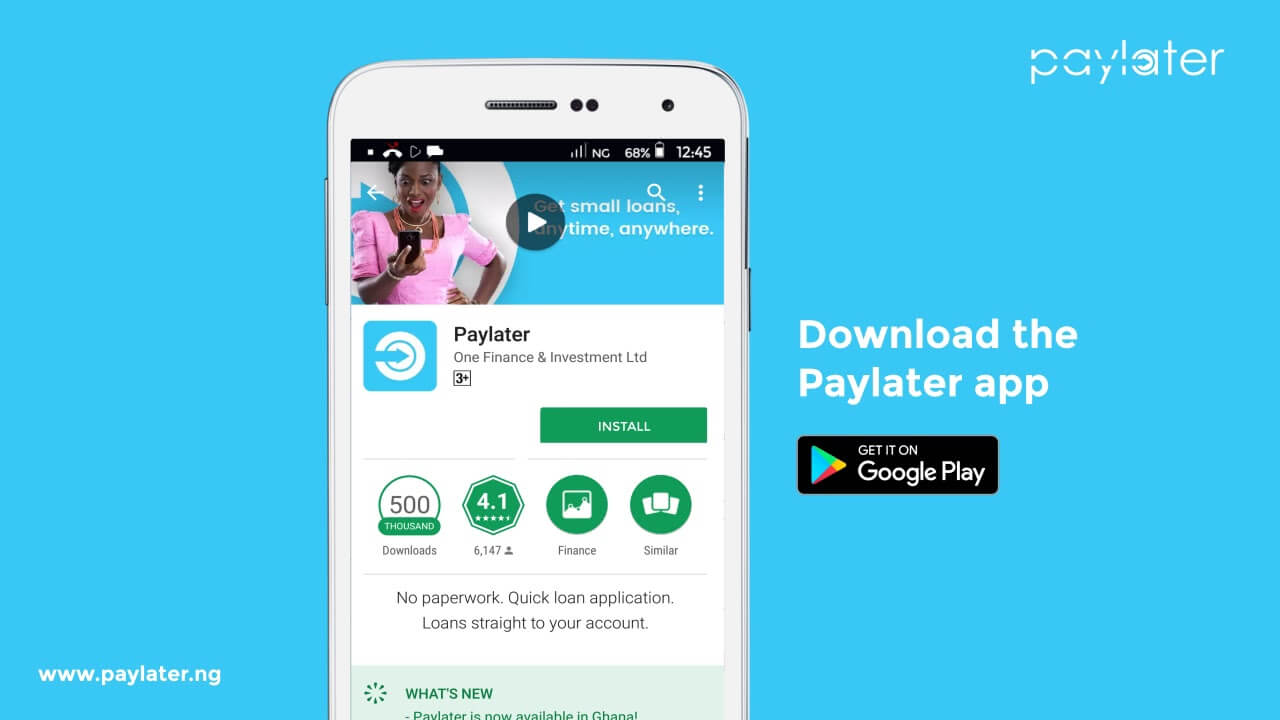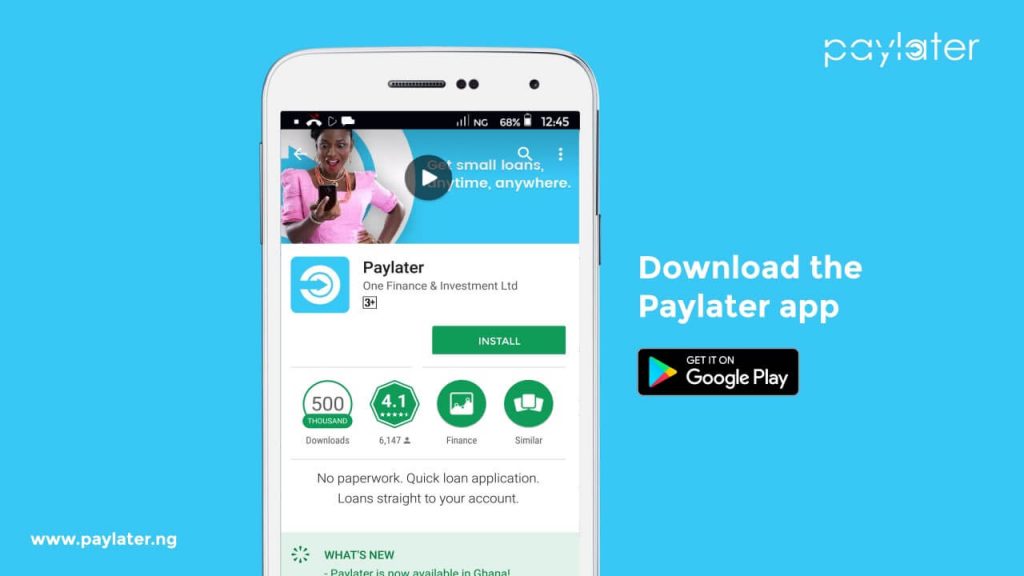 Bank with peace of mind: Your Carbon account allows you enjoy cheaper transactions, zero account fees, and an annual interest of 2% per annum.
Apply 24/7 and receive funds in your Carbon account instantly. Unlock higher loan amounts and lower interest rates by repaying loans on time.
Your money is always working harder for you. Earn up to 15.5% interest p.a. when you invest with Carbon.
You can send money to anyone, pay all your bills, and recharge airtime, with just a few taps on your smartphone – and always at the lowest possible cost.
Keep track of your credit history across financial institutions
The Carbon debit card puts you in greater control of your finances, security, and offers access to offers unique to Visa card holders.
2. Renmoney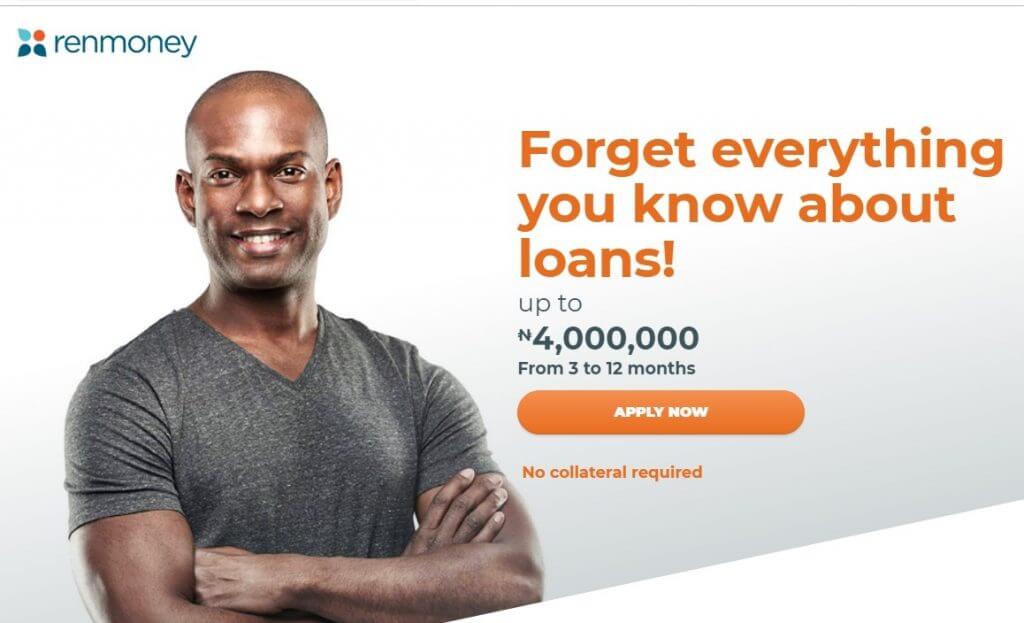 Renmoney customers can get loans up to N6,000,000 that can be repaid within a period of nine months without tendering collateral or a guarantor.
To apply for a loan on Renmoney, you'll have to meet certain conditions. Applicants are expected to be between the age of 22-59, have a steady source of income with a functional current or savings bank account, and a valid means of identification.
Upon request, the applicant is expected to provide verification of their monthly income and a report of their previous loans from a credit bureau. All these are to be submitted to any Renmoney office for confirmation.
This implies a % between 4% to 4.5% per month.
Renmoney lending apprenmoney
Requirements: BVN, Bank statement, Valid ID card, Employment letter
Platform: Internet
Interest rate: 4 – 5%
Loan tenure: 3 to 12 months
No guarantor required
No hidden fees.
No collateral required
Get money in 24 hours
Top up: No
Repayment channels: Quickteller, cheque, POS, Cash and Online transfers.
How to apply for renmoney loans
Apply: Choose your loan amount & tenure then share some information about yourself
Verify: Verify the information that you've provided
Receive loan: Get money in your bank account within 24 hours if your loan is approved
3. Aella Credit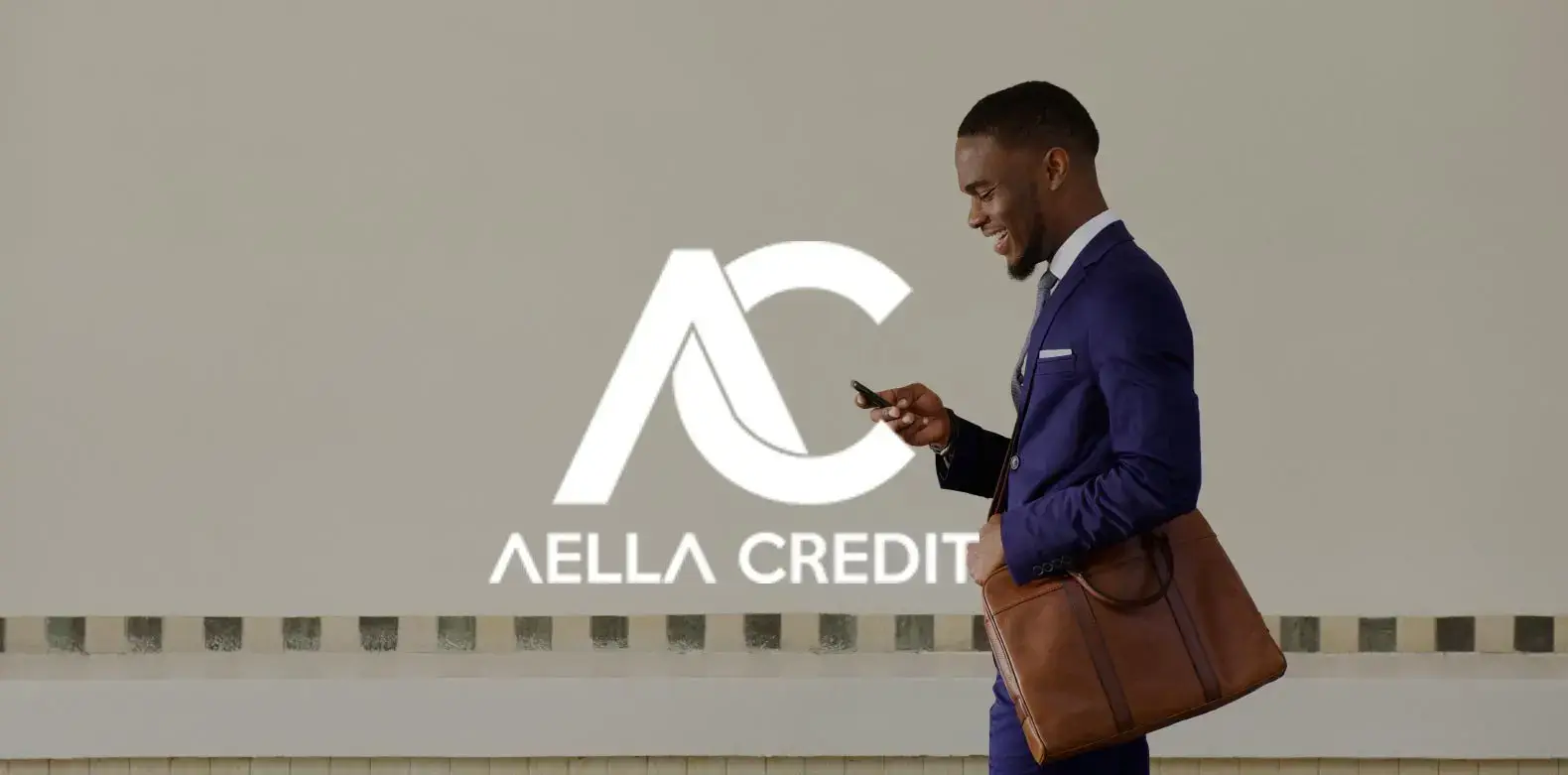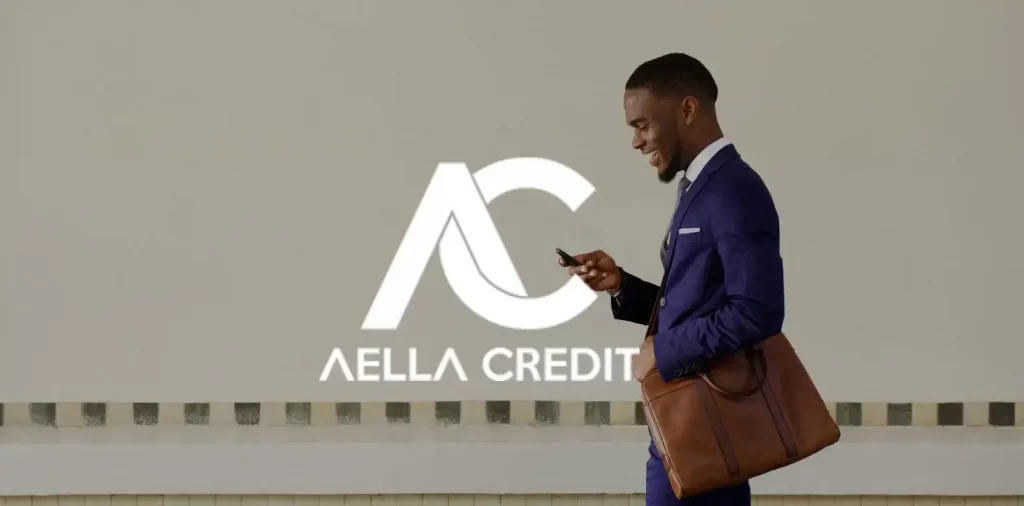 Aella Credit is an app-only easy and quick loan platform. It is designed to help employees access more funds between 1,500 to 700,000 and an interest rate between 4% – 29% monthly.
Aella Credit is available in Ghana, Nigeria, and the Philippines.
Aella lending platform Ella
Requirements: BVN
Platform: Mobile App
Interest rate: 4 – 29%
Loan tenure: 1 to 2 months
Top up: No
Repayment channels: Direct debit
kwikmoney which is now Migo offers both internet-based, app and USSD loan options. It partners with banks, mobile network operators, and technology companies on a mission to make personal banking services convenient and accessible to all Nigerians.
How to get a Kwikmoney loan
To get a loan, all you have to do is enter your phone number here my.migo.money
Once you select the loan amount you want, you'll be asked to give the details of your bank account for the loan to be deposited. Finally, your debit card information to make repayment easier for you will be registered.
You can also get a Migo loan by dialing *561# for MTN, 9mobile, and Glo or *554*561# for Airtel. From the list, select "Request Loan" to see a list of your customized loan offers.
Requirements: BVN
Platform: USSD, Mobile App
Interest rate: 15%
Loan tenure: 1 month
Top up: No
Repayment channels: Direct debit
5. Rosabon Finance Quick Loan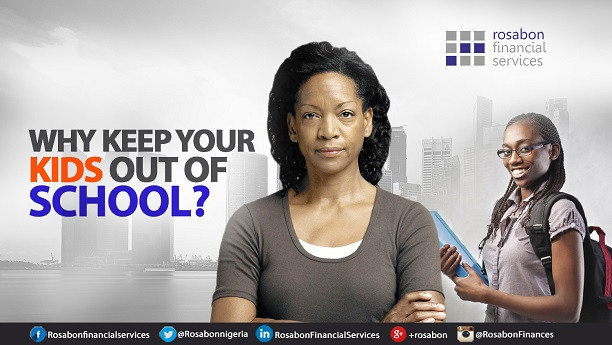 Rosabon finance is one of the fastest and easiest ways to access a personal loan in Nigeria without collateral.
They offer an innovative lifestyle product for individuals who are looking to access quick cash for emergencies; be it medical or any other form of unforeseen expenses. They eliminate unnecessary paperwork, long approval time, giving you the opportunity to access as much as ₦1.5 Million within 24 Hours without any Collateral or Guarantor(s).
This innovative, easy-to-access product is transparent and flexible, comes with friendly interest rates and a flexible repayment structure of up to 6 months.
Gain quick and easy access to funds with RQL
How to apply for loan
Be in a paid employment
Be between 21 and 58 years
Have a current account
Have a pension account or tax ID
Have a valid Proof of Identification
Things to note
Requirements: Employment letter, salary account, pension account or tax ID, Valid ID, Utility bill.
Platform: Internet
Interest rate: 4 – 6%
Loan tenure: 3 to 12 months
Top up: No
Repayment channels: Cheque, Direct debit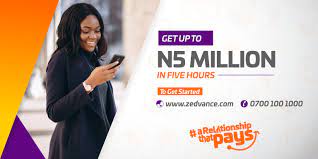 Zedvance Limited is a consumer finance company providing a quick and fast loan at a highly competitive rate. For Zedvance, the interest rate depends largely on how well you can bargain and the level of risk involved in your loan. It is for salary earners in the country. Zedvance's quick cash loan, interest stands between 4.0% to 4.5% and loan amount largely depends on your net pay.
Requirements: Employment letter, Salary account, Official email address, Valid ID, Utility bill.
Platform: Internet
Interest rate: 4 – 4.5%
Loan tenure: 3 to 12 months
Top up: Yes
Repayment channels: Cheque, Direct debit
How to apply for zedvance loans
From application to disbursement in minutes
Create an account: Register through our website, MoneyPal app or by chatting with Zee on WhatsApp
Apply for a loan: Select the loan package that fits your needs.
Answer a few questions: Tell us a little about you.
Receive funds in minutes: Get your credit alert in less than 10 minutes
7. Page Financials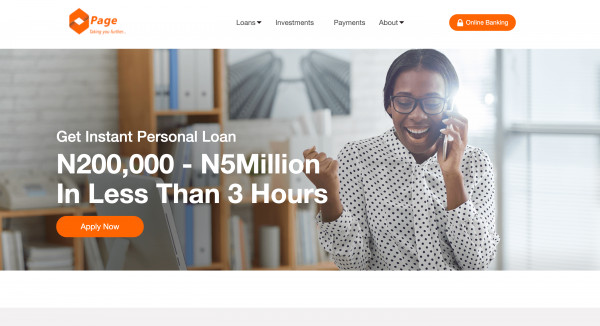 Page Financials is an innovative retail financial institution offering various quick personal and salary advance loans to meet the financial request of customers.
On-Page Financial, it takes six steps to request a loan and the first one is inputting your BVN details.
They offer a daily rate of 0.5% which accrues on its Debit card issuance also known as Pledge Finance.
You can get a quick loan of up to N5million in less than 3hour.
The interest rate is accrued daily at 0.5% which is about 15% monthly on the loan card.
Example: Loan amount of ₦3,500,000 borrowed for 12 months. Monthly Interest Rate:- 2.99%. No other fees.
Requirements: Employment letter, Salary account, Valid ID, Utility bill.
Platform: Internet
Interest rate: 15%
Loan tenure: 3 to 12 months
Top up: Yes
Charges: There are no hidden charges, our repayment terms are clear and convenient, and you don't need to have a cheque book.
Repayment channels: Cheque, Direct debit
8. FINT Loan
FINT helps match lenders (individuals looking to lend) with creditworthy borrowers for a competitive return and at an attractive interest rate.
The quick loan platform offers interest rates based on risk scores – using a numerical expression based on a level analysis of a person's information.
Apart from this, like other lending platforms in Nigeria, FINT charges the borrower two fees that are both one-time payments. The first is a verification fee (NGN 3000) and the second is a closing fee (8%). The closing fee is to be paid before disbursement of the fully-funded loan. In addition, a transfer fee (1.8% + NGN100) is passed on to the borrower.
FINT interest rates range from 3% to 5% per month depending on the borrower's risk score.
Requirements: Employment letter, Salary account, Valid ID.
Platform: Internet
Interest rate: 3 – 5%
Loan tenure: 3 to 12 months
Top up: Yes
Repayment channels: Cheque, Direct debit
Read also:
Conclusion
From above we can see that the fintech loans provide quick, easy access, cheap interest rates and collateral-free loans, most of the lending platforms still offer high-interest rates compared to commercial banks. The interest rates for most of the platforms are not fixed based on factors such as the risk level of a borrower, salary range, house rent, and others.
We also noted that Zedvance offers a more competitive interest rate at 4% to 4.5% compared to other lending platforms. We observed that kwikmoney has the highest interest rate at about 15% for half a month.
Whatever choice you make, ensure to check well before taking a step. Trust this post has been helpful? Please share with the social buttons below. you may leave a comment or have updates for us to include in this post.