How to create Instagram business page
This post shows you well-explained steps on how to create an Instagram Business Page for your business without Facebook and boost sales.
Instagram is no doubt a major social media tool that has proven to be more effective in the promotion of business and increasing sales/leads. With about 1 billion active users on a monthly basis, it can't be categorized as a niche social network.
It's one of the most popular, fastest-growing social media platforms and one that your business should be using if you are not on the network. Seriously, you need to consider being on the Instagram network If you haven't yet. luckily, this post shows you how to set up your Instagram business account since we talking about business here.
Instagram is all about sharing photos and videos is what. You can share a lot of rich unique content about your brand in form of visuals (media). Instagram is the perfect complementary network to include in your marketing mix for ease of cross-posting content.
Read Also:
How to create a page on instagram without facebook
1. Download the Instagram App
The first thing to do before using the Instagram network and enjoy the full experience and functionality is to download the app. There are two ways to download the Instagram app: on your smartphone or through a web browser on your Mac or PC.
We have links to download the Instagram app depending on the device Apple App Store, Google Play Store, or the Microsoft Store.
You can open Instagram pages by typing "Instagram.com" on Safari, Google Chrome, or any web browser available for desktop. But you will not be able to experience the full functionality like on the app.
2. Create an Instagram account and choose an Instagram profile photo
This is similar to creating an account like with other social media accounts. Simply click the signup button. Just enter your details — such as your email address or phone number, name, and brand username.
Instagram is a visual-heavy platform, so it's essential to use high-quality photos consistently. One of the first images you will be asked to upload is your profile photo.
3. Complete your Instagram profile information
It is a good practice to complete the signup by entering all needed information especially if you wish to drive traffic to your website or a specific webpage.
To add this information, go to your profile page and tap on Edit Profile. From here, you can add your company description in the Bio section, a website address, and change your name and username.
After typing in your brand's information, tap Done. Congratulations as you have successfully set up your basic Instagram account!
Now, let's convert it into an Instagram Business Profile.
4. Convert your basic Instagram profile into a Business Profile
The reason for you to switch to a business page if you are a business and serious about making sales is because the business account on Instagram will give you more tools to manage and grow your brand optimally.
The benefits of an IG Business Profile include:
Adding brand contact information (i.e., phone number, email, whatsapp and business location)
Business advertisements
Built-in eCommerce features
Access to analytics
With the features, you can do a lot to the benefit of your brand. Now connect to a business Facebook page.
Note: To avoid any advertising difficulties, converting to an Instagram Business Profile must be done through the Facebook profile of the owner associated with the business Facebook page.
Steps to convert your Instagram account into a Business Profile:
Go to your profile and tap in the upper right corner.
Tap Settings.

For some accounts, the Switch to Professional Account option will be listed directly under Settings.

Tap Account.
Tap Switch to Professional Account.
Tap Continue.
Select a Category for your business and tap Done.
Tap OK to confirm.
Tap Business.
Tap Next.
Add Contact details and tap Next. Or tap Don't use my contact info to skip this step.
If you'd like, you can follow the steps to connect your business account to a Facebook Page associated with your business. This step is optional, and will make it easier to use all of the features available for businesses across the Facebook family of apps. At this time, only one Facebook Page can be connected to your business account.
Tap X on the top right corner to return to your profile.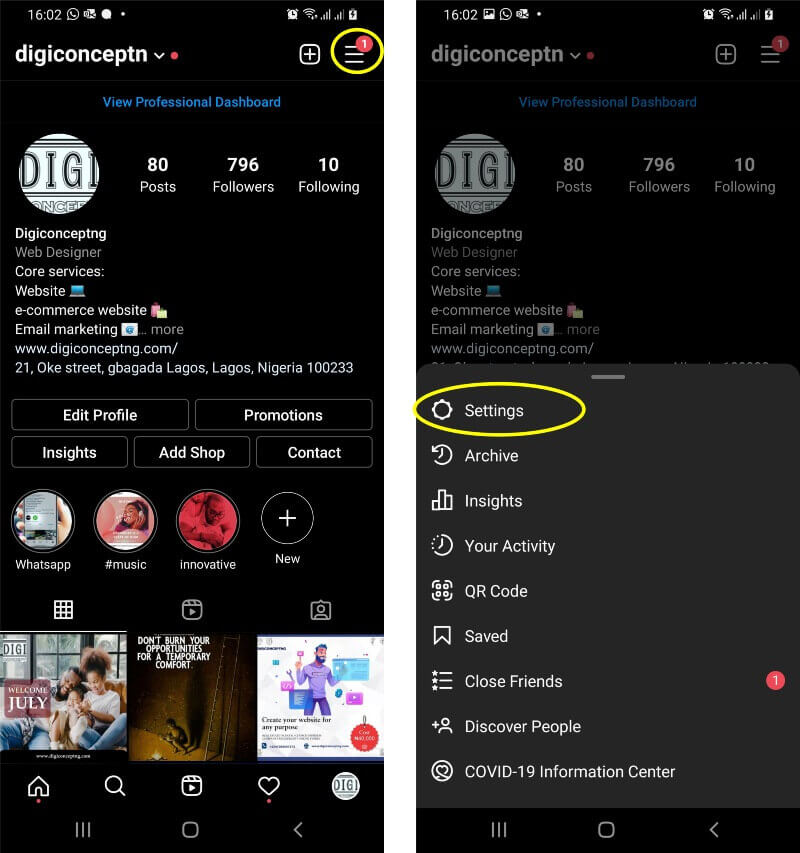 Other activities you can do to optimize your Instagram business account are to post pictures and video content. Also, other things to do are listed below in bullets
Find people to follow on Instagram
Add Instagram Stories and create Highlights
Get creative with IGTV and Instagram Reels
Post to Instagram consistently
Take advantage of Instagram Insights
Engage with other Instagram accounts
Conclusion
Already we can see that Instagram is a powerful social media platform for businesses to generate awareness, increase customer loyalty via positive interactions, and drive revenue. It is more effective than most social media platforms with millions of Instagram users on the platform, no doubt an awesome social network to invest in.
Creating the basic account is just one of the steps then converting your Instagram profile to a Business page is the real thing and now easy from the post you just read and it comes with added benefits free of charge.
Incredibly, there is the eCommerce feature now on Instagram, and can only be enjoyed when using the IG business account.