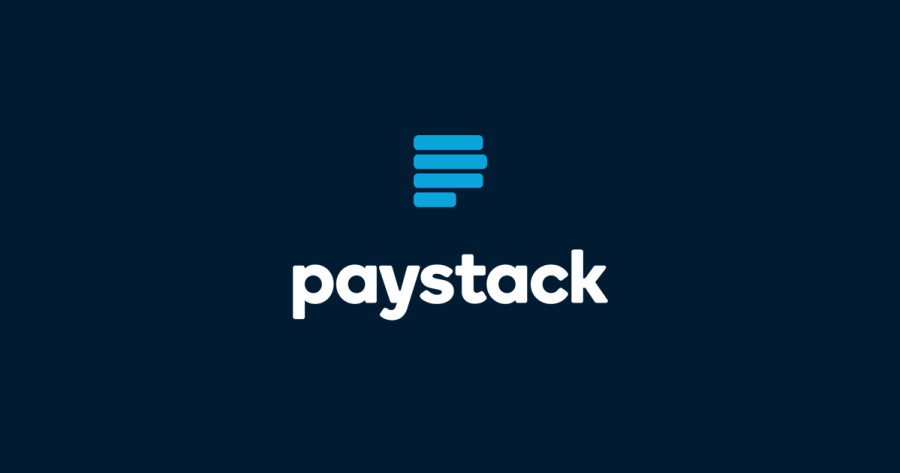 Paystack is the best fit for business transactions. With a combination of automated and manual fraud systems, it protects you from fraudulent transactions and associated chargeback claims.
To create an account with Paystack is easy and straightforward, as it does not require too much information. It is free to create an account with them.
They only charge a service fee of 3.9% + ₦100 per international transaction. They process billions in transaction value monthly because many merchants find them easy to use.
Paystack has a collection of payments tools that will help you get paid quickly and securely from anyone, anywhere in the world. Whether you're selling on Instagram, in a physical store, or even without a website, it is fast and easy.
Depending on the nature of your business, you may have the need to collect payments from customers in foreign countries. With Paystack, you are able to receive payments from customers anywhere in the world as long they're using a Mastercard, Visa, or Verve card.
Important to Note
Although most businesses are eligible for international payments, not all businesses are. To know if your business is eligible please refer to this article: Is my business eligible for international payments?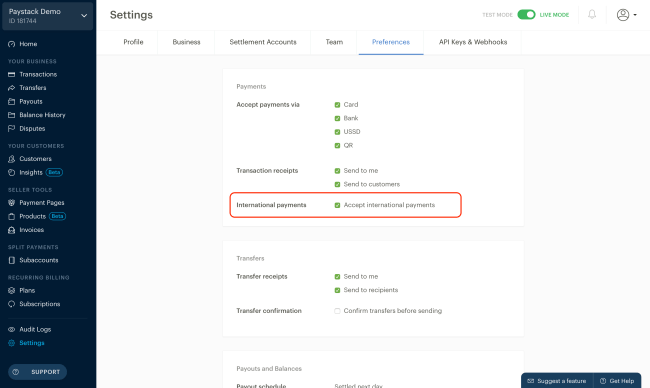 What if I don't have international payments enabled?
For those without international payments enabled, you will have to submit an international payments request from the Preferences or Settlement Accounts tab in your dashboard settings.
This depends on your country or business type, i.e. Starter or Registered; you may have already provided them with the verification documents we require for international payments. To confirm this, please see their requirements here: What are the requirements for enabling international payments for my business?
If they already have these documents, you simply have to click on 'Request International Payments' to submit a request as illustrated below.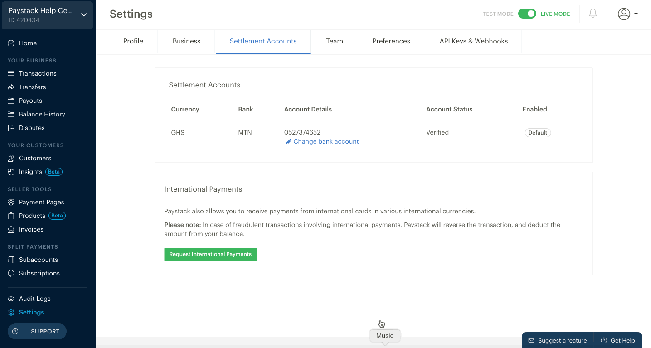 Your request will be sent instantly using the verification documents you provided when activating your business.
What if they require additional verification documents?
If they require additional verification documents for your international payments request, you will be prompted to provide this when you click 'Request International Payments'. Here is an illustration below: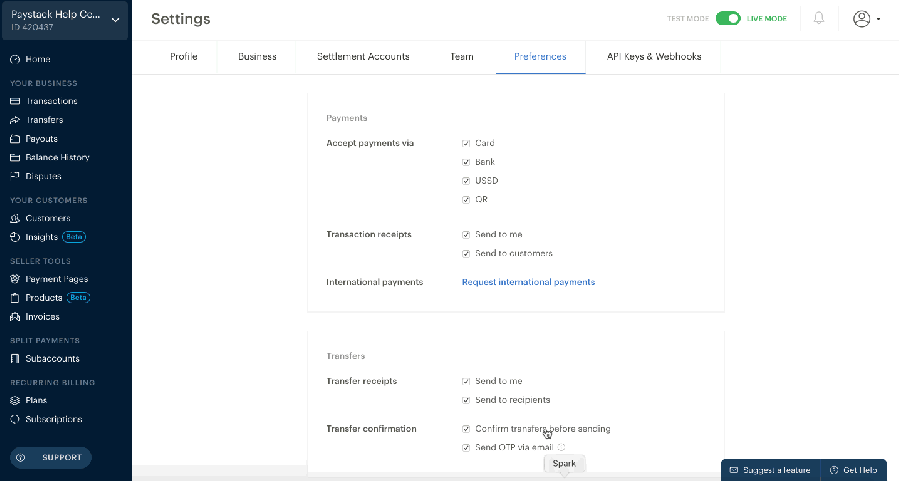 You simply have to upload the documents we ask for and click 'Request International' on the modal that's presented. What they ask for will vary depending on your country so please provide them with the information we prompt for. If you're unsure about what they need, kindly refer to this article: What are the requirements for enabling international payments for my business?
Once you successfully submit an international payment request, you should get a response from them within 48 hours of your submission.
Read also:
To get your payouts for USD transactions you'll need a Guaranty Trust Bank or a Zenith Bank USD domiciliary account.
You can learn how to get a GTB domiciliary account here.
You can learn how to get a Zenith Bank domiciliary account here.
If you do not have a USD domiciliary account with GTB or Zenith Bank, you can only accept international payments in Naira.
How do I add my USD domiciliary account on Paystack?
Go to the Settings page on your Paystack Dashboard and click on the Settlement Accounts tab.
After that, click on Add bank account, beside the USD currency as illustrated below:
Select your bank and add your domiciliary USD account number.
Finally, click 'Add bank account' to save it.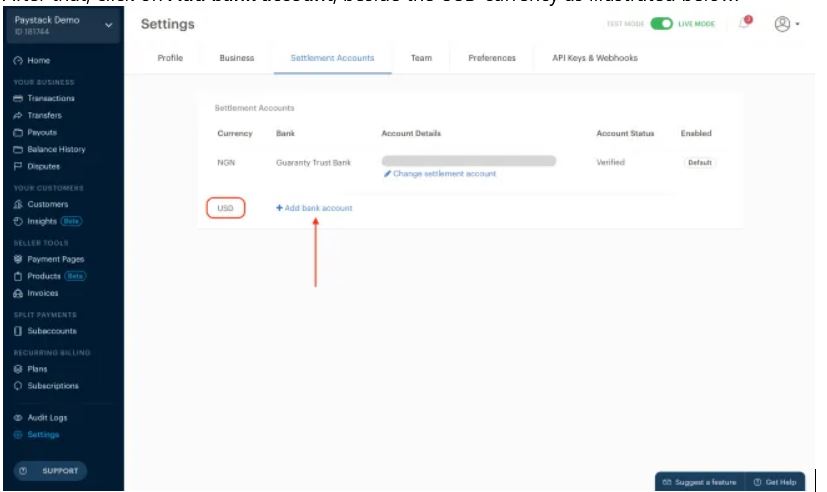 How much does Paystack charge for USD transactions?
Please find our pricing for USD transactions:
| | |
| --- | --- |
| Country | USD Pricing |
| Nigeria | 3.9% |