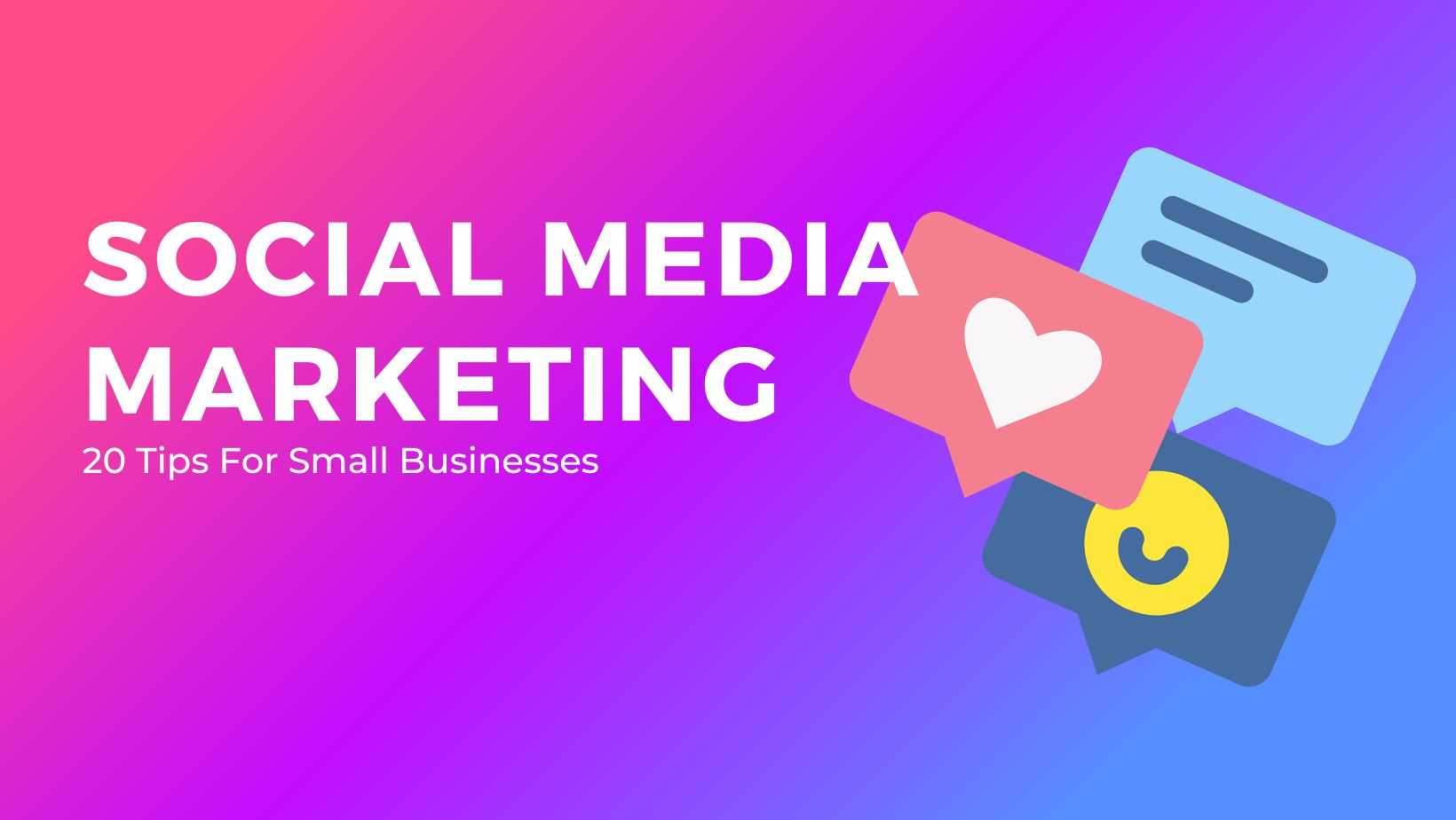 A lot of people make use of social media for their day-to-day entertainment, education, and motivation. In this day and age, it is pertinent that your business has a social media presence.
Your business needs to take social media marketing seriously in 2023. We have curated a list to help you ensure you are on track.
If you are a small business owner looking to take your social media to the best level, you have come to the right place. We have made this article for businesses to understand better how they can improve their social media marketing for their small business.
Before we dive into the list, let's get to know why social media is an excellent tool for your business.
Why Social Media Is Good For Your Small Business
Social media is a great tool for helping small businesses achieve their marketing goals and brand visibility. You get to communicate with your customers directly and get feedback. You track your growth and business progress in real-time. You can see how your ads perform.
You get numerous benefits from having your business on social media. Customers or potential customers that want to use your products or services can come on social media and come across your brand.
To achieve effortless marketing on social media, your business needs to use these listed social media marketing tips to boost growth, brand awareness, and overall business performance.
20 Tips For Small Businesses Social Media Presence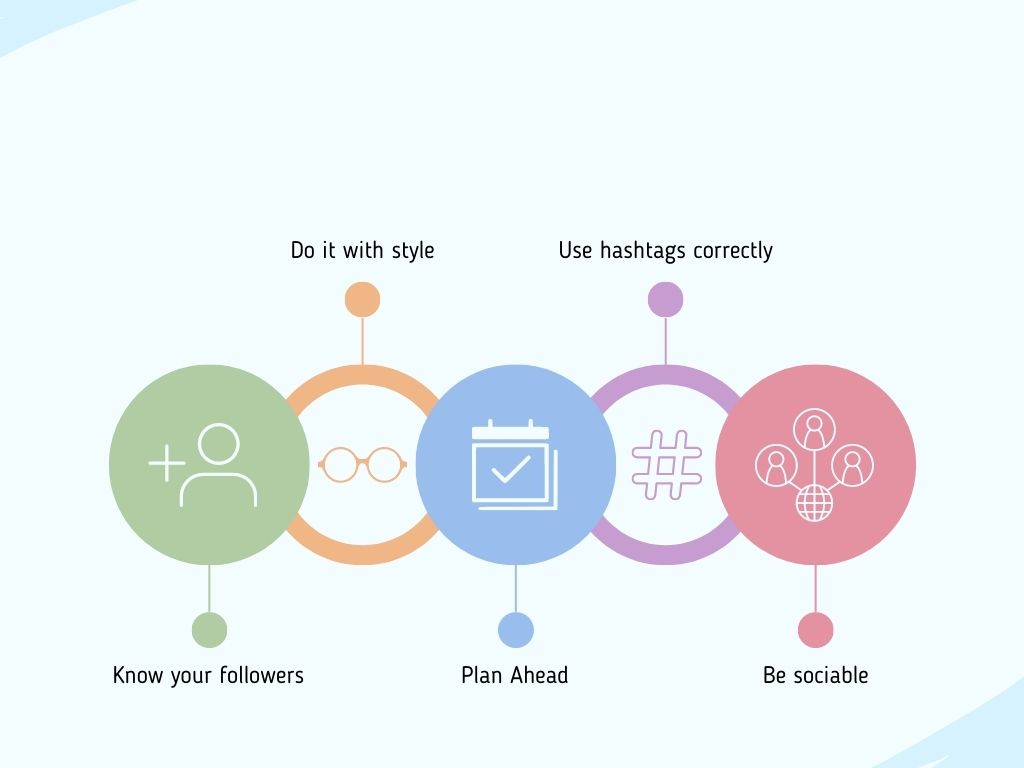 1. Identify Your Audience
You must already have a mapped-out plan for your target audience. To define your audience, you need to know their age, income, and jobs. This would also help you in choosing a suitable platform for your business.
For instance, if your target audience's age group falls within that of Gen Z, you will need to seek out social media platforms where that generation goes to. An example of such is Tiktok.
A social media target audience will help you market your business more effectively. If you already have customers, you can conduct an audience survey to determine your audience demographics and understand buyer persona.
Knowing your target audience will help you in choosing the best social media platform for your small business. This would help your social media marketing greatly.
2. Choose The Best Social Media Platform For Your Business
If you are considering marketing your small business, then social media should be on top of your list as one of the many marketing tools you can use.
Social media gives your brand the necessary awareness it needs. Unlike traditional advertising methods, your business can reach many people locally and internationally on social media without having to spend a lot of money on ads.
Many social media platforms are available, each with its unique touch. Here are some examples of social media platforms and their usage:
Instagram
Instagram is ideal for businesses that sell visual goods such as clothes, food, hair, and shoes to promote their work. It is a great business platform because you can make in-app purchases and engage with your customers regularly.
Also, the analytics capabilities on Instagram provide useful information about your audience and the performance of your post. Instagram Insights may let you track metrics like reach, engagement, and follower growth, which can help you fine-tune your marketing plan and enhance your results over time.
Facebook
No matter what anyone says about Facebook, it is still one of the leading social media platforms. Facebook has over 2.9 billion monthly active users and over 200 million businesses on its platform.
You can use it to create a Facebook page, execute advertising campaigns across Meta products, track audience analytics, and set up an e-commerce shop.
Facebook provides various engagement options to help you connect with and establish relationships with your consumers. For instance, you can use Facebook Messenger to reply to consumer inquiries, provide customer service, and make targeted suggestions.
You may also use Facebook Live to broadcast events, product launches, or Q&A sessions, which can help you humanize your company and gain the trust of your audience.
Twitter
Twitter is real-time, so businesses can use it to stay up to date on industry news and trends and communicate with their audience in real-time. Your small business may stay top-of-mind and create relationships with fans by monitoring important hashtags and participating in Twitter discussions.
Using Twitter's search tool, small businesses may easily identify and engage with potential consumers or industry leaders. Exploring new chances for engagement and creating relationships with the target audience by using Twitter search to find relevant phrases or hashtags is possible.
Pinterest
Pinterest can be a tremendous tool for your business, providing a platform for you to exhibit your products or services, attract your target audience, and drive long-term traffic and engagement. With the appropriate attitude and plan, Pinterest can help you reach your business objectives.
It focuses mainly on visual material. You can present your products or services in a visually appealing manner. You may captivate your audience's attention and increase interest in your brand by generating eye-catching pins with high-quality photographs or videos.
Youtube
Youtube is one of the most fun and interactive social media platforms you can also make money from as a business. After Google, YouTube is the world's second-largest search engine.
This implies that businesses may reach a large audience that is actively seeking material relating to their industry or specialty by developing and optimizing videos on YouTube.
You can post engaging videos, shorts, and pictures that would easily grab the attention of your target audience. If your small business needs high content creation, consider Youtube as one of the social media platforms you can use for your small business.
Tiktok
TikTok is Gen Z's favorite app, but it is worth noting that it is not restricted to that particular generation. TikTok's unique algorithm and content discovery features allow accounts with small followings to reach a massive audience.
You may boost your small business's visibility on the platform and attract new followers by generating material that is interesting, amusing, and relevant to your audience. It is one of the greatest platforms for social media marketing today.
Your business can go viral real quick. You have a limited time to make your customers want your services or products.
Your small business can also participate in challenges or create challenges. Small businesses may engage with their audience, gain authority, and expand their reach by participating in popular challenges or creating their own.
LinkedIn
LinkedIn gives businesses the ability to network with other professionals in their sector. This can result in new business alliances, collaborations, and other chances to help your company expand.
It is also an excellent venue for managing your company's reputation. You can develop a positive online presence that reflects positively on your brand by posting updates regularly, replying to comments, and connecting with your audience.
3. Build An Authentic Brand
You must define your brand values and have a consistent voice. Social media is a great place to show your brand's personality. It does not need to be too formal all the time, and you can always inject a bit of humor into your brand voice.
Let your consumers be able to relate with your brand by telling good customer success stories. You can also share the wins and losses of your business with your customers. It makes your business more humanized.
Provide a brand that seeks relevance and is helpful in the online business space.
4. Create A Social Media Calendar
A social media calendar will help you create a more organized way of posting. You can build a social media calendar by researching your competitors' actions. You don't need to copy them but get hints that can help you build your own social media presence.
Create a social media strategy plan that can work for you and implement it in your calendar. Always avoid last-minute posting and create a calendar that works for your chosen social media platform.
5. Schedule Your Posts In Advance
Numerous tools like Buffer and Hootsuite can help you in scheduling your posts in advance. It allows you to be effective and reduces the hours you spend posting on social media.
6. Be Trendy
It is always good that small businesses keep tabs on trends that are happening. Remember that it is not every trend you can jump on. Preferably stick to trends that resonate with your brand's voice and speak.
You can learn what is trending by always being active on social media, especially on platforms like Tiktok, Instagram, and Twitter. Good social listening is valuable to any business that intends to survive in this technological age.
7. Be Consistent With Your Social Media Posting
Consistency is definitely king in the marketing world. Choose to have a consistent brand on social media regardless of anything.
It helps your audience know that you are active and the times when you are active. Inactivity can lead you to lose valuable customers for your business.
8. Build Engagements
Give your audience the choice to like, comment and share your business posts. You cannot say you have a business account on social media and make it private. You are only working against yourself.
You should react positively to your audience's comments, reply to your DMs on time, and engage with your audience's page. It shows that you are in tune with your brand and care about their needs.
Remember that you created the business to satisfy your audience and not your needs. Many social media platforms reward accounts that are active and engage their audience. The algorithms of your business page will be favored in the algorithm rankings.
9. Create A Giveaway
Everyone online loves freebies. Giveaways are quite important if you want to gain organic followers. Giveaways can also help to increase brand recognition.
You can boost your visibility and attract a larger audience by offering a desirable reward and encouraging participants to follow your social media accounts or share your giveaway with their followers.
10. Organic Posts and Paid Ads
If you are posting organically but not getting the traction you need for your small business, you can consider paid ads.
Paid ads are a great way to expand your business reach online. Social media platforms like Facebook and Instagram encourage users to use paid promotions.
To ensure that the money you spend on ads does not go to waste, ensure your goals are SMART. This means that they should be Specific, Measurable, Achievable, Relevant, and timely to your small business.
11. Make Use Of Influencers
Influencers will help you grow your audience and give your brand awareness on social media. Many businesses make use of social media influencers that can reach the right audience for their brand.
For instance, if you are into fashion, you will need influencers that regularly post pictures or videos of themselves in outfits that everyone admires. You will know these types of influencers when you see them.
If you choose the wrong influencer for your brand, just know that you have wasted money. Always conduct prior research on the influencer to know their type of content, audience reach, and engagement on social media.
12. Track Your Analytics For Future Growth
Social media platforms are a great way for you to measure real-time metrics for your brand, especially when it comes to paid advertising. You can see how your money is working and the kind of conversions you are getting.
You can track your social media metrics on the social media platforms themselves, which show you insights. You can also track it by using google analytics. With any of the mentioned methods, you can see how many visitors visit your page and conversion rates.
The data you get can be valuable for your small business's future growth.
13. Do Not Buy Followers
Many of the followers you will buy are fake anyways, so why risk your business' reputation and social media page?
You can follow the steps we give you to grow your audience organically.
At the slightest mistake, bought followers can make your account susceptible to suspension or complete ban. Avoid buying followers at all costs so your social media page does not look spammy.
14. Do Discounts
A great business does discounts once in a while. In fact, you may have come across discounts in the form of clearance sales, Black Fridays, Easter sales, Valentine's sales, and Christmas sales.
Customers are always on the lookout for brands that regularly conduct sales. Discounts are a good way for you to market your business on social media.
15. Make Use Of Hashtags
Hashtags are super powerful in social media marketing. Research the kind of hashtags that are popular in your industry. For instance, if you run an online fashion business in Nigeria, one of your hashtags could be "#nigerianfashion."
Hashtags could be simple and less complicated. You can also create hashtags for your businesses so that whenever customers search, they can find your business easily.
16. Include Strong CTAs
A Call-To-Action is what you want the person that comes across your social media marketing ad or social media page to see. It would help if you always kept your CTA's short, simple, and straight to the point. Avoid ambiguity when creating CTAs.
Do you want your customers to visit your website? Visit your social media page? Make a purchase? Message You? Or Download an app?
Choose your CTA and make sure it is as clear as daylight.
17. Experiment With Content Creation
Invest in good videos and pictures. Clear and crisp edited videos and pictures are highly attractive to customers. This might be the sole reason why a customer might want to buy your product or make sure of your services.
As the usual saying goes, 'content is king.' create top-notch content for your business and watch how customers start dropping by and making purchases.
18. Make Use Of User Generated Content
User-generated content is the content created by your audience and customers. People believe in user-generated content more than marketing material.
You can get user-generated content by running a competition across your social media platforms, reviews from your customers, and Q&A sessions. It is quite easy to do this as your audience is the one doing the majority of the work.
19. Track Your Competitors
Tracking your competition helps you stay on top of your game on social media. You can research your competitor to see what they are doing and how you can do it better or replicate the same on your social media page.
It can also help you set targets for your business and get more traction. You can also check out what customers say about your competition through the comment section. You can improve your small business processes through this method.
20. Leverage Social Media Tools
There are many social media tools available to businesses. Tools like Hootsuite, Canva, Google Analytics, CapCut, Buffer, and Sprout Social, among others, make social media posting and content creation easy.
Using these tools to plan and organize your social media content and campaigns is good. You can also use some AI marketing tools for your business growth, such as Jasper AI, Midjourney, and so on.
Conclusion
Using social media as a marketing tool is one of the finest methods to keep your company alive. Posting on social media platforms like Facebook and Twitter might help you stay visible and fresh in the eyes of potential clients.
Remember to have fun while creating content! Content is fun, so make sure to have fun with it!
If you have any questions or need further clarification, kindly drop a comment for us and we will reply swiftly.