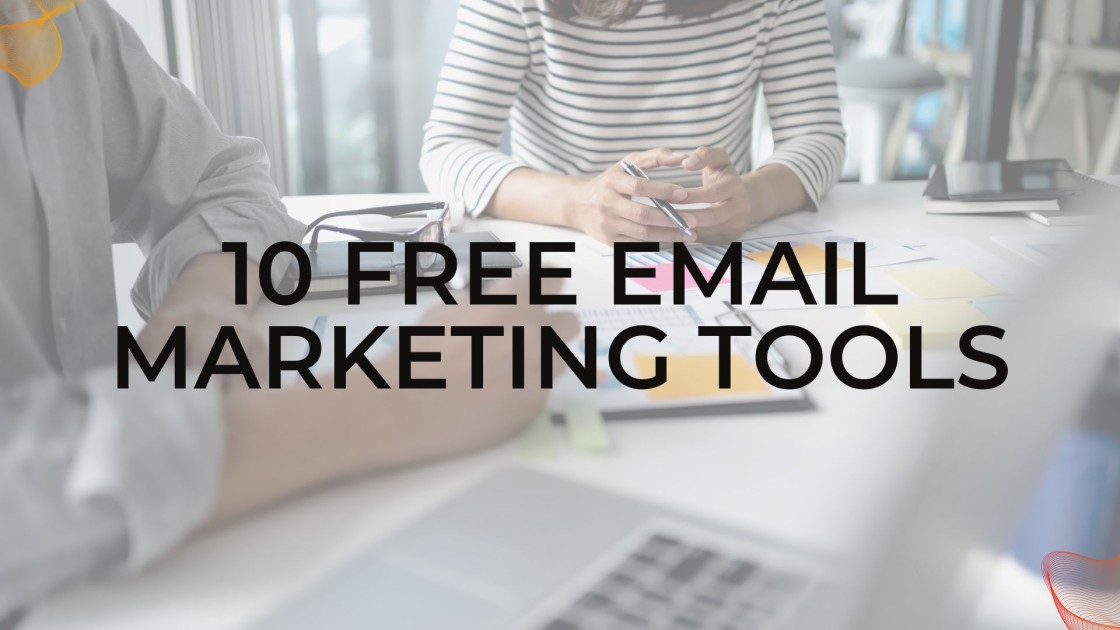 There are quite a lot of email marketing tools that exist today. Email marketing is one of the many marketing strategies companies use to reach their customers and also to generate leads.
Email marketing is still relevant in today's marketing because it works. Many businesses have created email marketing solutions throughout time to aid in automating the process.
Creating an email and making it personalized is not an easy task. That is why we have email marketing tools that can help you achieve your goals. Some of them are free, while others are not.
Based on our research, we have carefully selected the best email marketing tools that you can use for your email campaigns. All the email marketing tools listed here either contain a free plan or a free trial.
Top 10 Free Email Marketing Tools
Mailchimp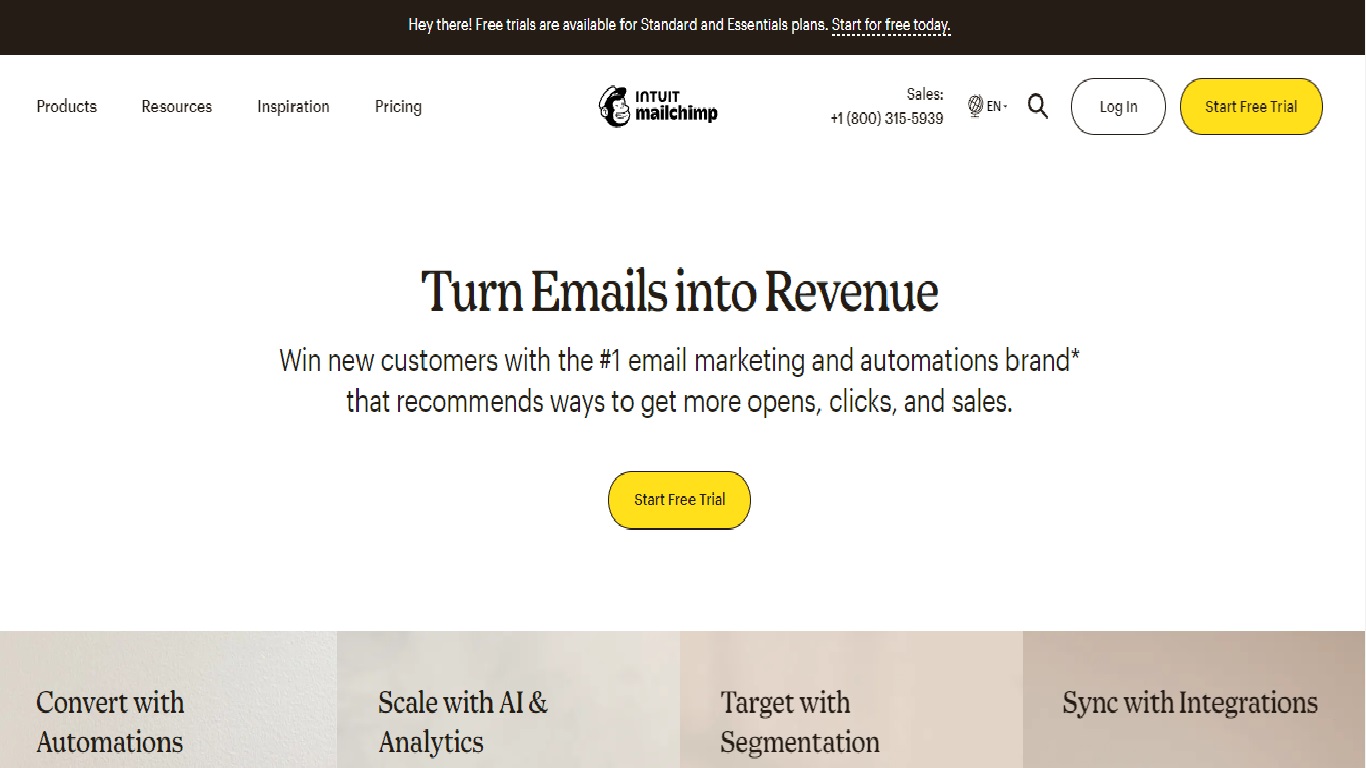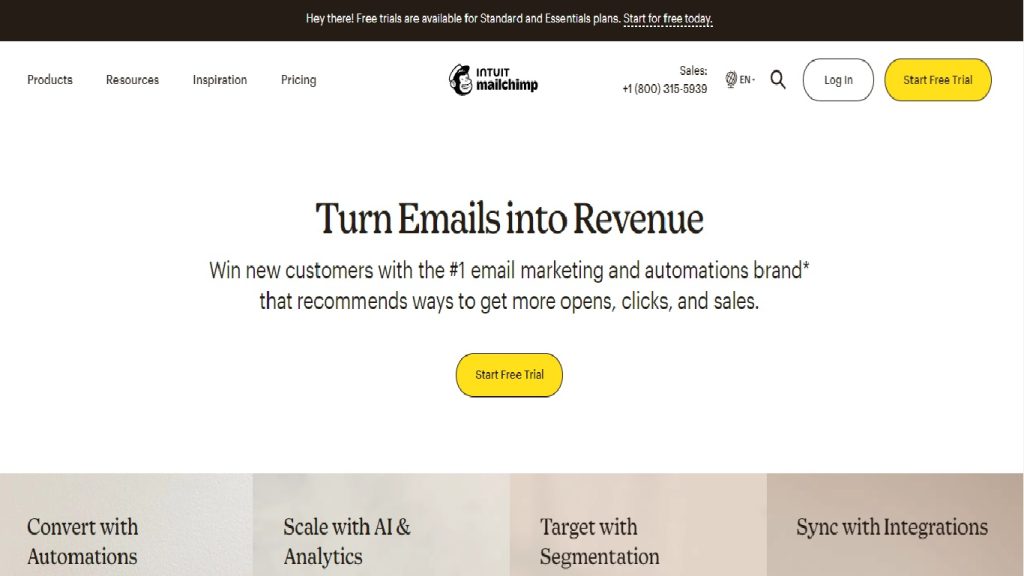 Mailchimp is one of the most popular email marketing tools, and this is why it is first on our list. The email platform has existed since 2001 but was recently acquired by Intuit in 2021.
There are other Mailchimp alternatives that are as effective as it too. Its free plan gives you access to email creation and scheduling and access to email marketing templates.
Mailchimp helps you with easy automation. You can simply send out welcome emails, order confirmations, reminders about abandoned carts, and other communications by automating your emails in Mailchimp at key points in the customer experience.
The free version of Mailchimp gives you access to its Content Manager, where you can sync and save all of your images, graphics, and other files to ensure that your campaigns are always uniform. Its features are functional and easy to use.
Free Plan: Only up to 1000 email subscribers per month.
Pricing: It has three paid tiers. The base pricing is $13 per month, and you get a free trial for the first month.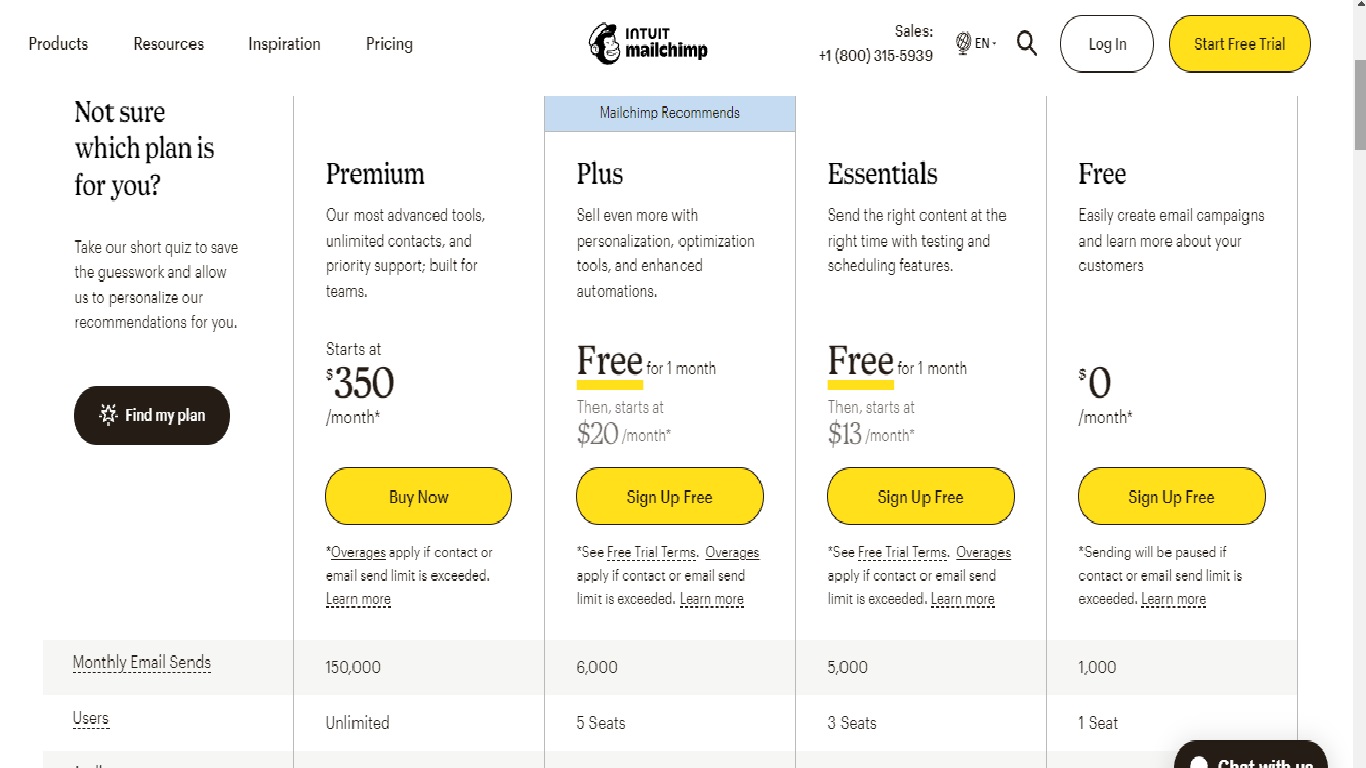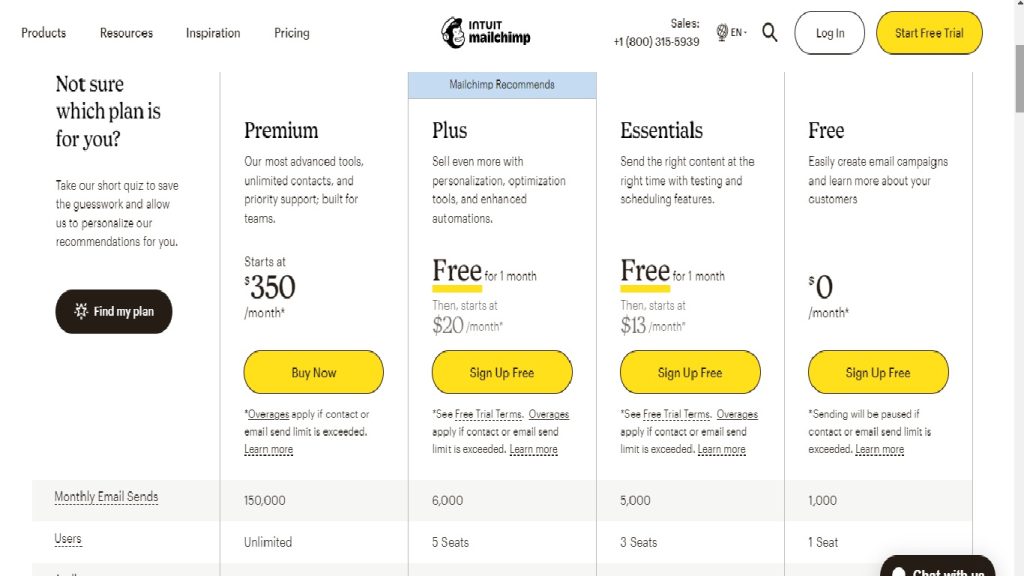 Hubspot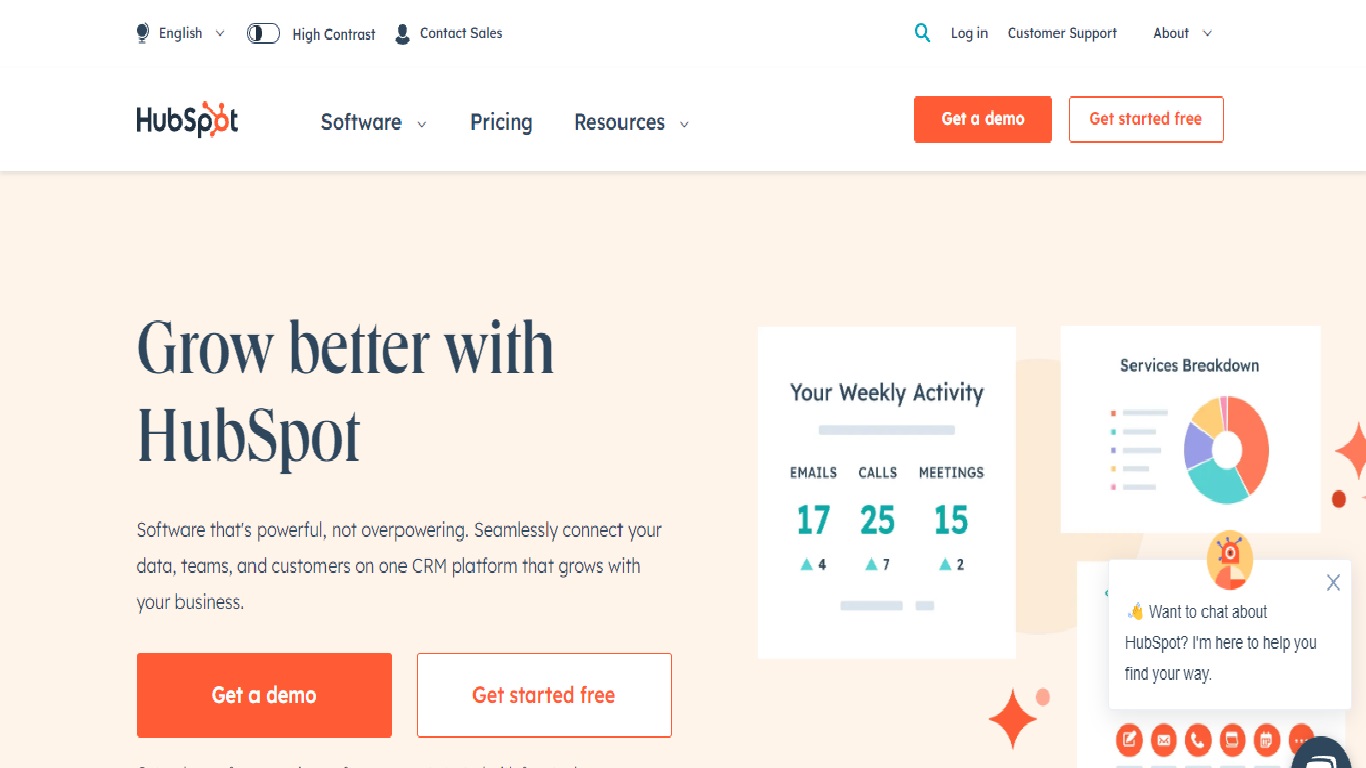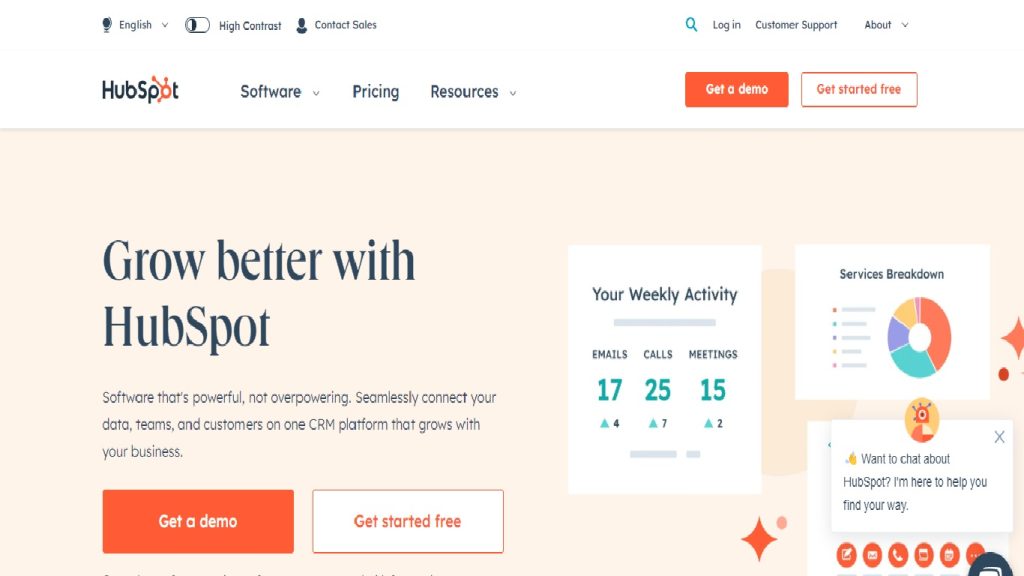 Hubspot is mainly known as a marketing platform, but it has integrated email marketing automation into its services. The email marketing tool has a free version.
Many of its customers believe that it is a game changer that allows you to drive the right onboarding for your customers. One of its praised advantages is its ease of use. It provides you with a way you can organize your email contact lists, create emails, and track email performance.
As one of the most popular email marketing tools, Hubspot has created a name for itself, CRM. You can do anything marketing with Hubspot. With its robust automation performance, your personalized and targeted campaigns are sure to be a walk in the park.
Free Plan: Up to 2,000 emails, 100 static contact lists, and 5 active contact lists are available for free every month.
Pricing: It has three paid tiers. The base pricing starts at $20 per month.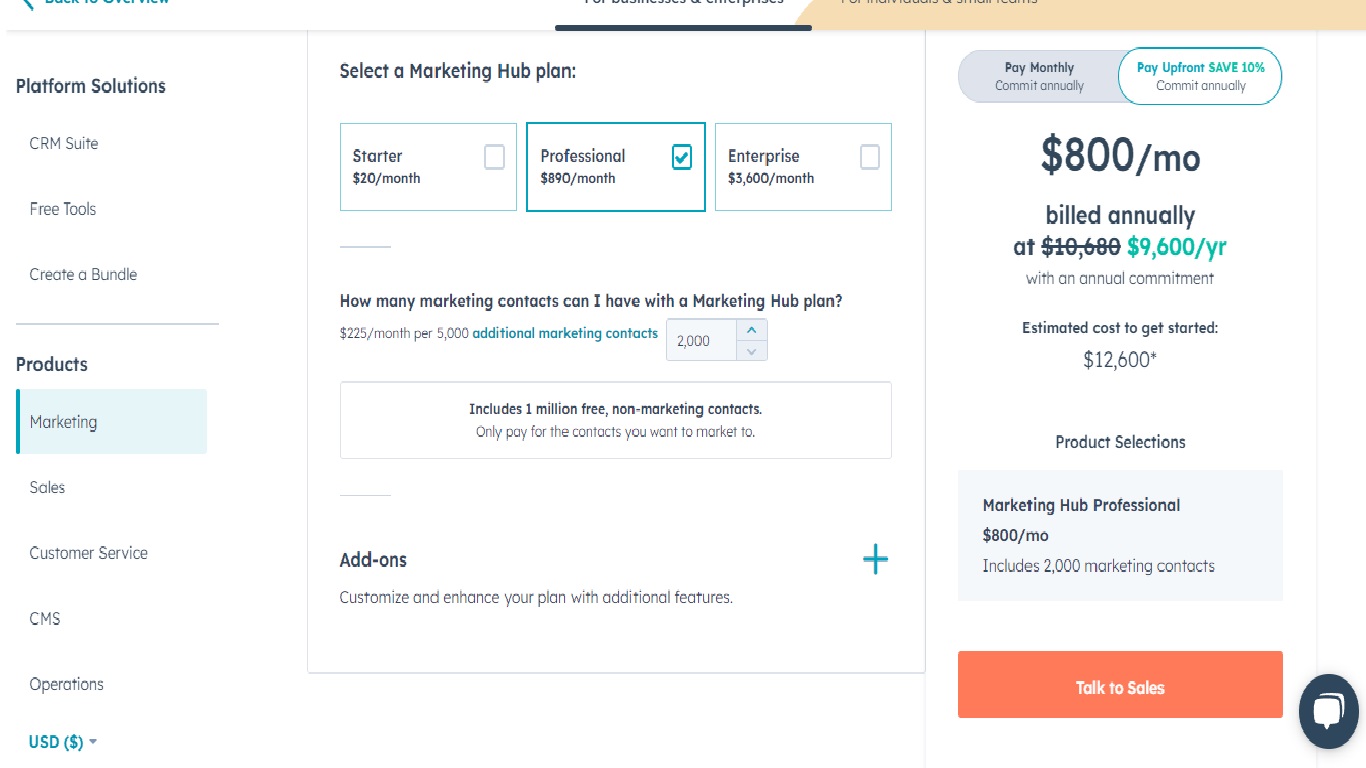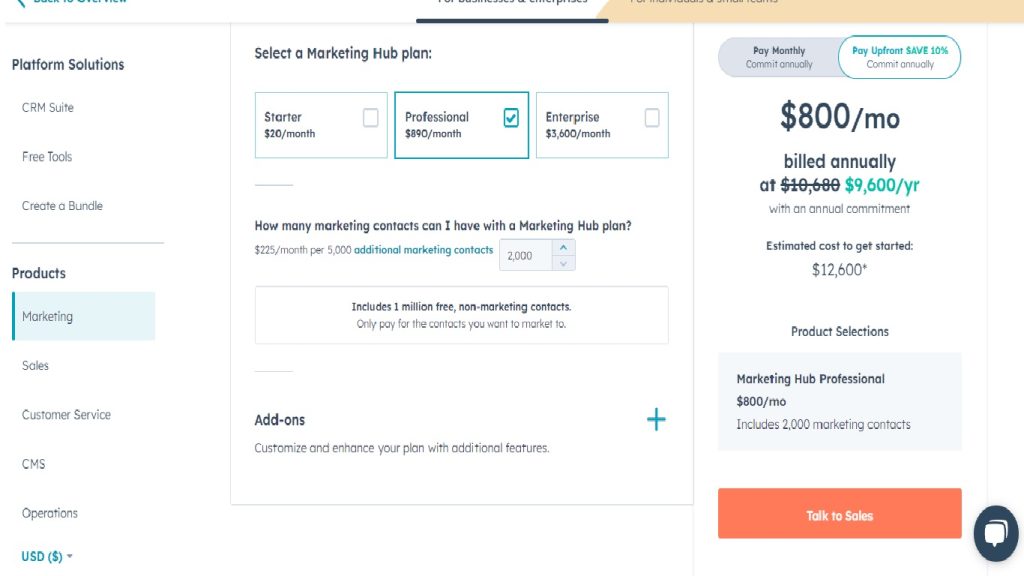 Omnisend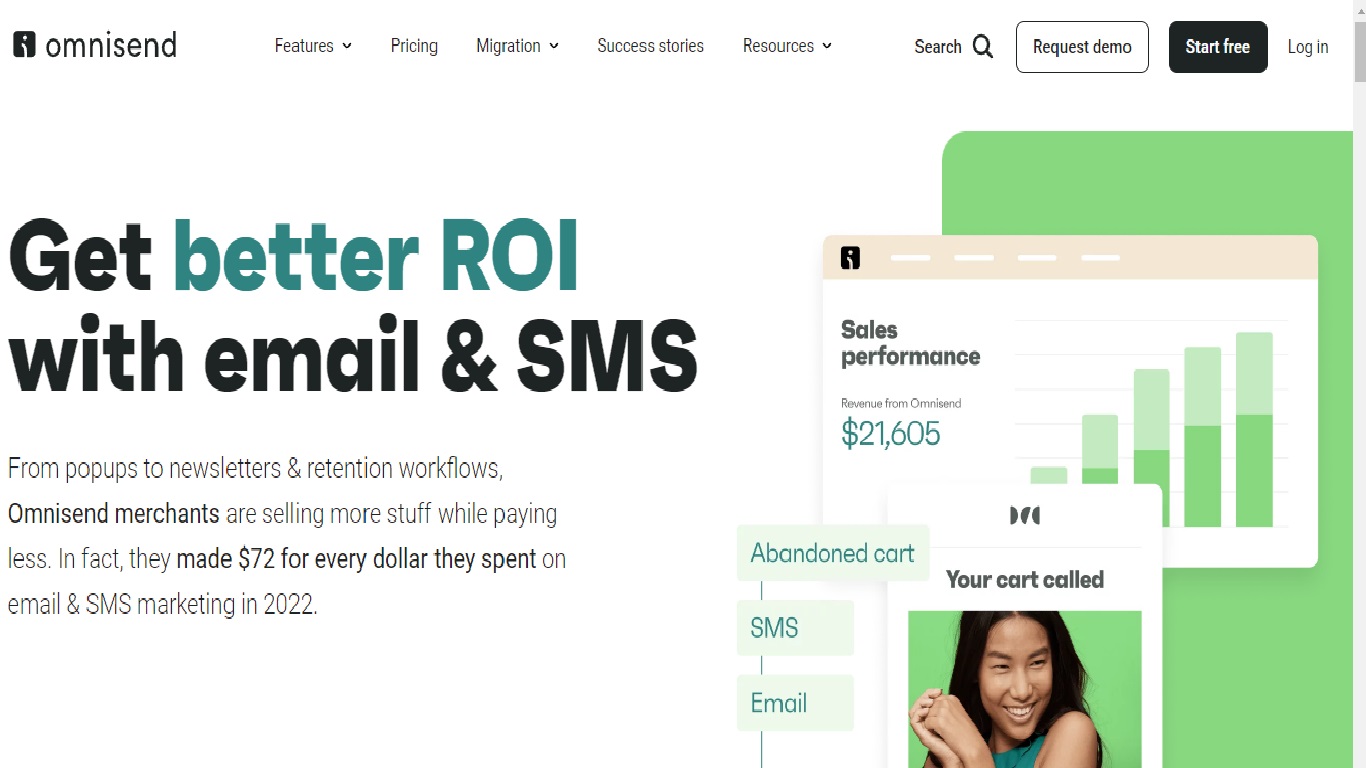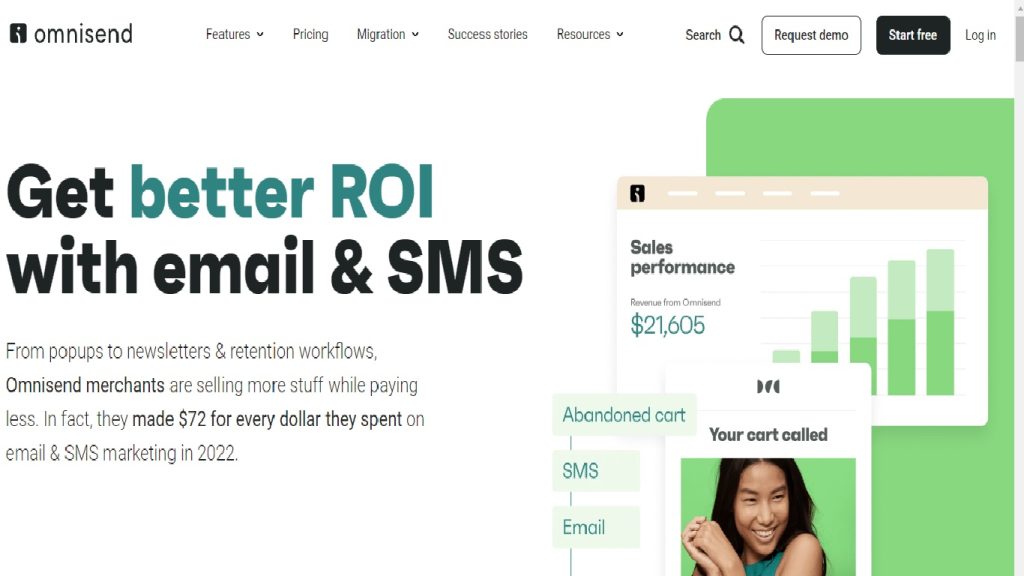 Omnisend is an email marketing tool that can be used by small and medium businesses. Its free plan allows one to create email campaigns and automatic workflows that reach multiple customers.
It allows you to create email marketing campaigns and design attractive newsletters. You can also combine emails with SMS and push notifications on Omnisend. This would truly save you time and cost.
Moreover, Omnisend allows you to target customers based on interests. Its templates are easy to design and give you a professional feel. You can also easily integrate it into your Shopify. It comes highly recommended for eCommerce users as one of the best email marketing tools.
Free Plan: Up to 500 emails, 250 static contact lists, and 60 SMS are available for free every month.
Pricing: It has two paid tiers. The base pricing starts at $16 per month.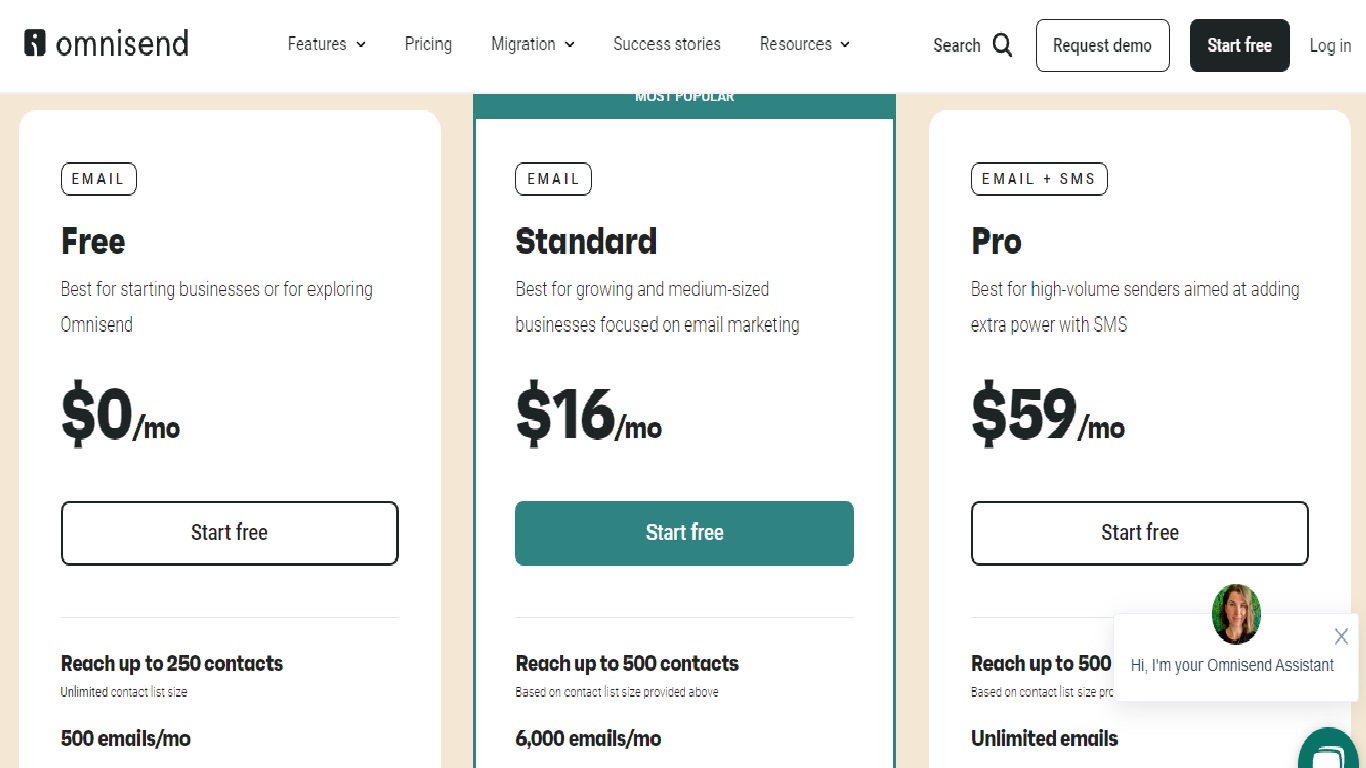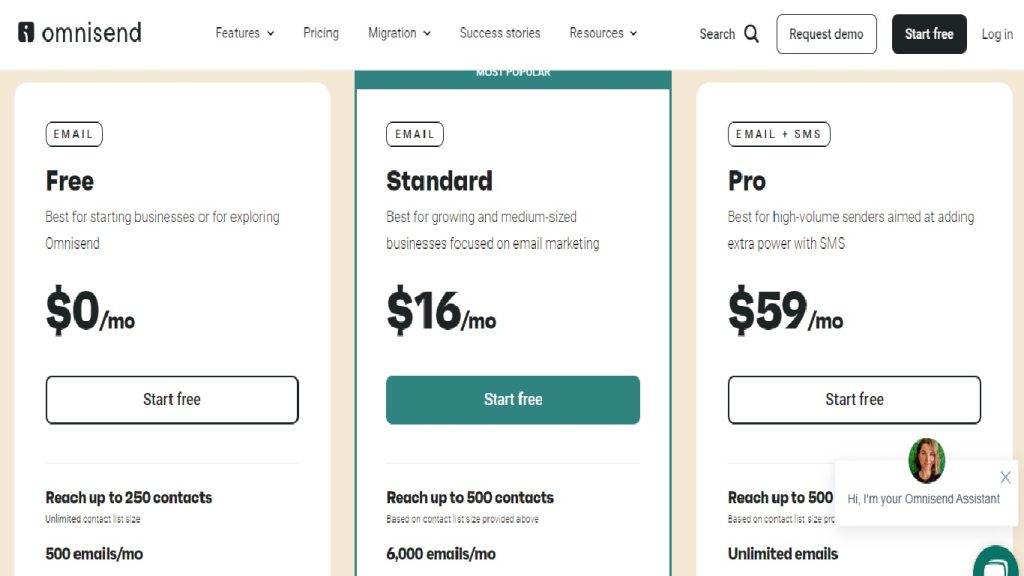 NotifyVisitors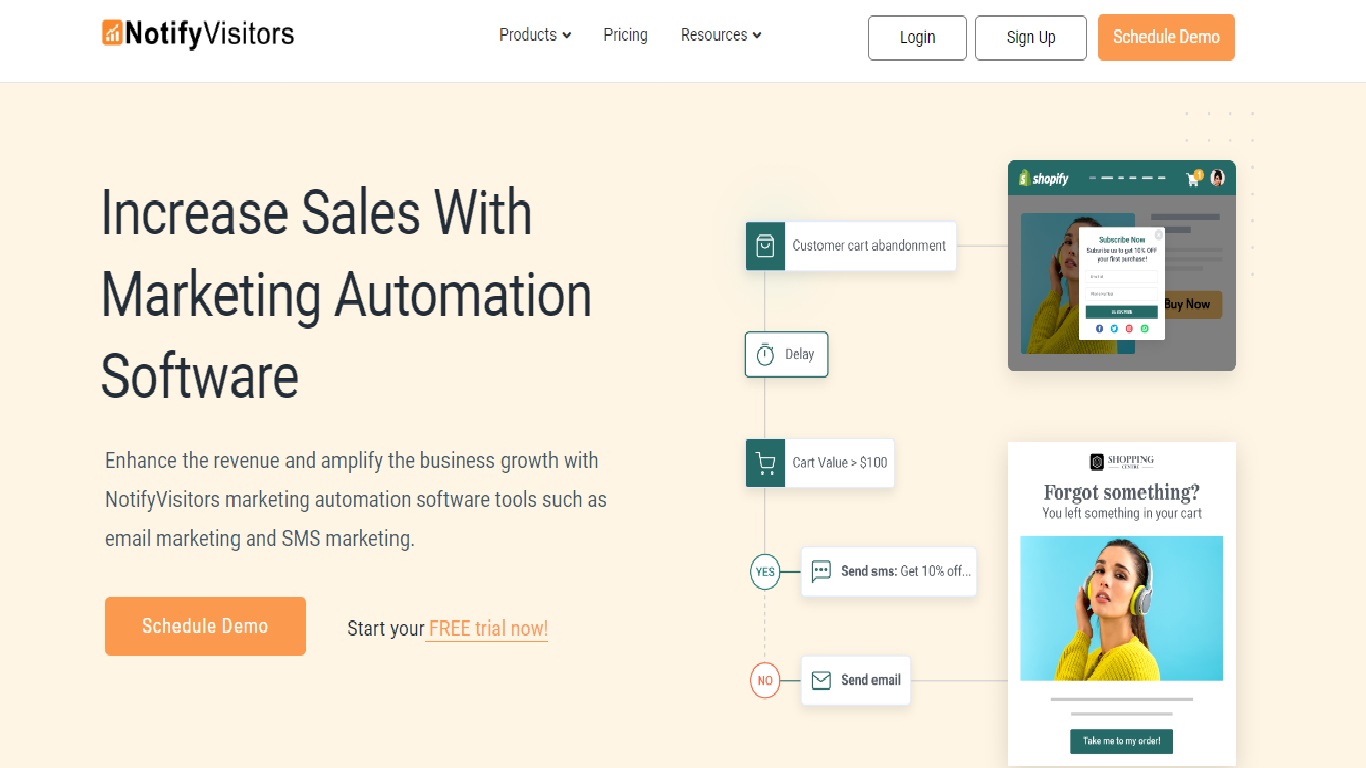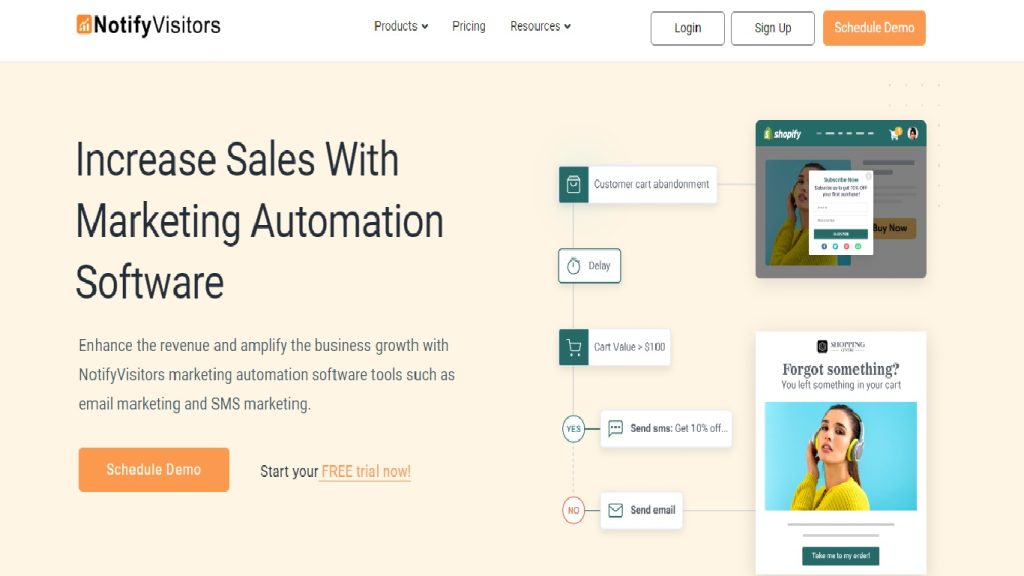 NotifyVisitors is a user-friendly interface that makes it simple to understand how email campaigns work and to start sending emails that are specific to each purpose. As one of the top email marketing tools. it allows users to segment users, automatically set up email campaigns, and customize their email templates.
You can also use its heatmap tools to know what your visitors like and do not like on your website. You can also analyze your timing and conversions on the email marketing platform.
Free Plan: Up to 1000 emails and 1000 contact lists are available for free every month.
Pricing: It has two paid tiers. The base pricing starts at $60 per month.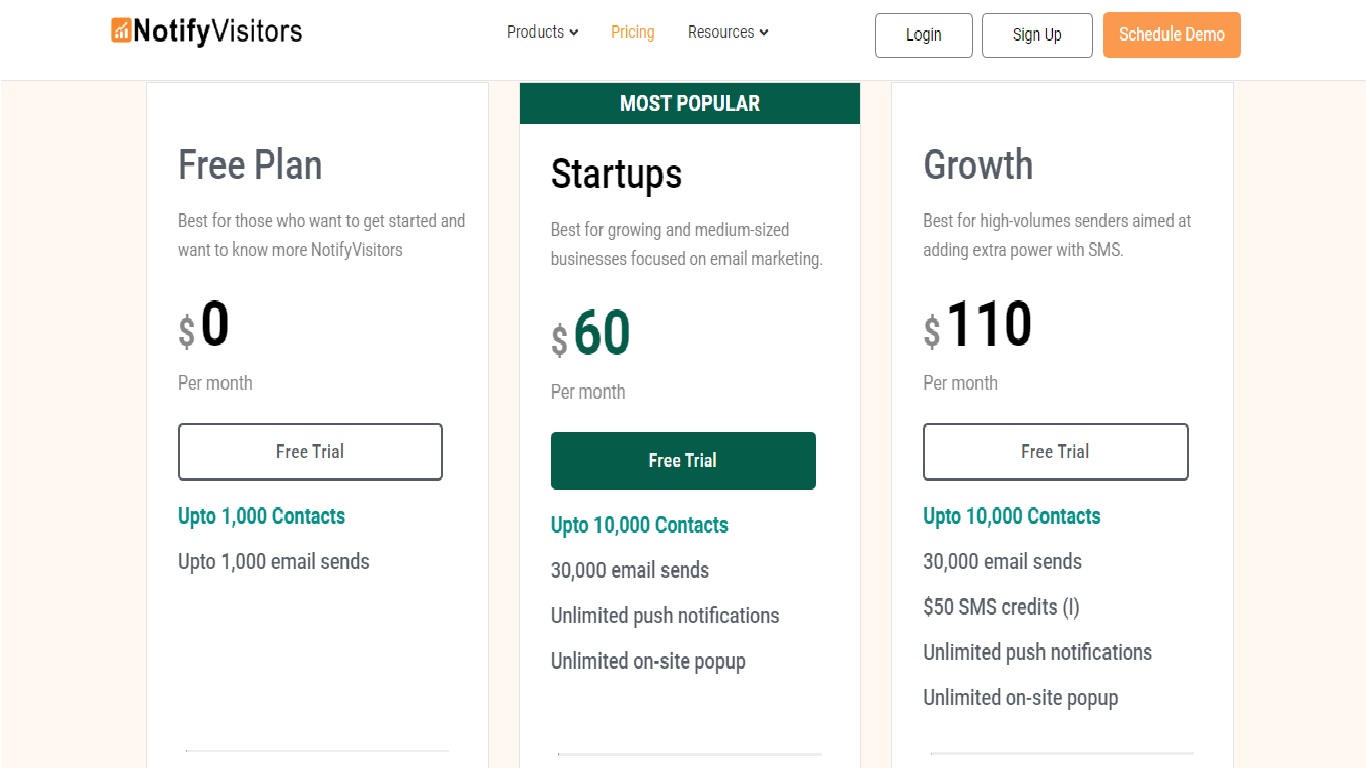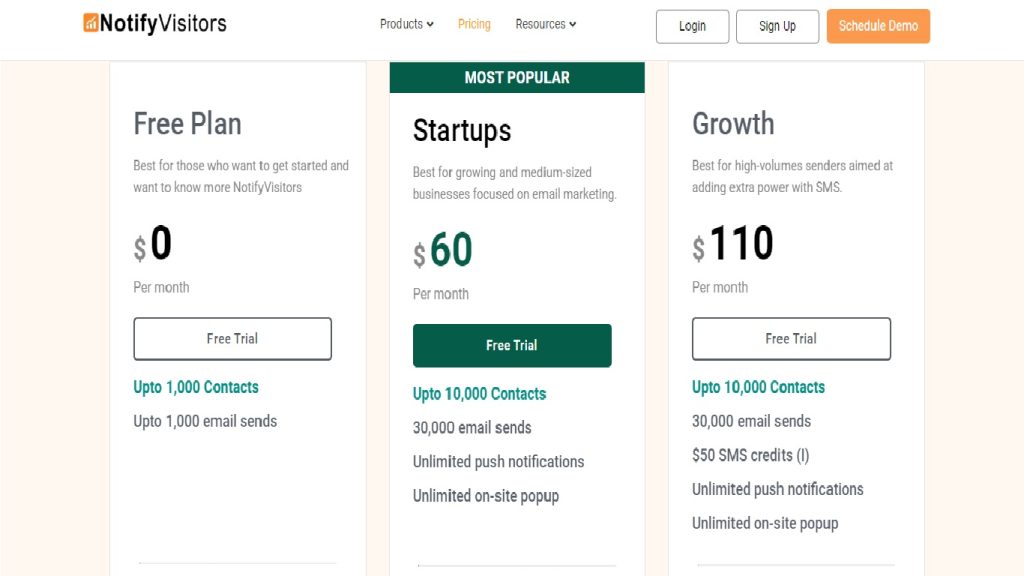 Sender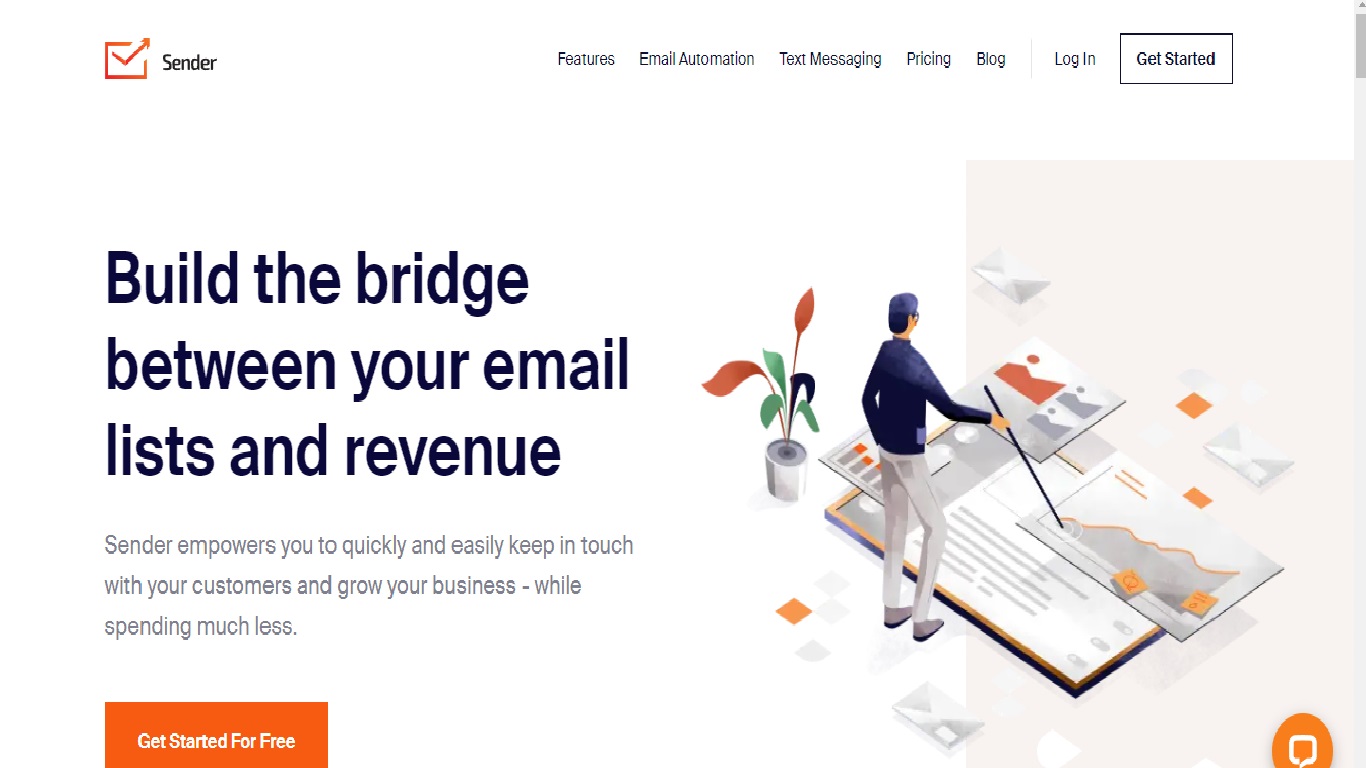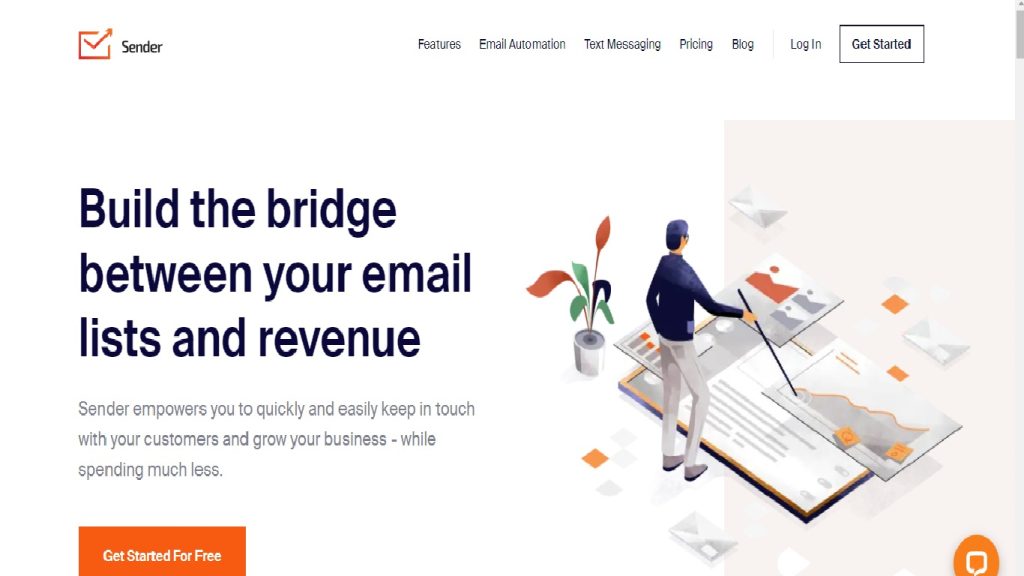 If you are looking for one of the best an email marketing tools that is user-friendly and has great email automation, then Sender is your best bet. As one of the newest kids on the block, It is properly designed to suit your email marketing needs.
Given the importance of its own infrastructure, IP management, and rigorous no-spam policies at the backend, Sender is one of the few email marketing platforms that claim a significant focus on inbox delivery.
Sender lets you create personalized emails quickly. Free newsletter templates are available, and you can adjust every component of the design to meet your specific requirements.
To add content elements like text, photographs, or videos, you simply select a template from the gallery. The body or subject line of your newsletter can be customized.
Free Plan: Up to 2500 subscribers and 15,000 emails are available for free every month.
Pricing: It has three paid tiers. The base pricing starts at $8.33 per month.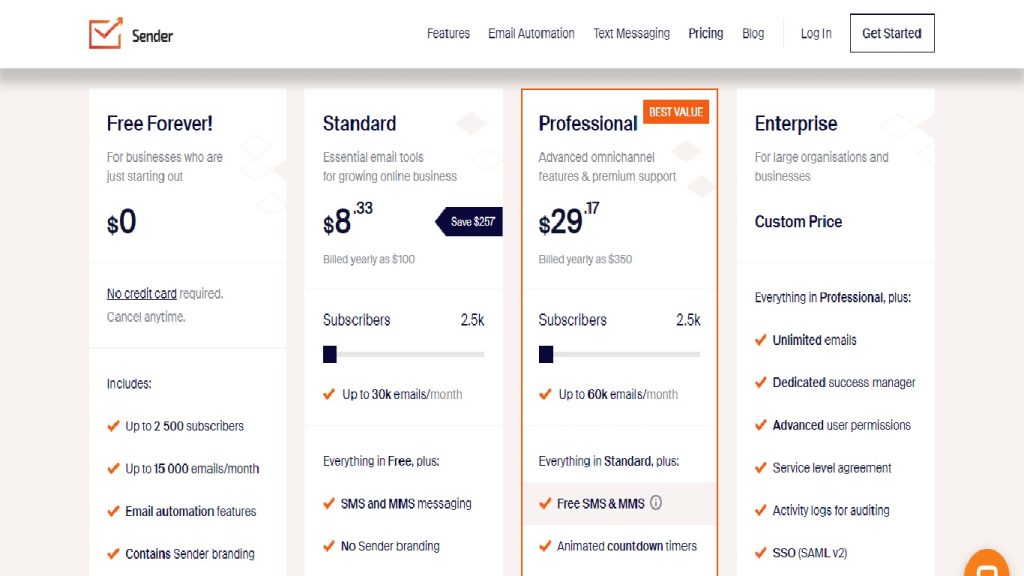 Brevo (Formerly – SendInBlue)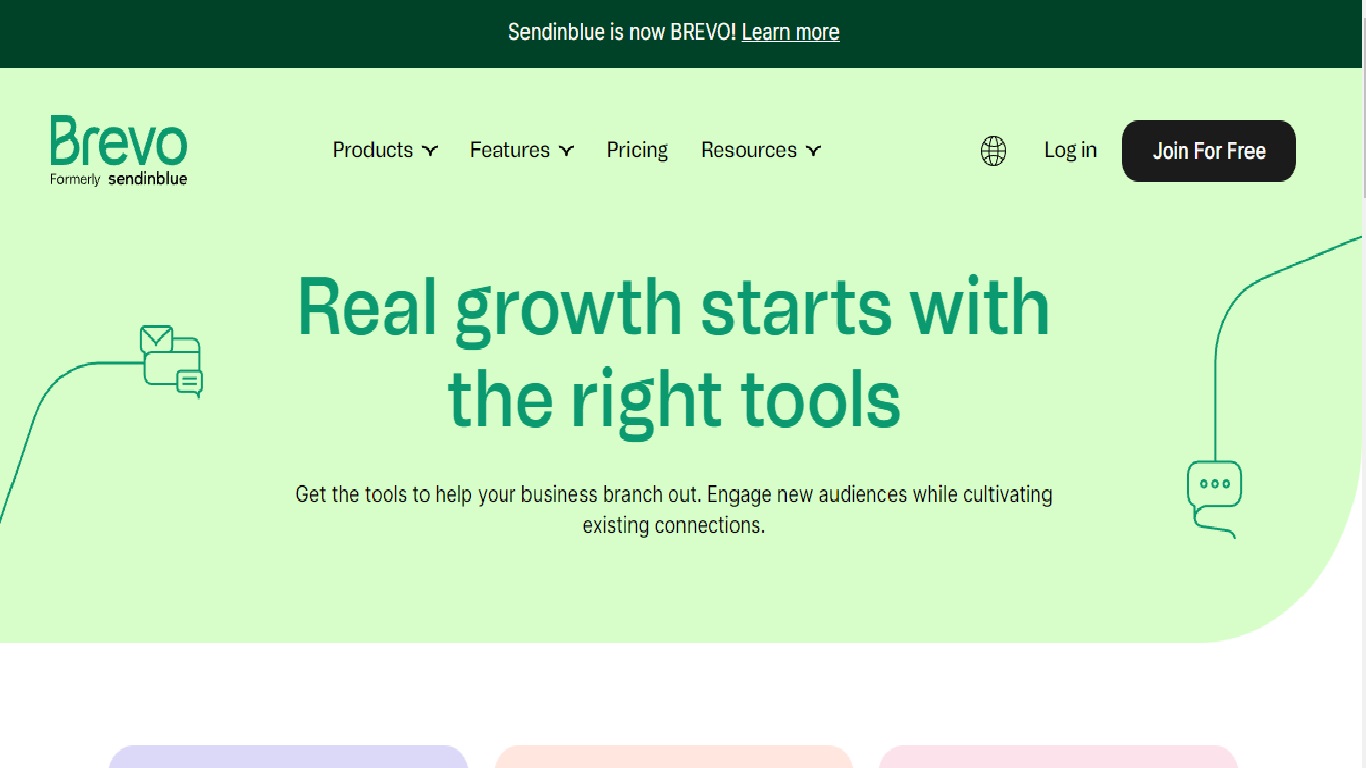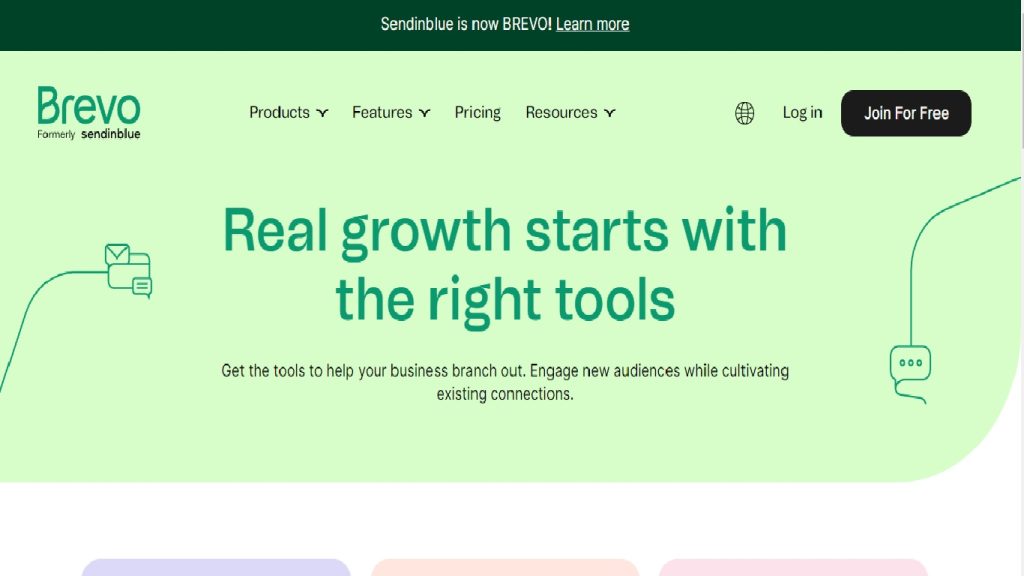 As with some other email marketing platforms, Brevo allows you to create emails and provides you with email automation.
It's an all-in-one email campaign tool that can handle all of your email marketing demands, all thanks to its straightforward design. It is great for creating drip campaigns for numerous ad campaigns and for ease of organizing past campaign newsletters. It evaluates the simple-to-track post-campaign indicators and bases decisions on them.
You can even use Google Analytics to track emails as an extension from Brevo. It also allows you to send emails to specifically targeted customers, thereby increasing your chances of conversion.
Other free email marketing solutions allow you to send more emails at once, but this program allows you to manage more contacts and divide them into targeted lists. You can also purchase pre-paid credits from Brevo to send more emails than your daily cap.
Free Plan: Up to 300 emails are available for free every day.
Pricing: It has three paid tiers. The base pricing starts at $25 per month.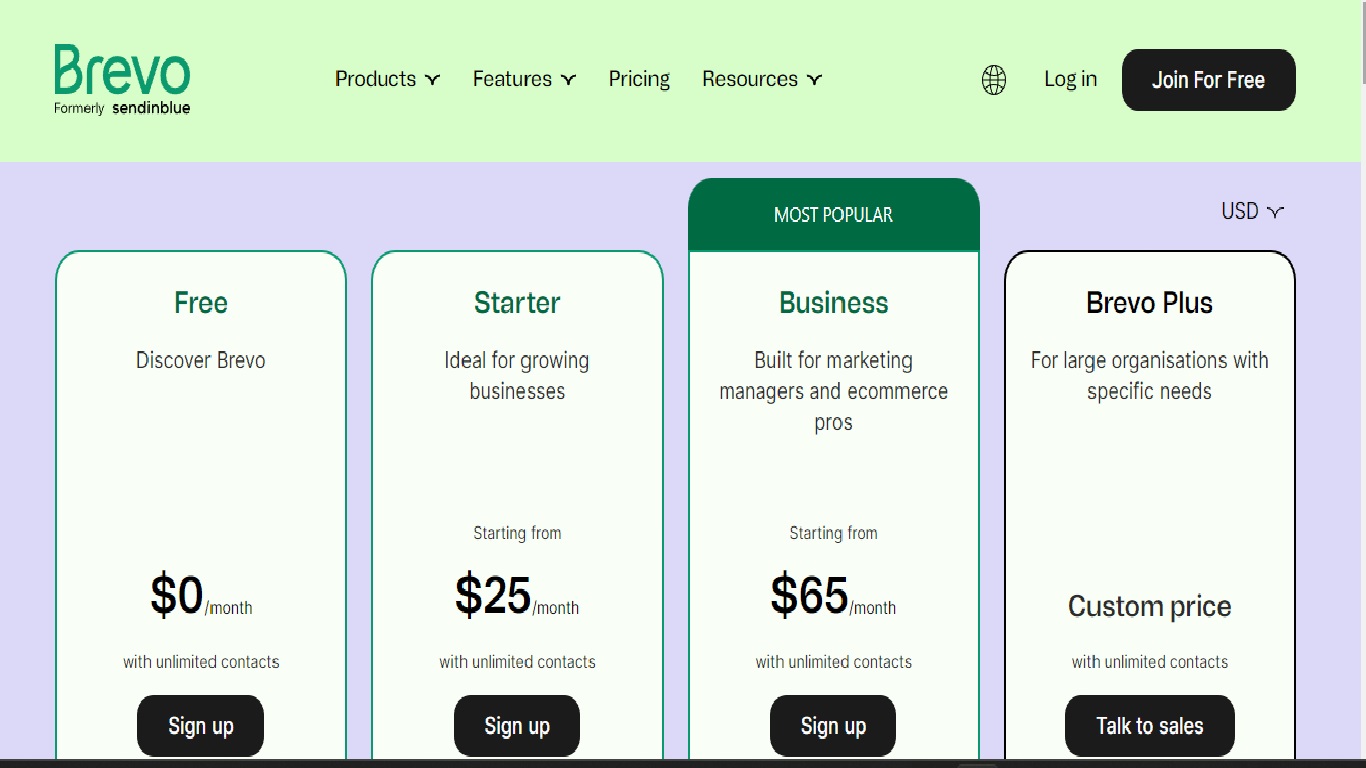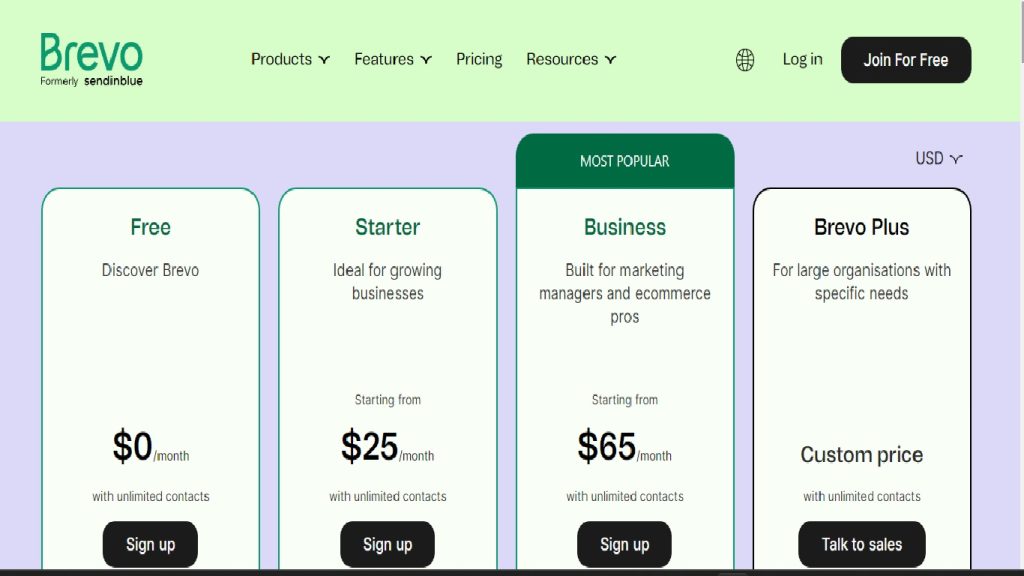 Aweber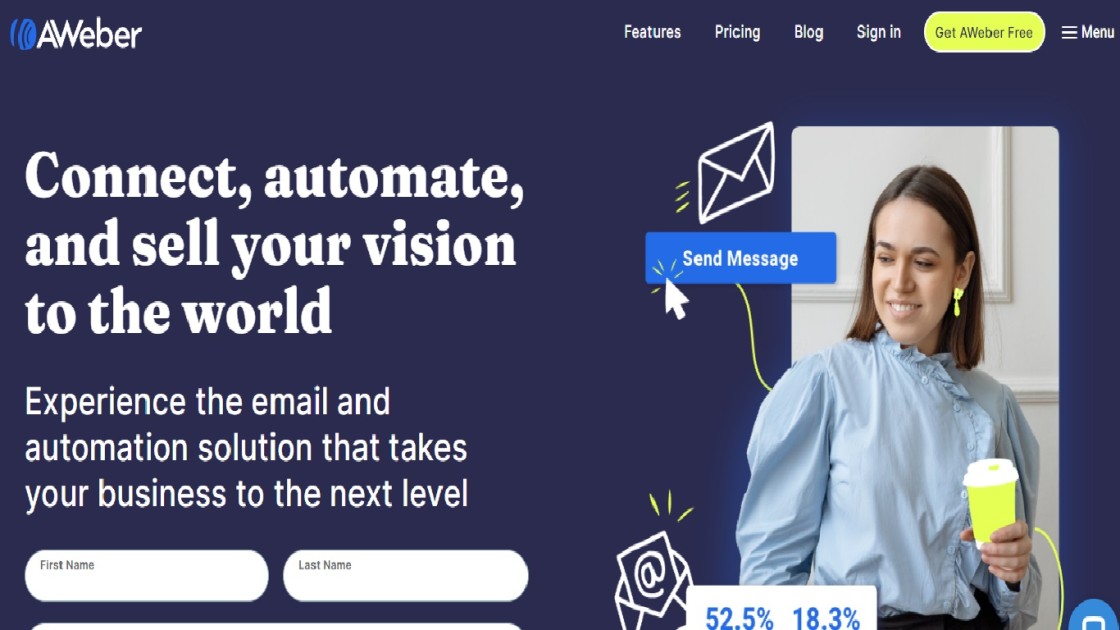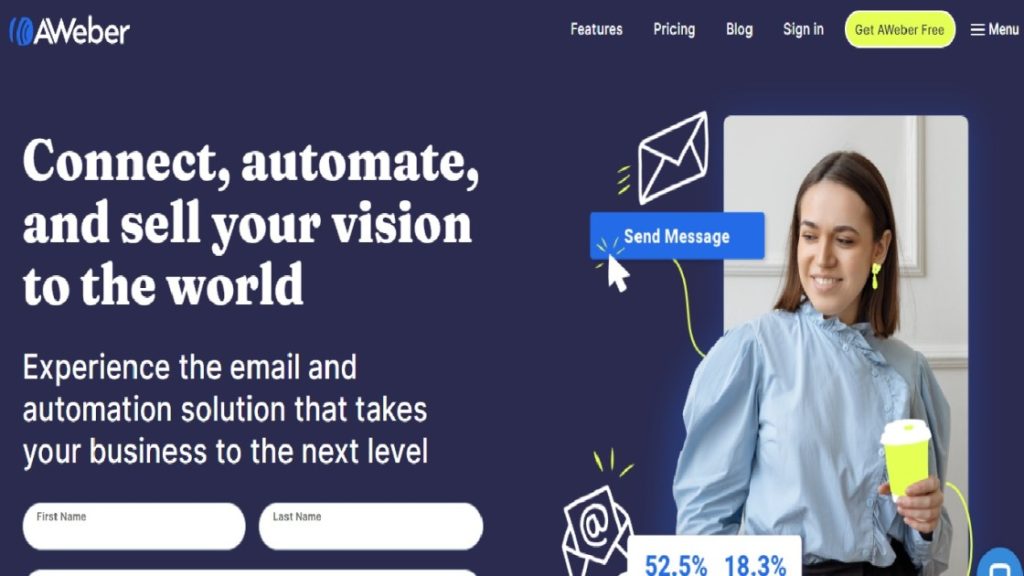 AWeber is a platform that supports you throughout the entire email marketing cycle, from acquiring new subscribers and building lists to sending out your actual emails. It is one of the oldest email marketing tools. It was founded in 1998 and currently helps over a million businesses by providing them with email automation solutions.
It also integrates with programs like WordPress, Facebook, and Shopify, making it simple to import contacts and introduce new features all the time. AWeber has a friendly user interface and boosts your email marketing campaign efforts.
Free Plan: Up to 500 email subscribers and 1 email list are available for free per month.
Pricing: It has three paid tiers. The base pricing starts at $12 per month.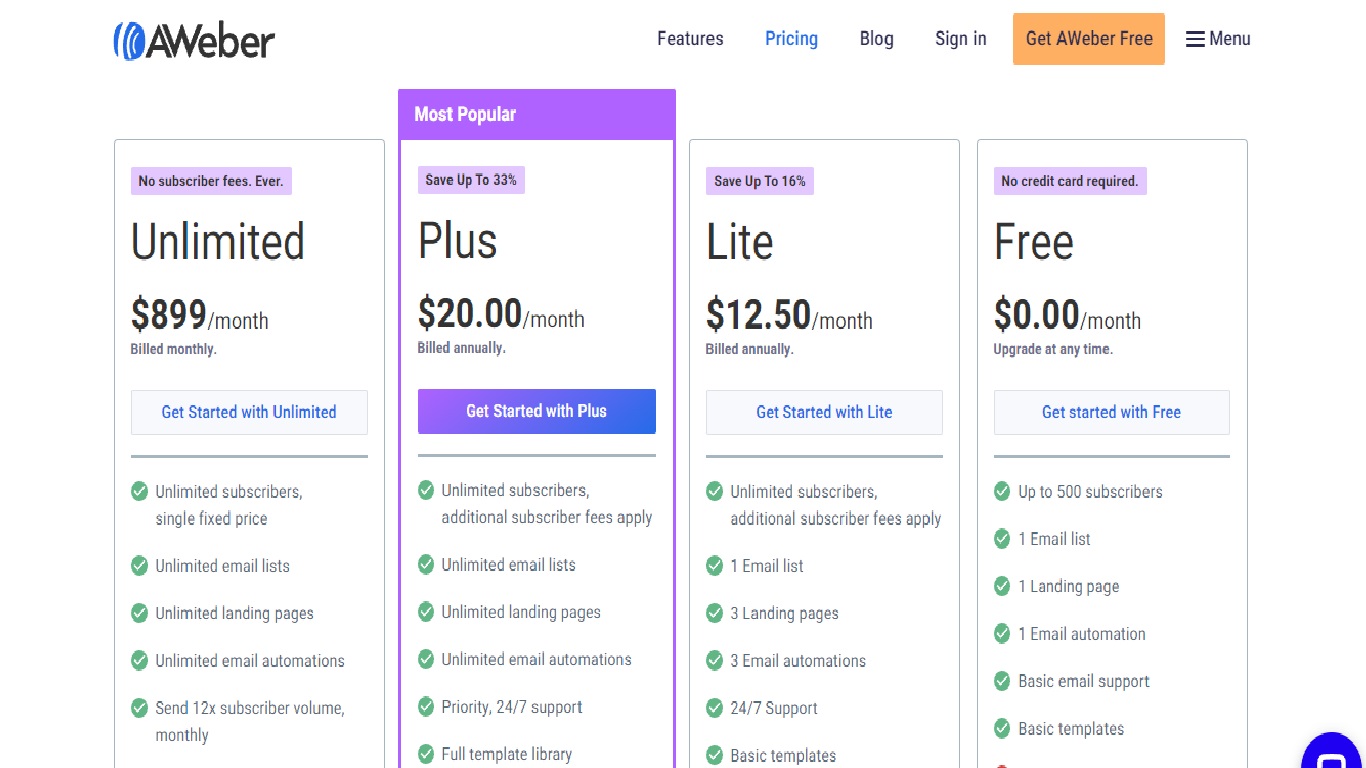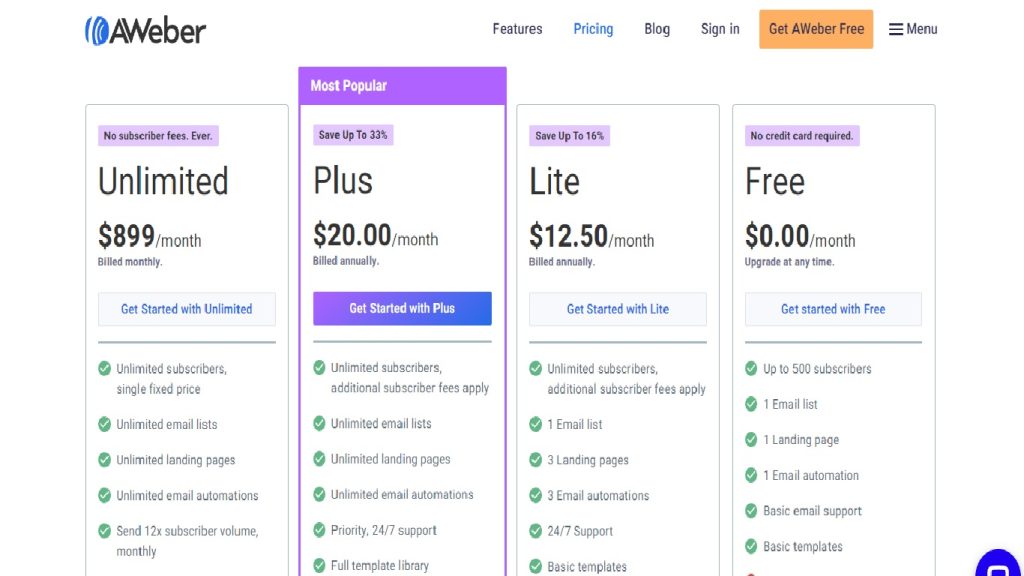 Benchmark Email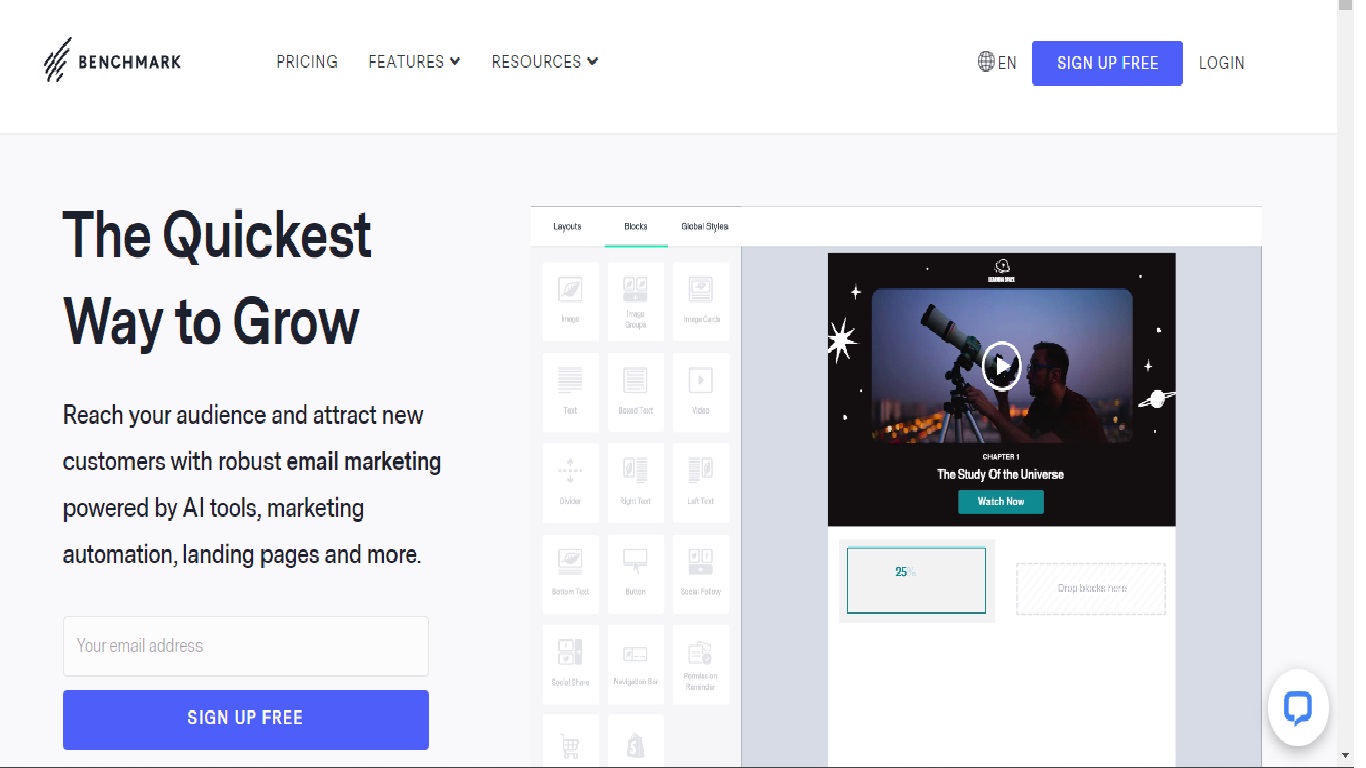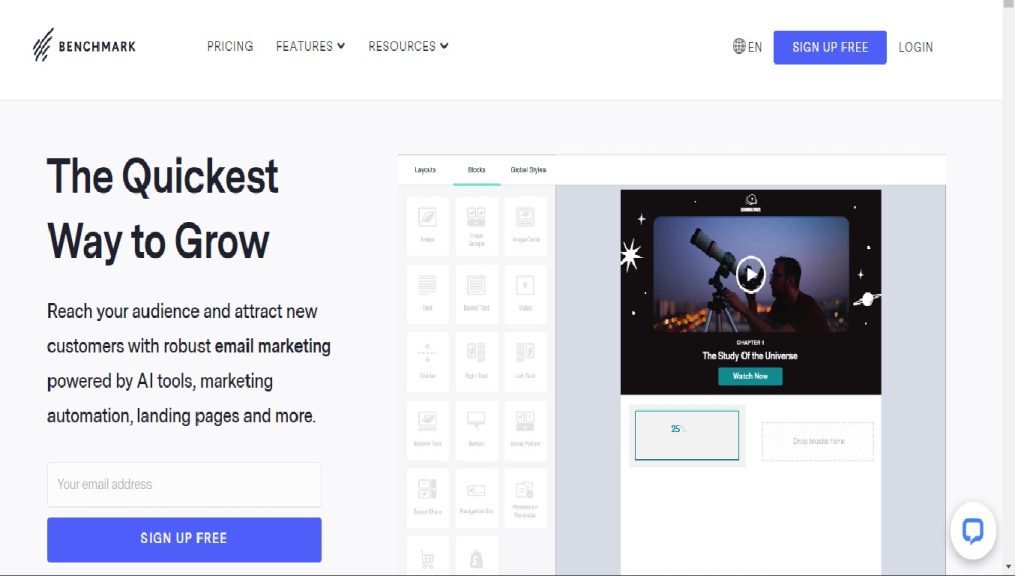 To create responsive emails that look beautiful on any device, Benchmark Email is a fantastic alternative for an email marketing solution. You can even alter the image on the platform if you need to include it in your email as an attachment. To effectively convey your message, you can add effects, stickers, and text using the email editor.
With Benchmark Email, businesses can create customized email journeys depending on client behavior, preferences, and activities. This email marketing tool ensures focused and pertinent communication with subscribers while saving time and effort.
Free Plan: Up to 3500 emails are available for free per month.
Pricing: It has three paid tiers. The base pricing starts at $8 per month.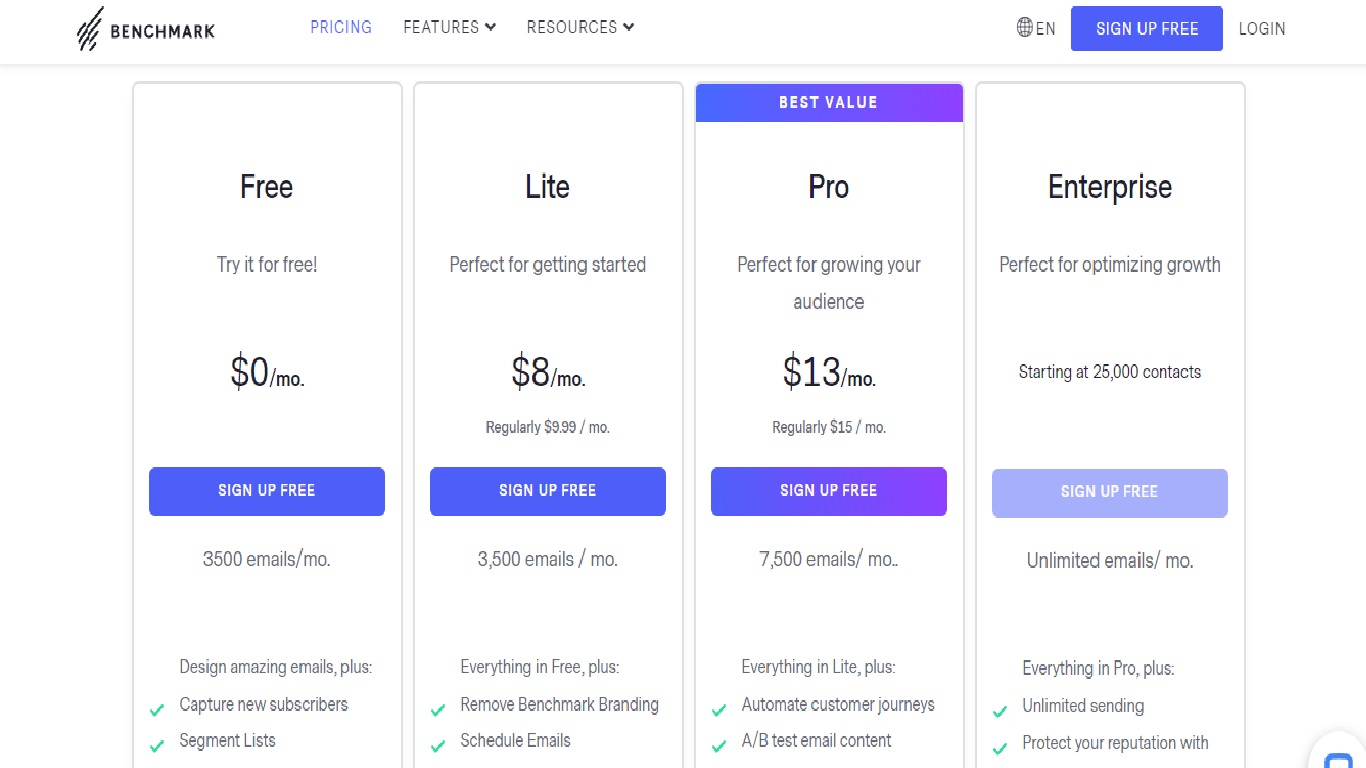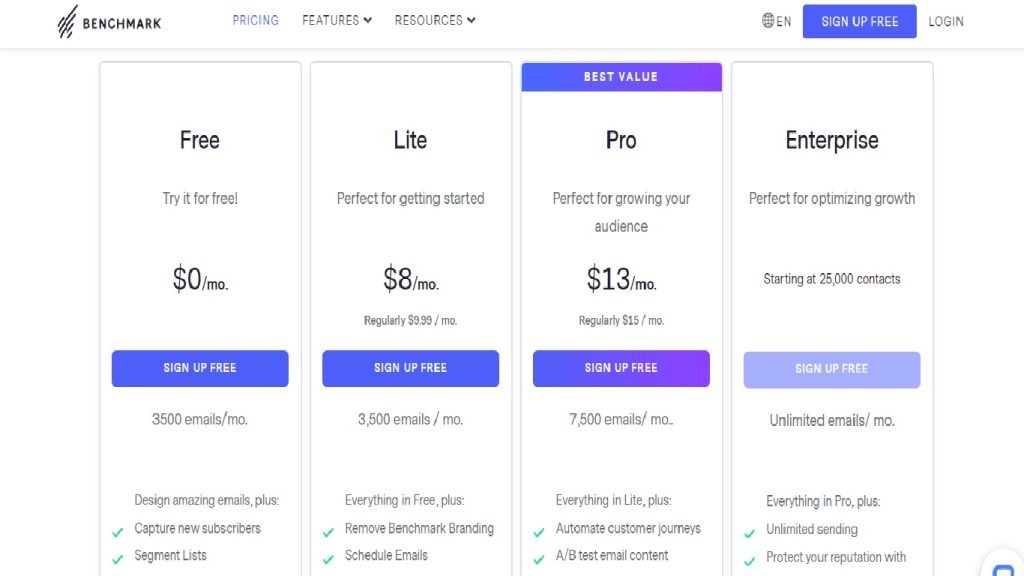 Moosend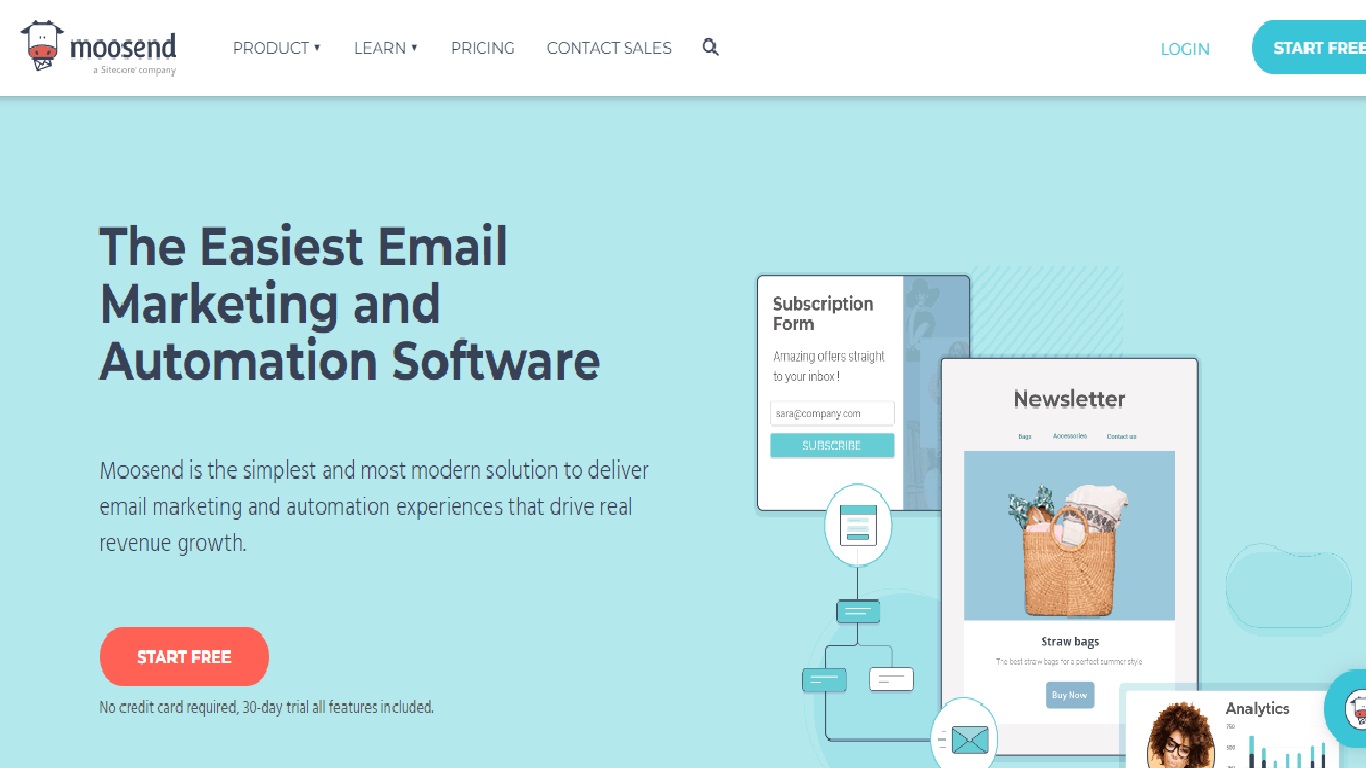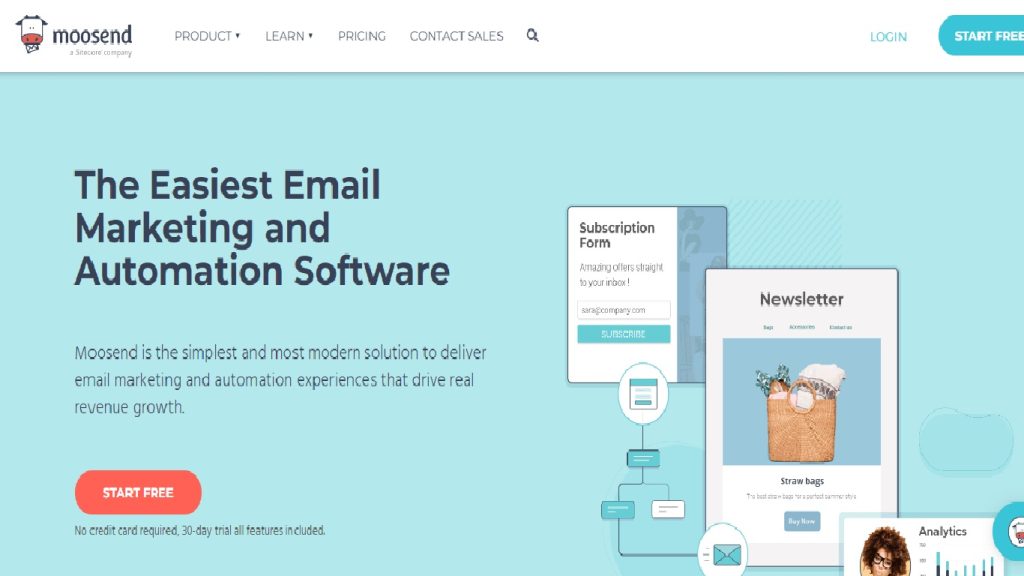 Moosend gives you a thorough campaign performance report so you can understand exactly how to tweak your efforts for even better outcomes. Even some of your favorite apps can be integrated with it to provide seamless information transfer between tools.
One of the few free email marketing platforms that won't insert its logo into your emails is this one. However, it has proven itself as a good competitor to Mailchimp.
You can follow up on each marketing campaign to see the performance.
Free Plan: None.
Pricing: You get a free trial for 30 days. It has three paid tiers. The base pricing starts at $9 per month.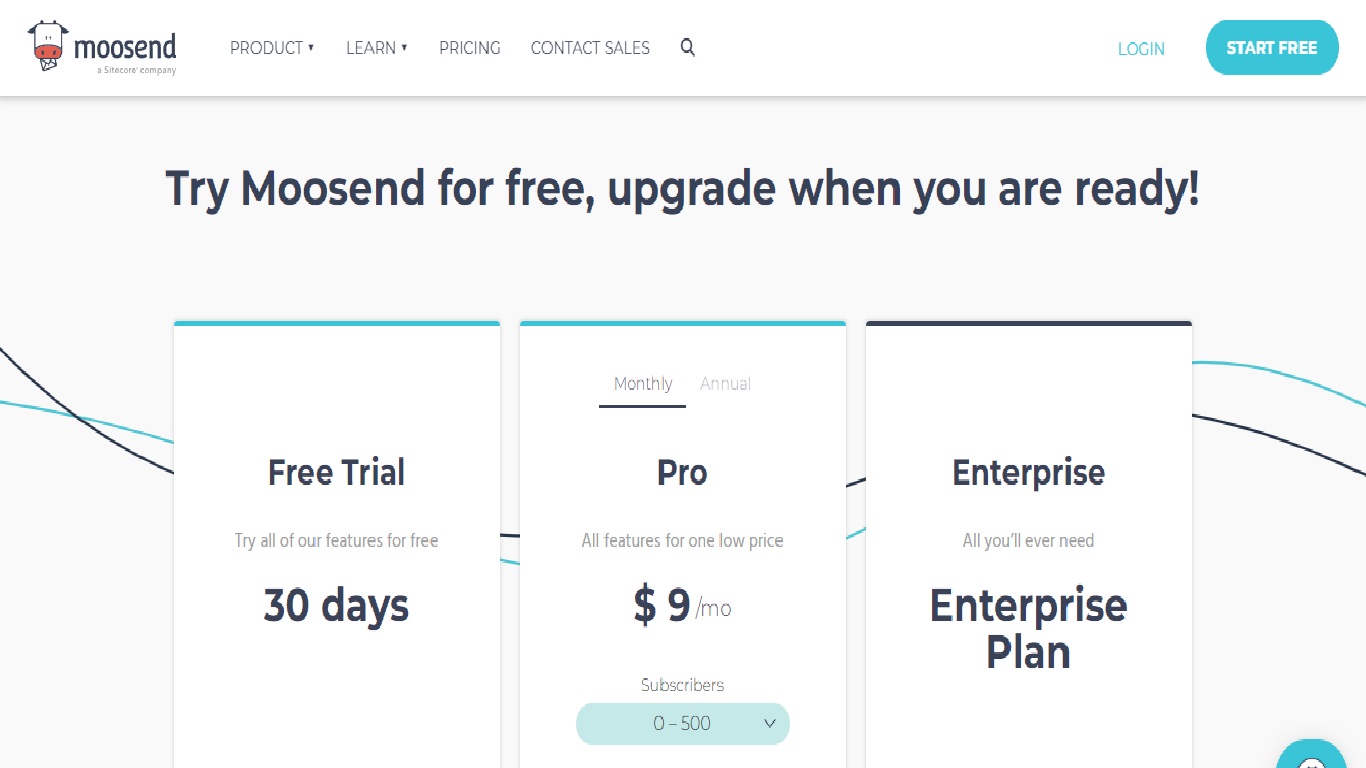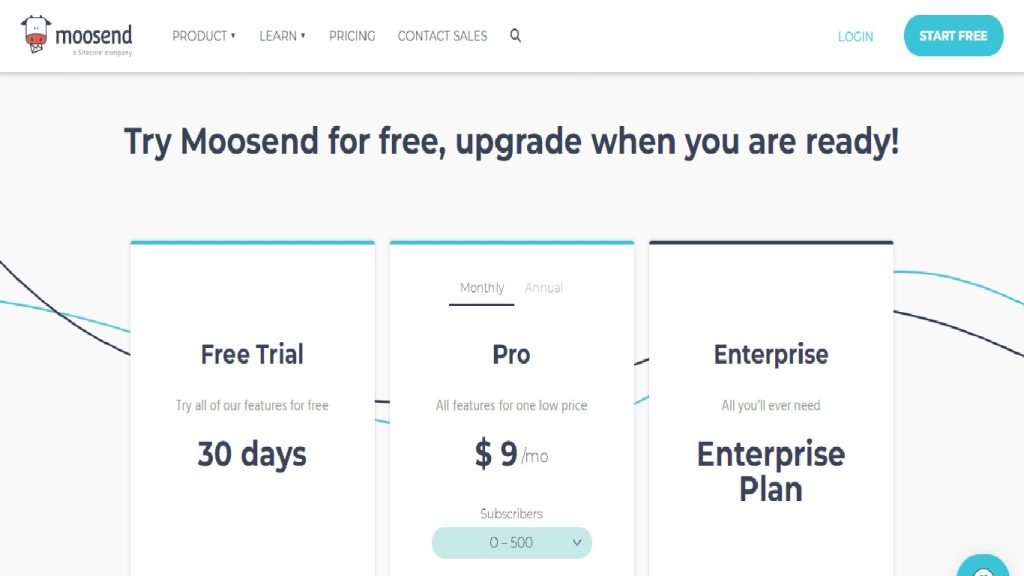 GetResponse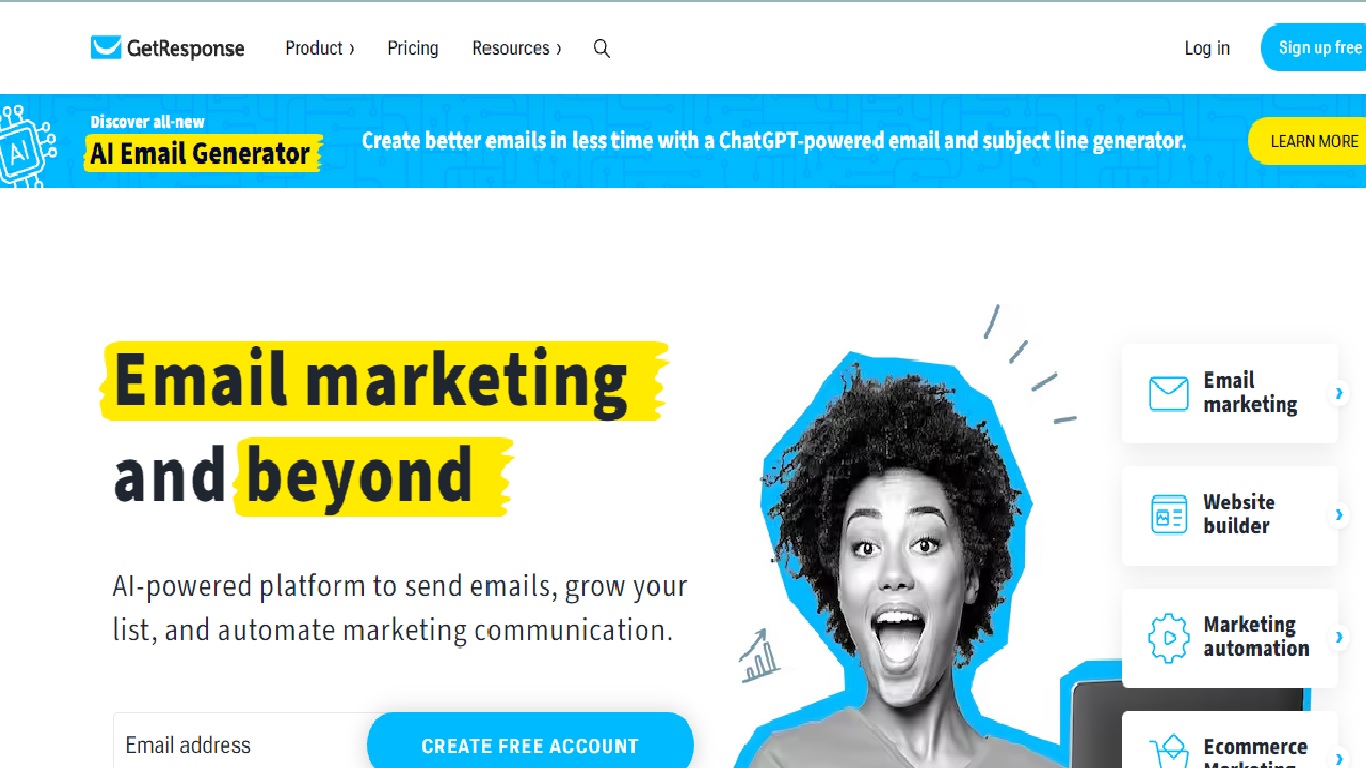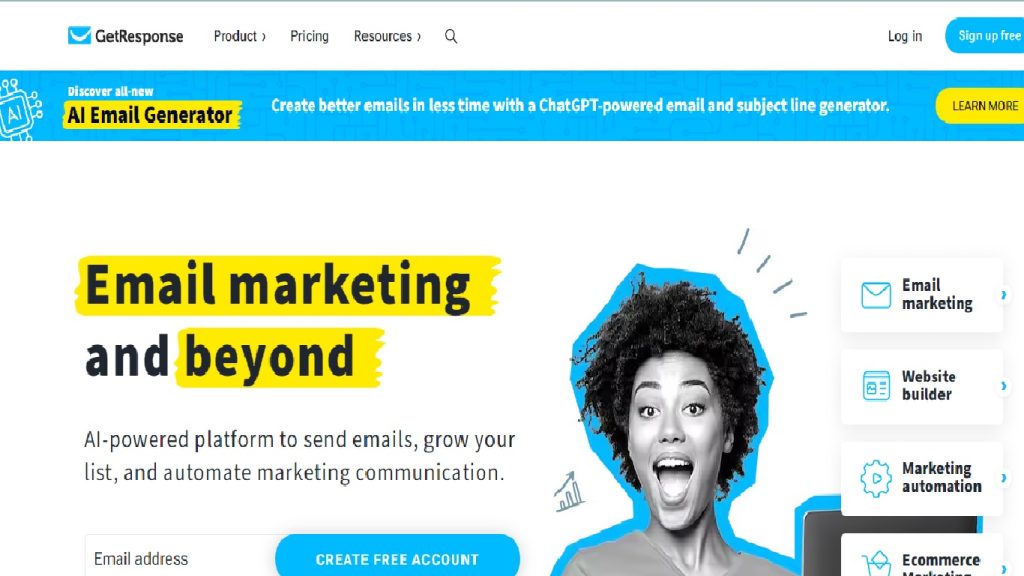 GetResponse is the perfect solution for importing and managing subscriber data, which can quickly become cumbersome when working with a large audience.
Additionally, you may use it to generate new emails, program particular messages to be delivered in a particular order, and examine data pertaining to your entire campaign.
Free Plan: Up to 2500 emails are available for free per month.
Pricing: It has three paid tiers. The base pricing starts at $15.58 per month.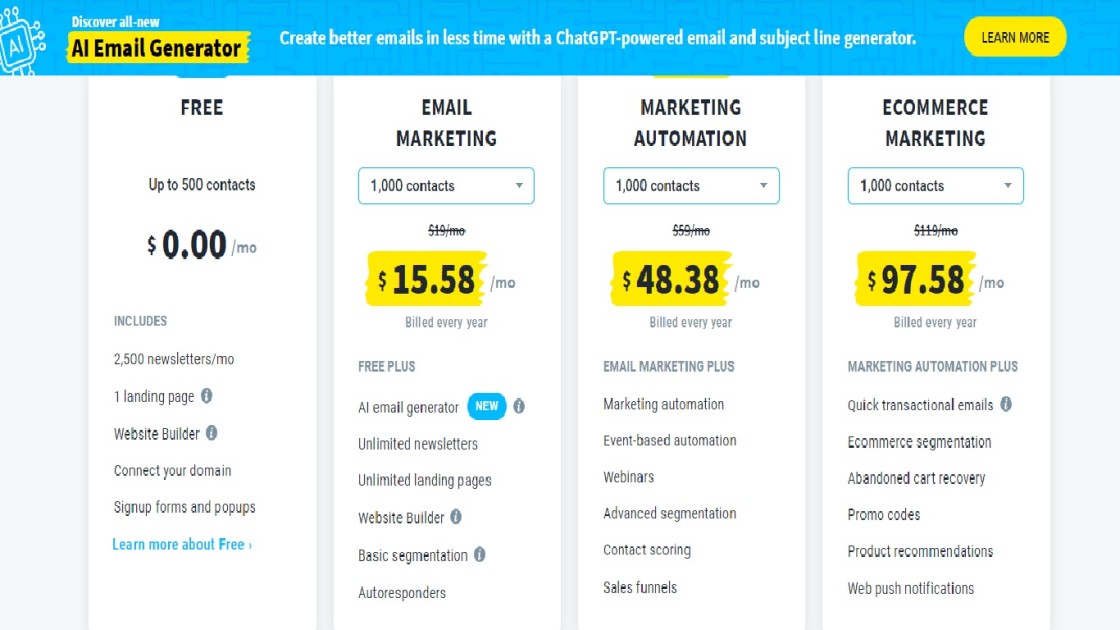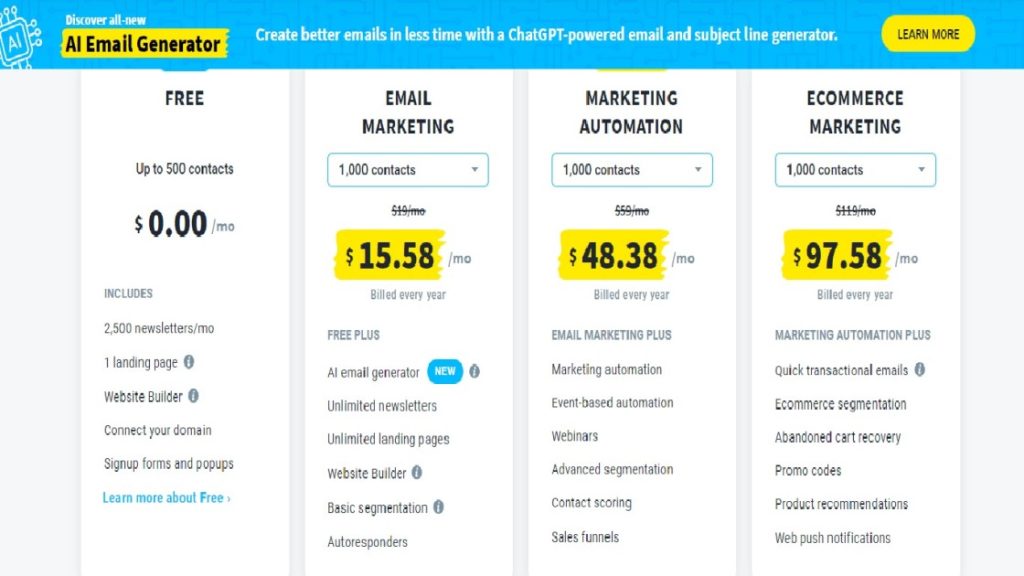 Wrapping Up
You can always use any of the outlined email marketing tools to generate and automate your emails. It is perfect for all business types, and moreover, as a small business, you need to know your customers' behaviors.
These are our recommendations based on pure research. If you ever are in need of an agency that can assist you in helping automate your emails or even writing them, then you can contact us.