How To Set Up And Pay For Facebook Adverts With Naira Debit Cards In Nigeria
Running Facebook Ads in Nigeria can be difficult in area of payment. yes, Payment. Most of the banks debit card in Nigeria do not allow for Facebook payment. The Naira Mastercard, Visa card and Verve card do not permit buying of FB ads via them.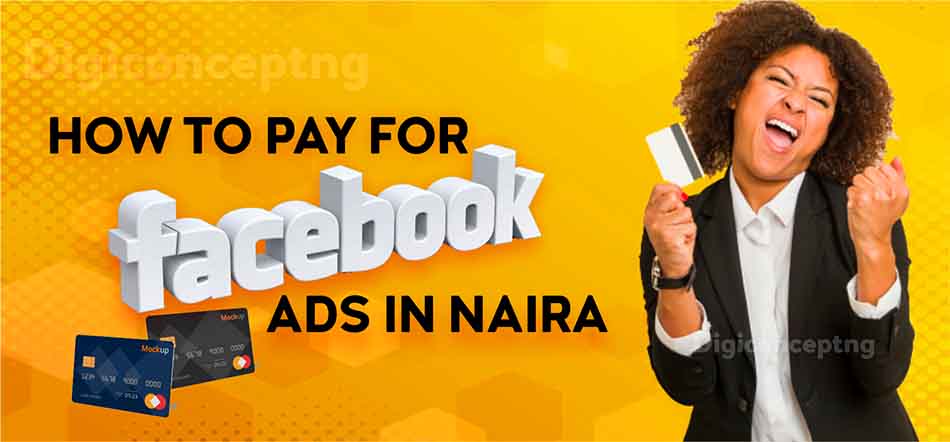 Hence, this post will help you set up your Facebook account and also run your ads in Naira. In the past, you have to run and pay for ads in dollars and this did not really go well with many. Many incurred debts due to the exchange rates, rejected/declined debit cards or even the monthly international spend limit.
What Solution Were Implemented to solve the Naira payment issue?
I also suffered this problem. I could not run ads after i ran the first and ran into debt with Facebook as they could not debit my naira master card. To solve this problem, i did two things but will share with you in this post. In 2017, facebook ads could be bought in Naira via the help of a third party payment processor called PayU. With the use of this payment processor, you can use all the Naira debit cards Visa, Verve and Master debit Cards.
This post will show you how to use this method and pay in naira.
Note: I observed that if you had used your Facebook to run ads in dollars before, you may not be able to use this option. You may need to open a new account but this post will help you big time to setup and pay in naira
Running ads in Naira is super cool if you are in Nigeria as you get charged clearly for what you book and no exchange rates and other domiciliary/ dollar account charges. You can track your spending rates properly.
The Disadvantages of using a Dollar Facebook Ad Account
There are certain Naira card restrictions placed by banks
So many unnecessary expenses are incurred due to the difference in Dollar and Naira rate.
You can not accurately calculate Ad spendings.
You may incur debts due to inability of facebook to debit your card and as such you may not be able to run subsequent adverts on FB.
The drawbacks above has made lots of businesses unable to run ads and as such depending on agencies to run ads for them thereby incurring higher charges for adverts. At the end of this post, you will see some cards that can be used to run ads.
How To Create A Facebook Ad Account In Nigeria and Pay in Naira
You need to set your currency to naira before using this method. PayU Nigeria payment gateway has been integrated with Facebook ads billing system, thereby making it easy for you to pay for Facebook ads in Naira.
Sign in to your Facebook account.
Sign in to your Facebook Ads Manager payment methods page and click on "Add Money".
Choose the "Naira Payment With Mastercard and Visa – PayU". (The interface changes as you can see below)
You need to enter the amount you want to add to your Facebook ads account and click "Review Payment".
Click  "Make Payment".
When you see this PayU interface, click "continue".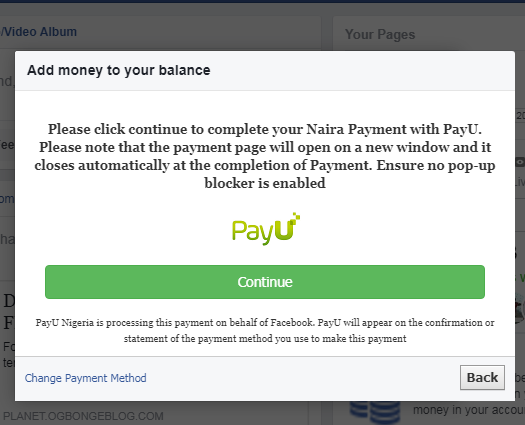 You will be redirected to a page where you will be asked to enter the details of your Mastercard or Visa card. Enter the card details and click "Pay".
Choose the method you which to receive OTP; An OTP will be sent to your phone number designated to your bank or you can use the hardware token.. select the option to confirm you accept terms and click "Submit". Enter your otp and click "Submit".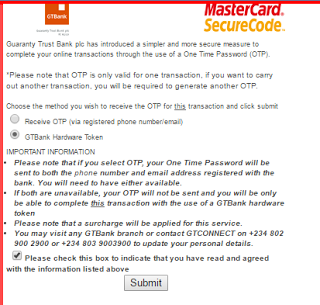 If all goes well, you get "your transaction was successful".
GTB and Zenith bank ATM Cards are good examples that easily blend with this payment integration method. So far, all the people who have used this process have not complained about it. You may leave a comment about your experience below.
Conclusion:
Alternatively, some Nigerian banks allow the use of their bank cards to make payment for Facebook adverts without any hitches. These banks include: Access Bank card, FCMB card, UBA debit card, Zenith Bank Master card, GTB Naira mastercard ( this is for a selected few). You may tell us which card worked for you so we can share with others.
FAQ: What If my open-end credit has been blocked by Facebook; for a few reasons? can i still use it with payU
ANSWER: PayU is a third party payment processor, Hence you can use your blocked card to fund your account.
FAQ: Can I pay with my verve card?
ANSWER: Yes, verve card can now be used.
Trust this post has been helpful with you to start and continue paying with any of their their debit cards. Kindly let us know how you ran your ads and paid successfully with this post.